---
Journal Articles:
06.29.13 "If $AAPL is Bottoming…"
07.01.13 "$AAPL My Long Trade (Part 1)"
07.11.13 "$AAPL My Long Trade (Part 2)"
07.24.13 "$AAPL My Long Trade (Part 3)"
08.05.13 "$AAPL My Long Trade (Part 4)"
08.13.13 "$AAPL My Long Trade (Part 5)"
---
Trade From 7/1/13 To 8/22/13
---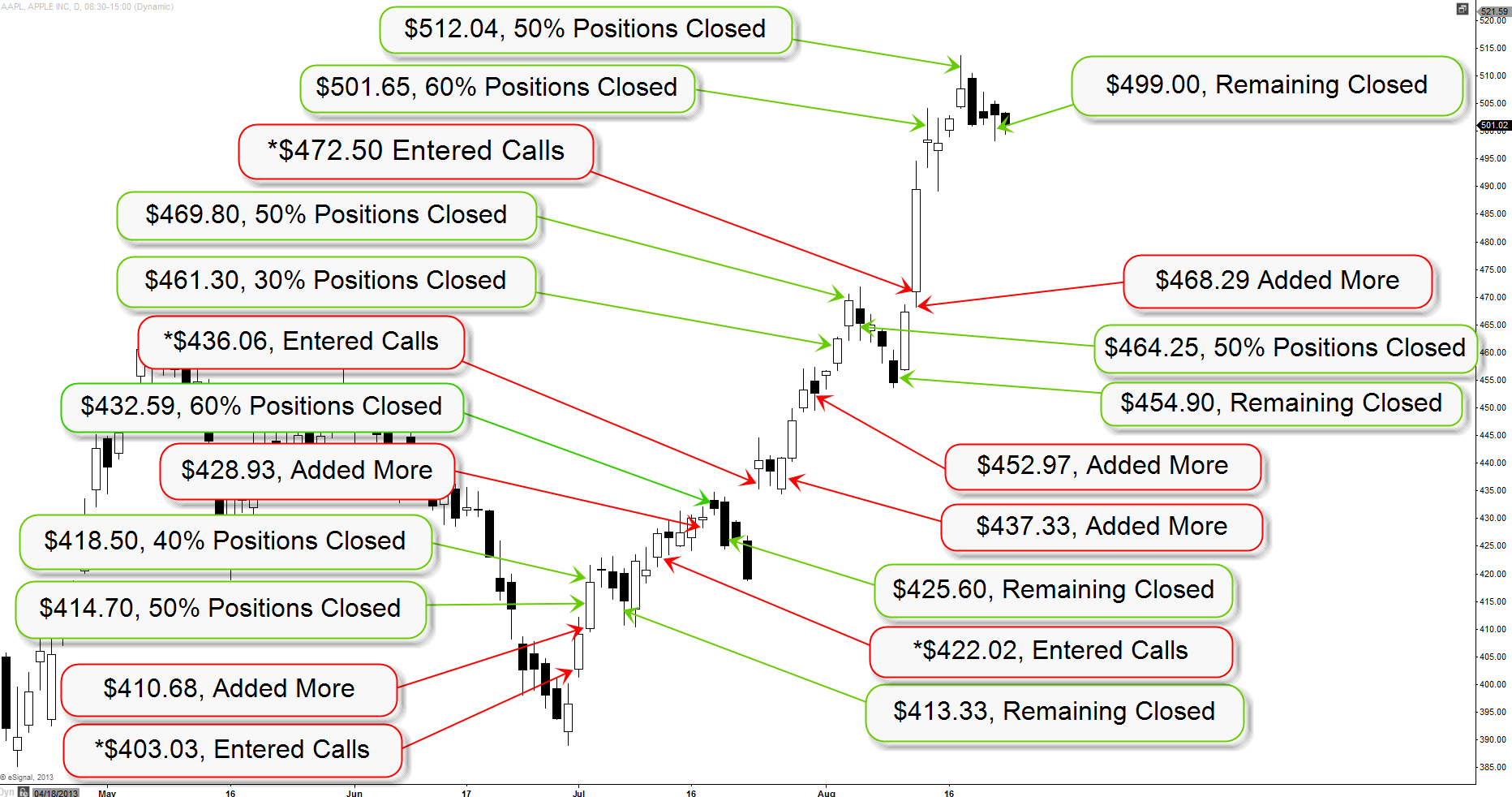 Trading long side is always tough when the stock is beaten down for so long like $AAPL so as you can see there were few times I got out little bit earlier than I should but taking cautionary action is always a good thing when you are trading against the primary trend.
I do believe that the $AAPL is found pretty solid bottom here as long as $AAPL trade above $470.  I am thinking of re-entering long sometime this week or next after some pull back.  $490, $484, $470 are probably the levels it is going to find support and I have no idea which level yet but $470 must hold if we ever get down to that level.
We've been putting some higher lows looking at the daily chart but I do think coming back down to $484 or $470 level isn't a bad thing to make that little bit more steeper higher low.
Also if you take a look at the weekly chart you can see that definite double bottom and many times when you form wide scale of double bottom like $AAPL, it might wants to come back down to retest that neckline area which is about $470.
I thought overall it was a good trade but I was always closely monitoring as $AAPL had to swinm against the current which is the bearish primary trend. Now that $AAPL is starting to find some momentum to the upside and trading above major MAs (daily chart, still below 100SMA on weekly), I would think we can able to have more solid uptrend as long as the broad market continues to drive higher.