---
LAST UPDATE: 8.10.13
---
8.5.13 Monday
Closed 50% of Call Positions @ $469.80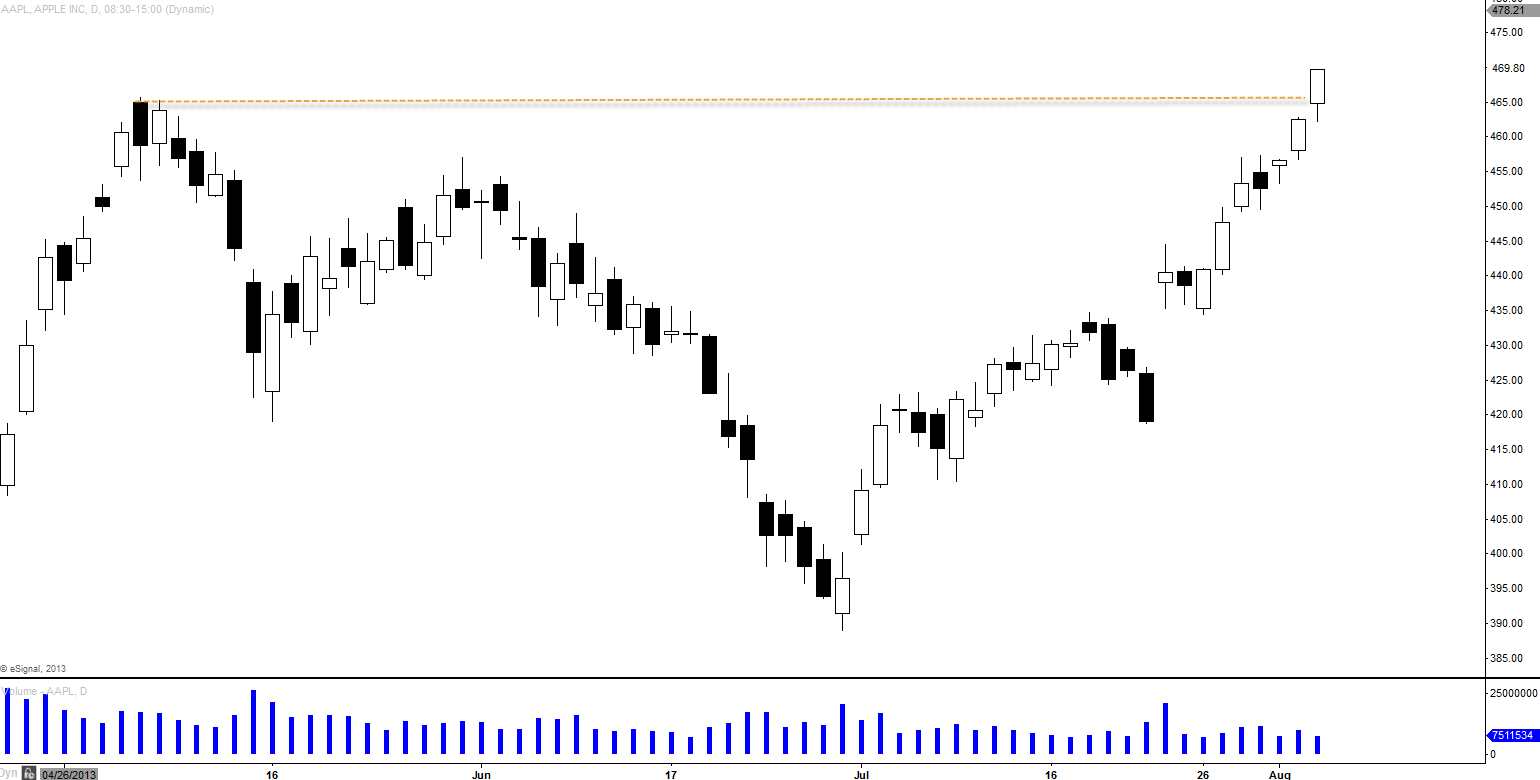 I did close 50% of the remaining positions today at it's peak (after closing 30% call positions last Friday right before close).  Here are few reasons why.
I've been in calls since $436 and added at $437 and $452.  I was very satisfied with my ROI today and I decided to take profits here.  I did keep 50% of the remaining positions because we did break above very important level of $465 pivot with some volume and I think we can go higher for few more days.  As 200SMA closing in at around $475 and $483ish being next pivot level, I wouldn't be surprised that one of these levels become resistance and we see a pullback down to $465 to retest that level as new support.
---
8.6.13 Tuesday
Closed Another 50% Remaining Positions @ $464.25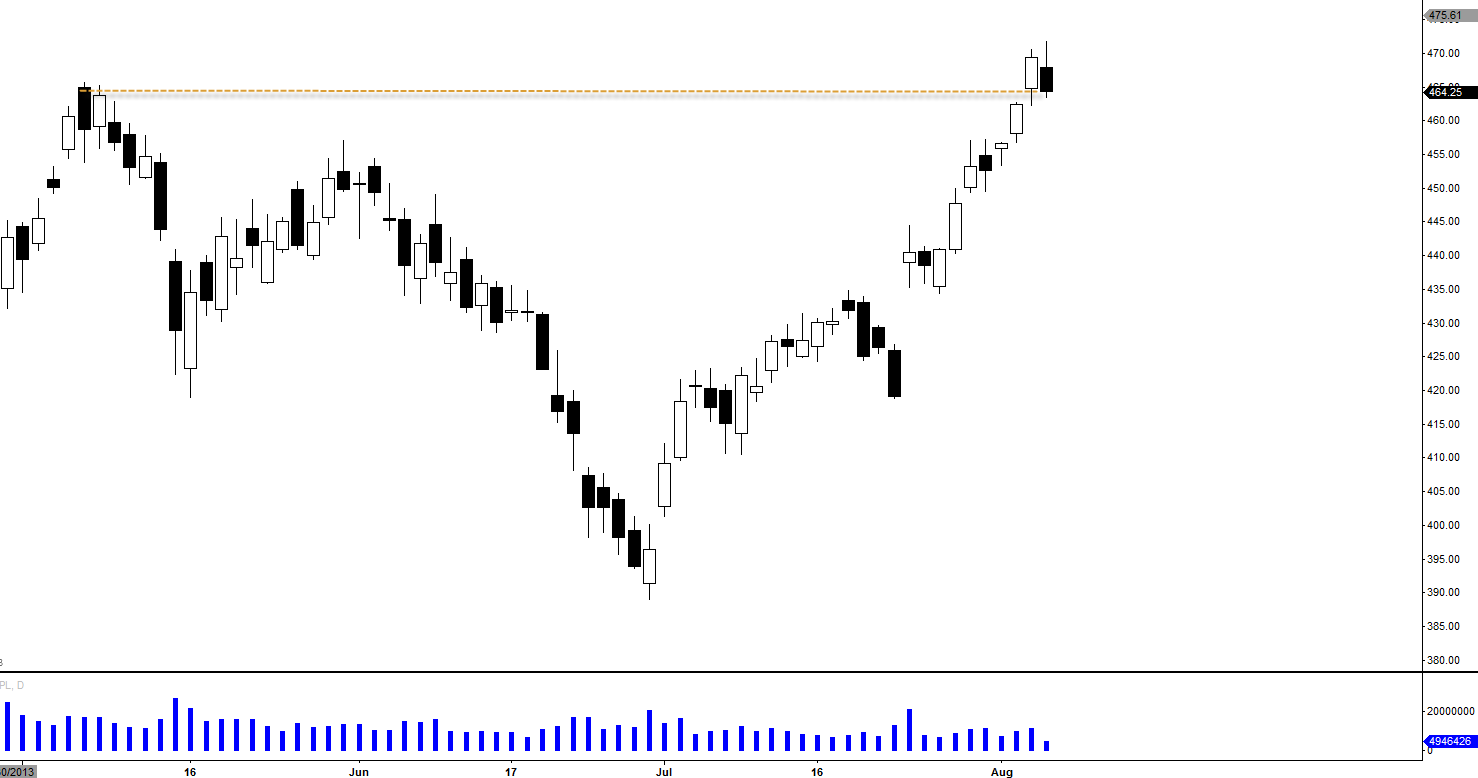 Looking at the after close chart I would have to say that the bullish strength is still in tact even though we do have bearish harami pattern today (last two candles).  Harami is relatively weak reversal signal so it needs confirmation by closing below today's lower wick which is $461.80ish.  If we close below that level tomorrow, I would have to say that $AAPL can come down to test that $457 and $450 level.  But for now, nothing has been confirmed and I think it held up well despite of the market condition today.
I have been taking profits last 3 days because I think the pull back is imminent at this point and also 200SMA closing in very closely which I think it can be acted as resistance for sometime.  I am still holding onto some positions because I am bullish in longer term and I am willing to add when the opportunity arises but for now, it still looks bullish to me.
---
8.7.13 Wednesday
Looks More Like a Bull Flag
Here are several ways it can be played out in my opinion
This bull flag plays out and we thrust higher next few days
$AAPL comes down to test that $457 (yellow dotted support)
If $457 fails, trouble.
If $457 withstands and supports, I think we can still continue in this trend
I am currently holding remaining call positions and looking to add more when the opportunity arises. Still looks bullish in my opinion.
---
8.10.13 Saturday
Completely Out of the Trade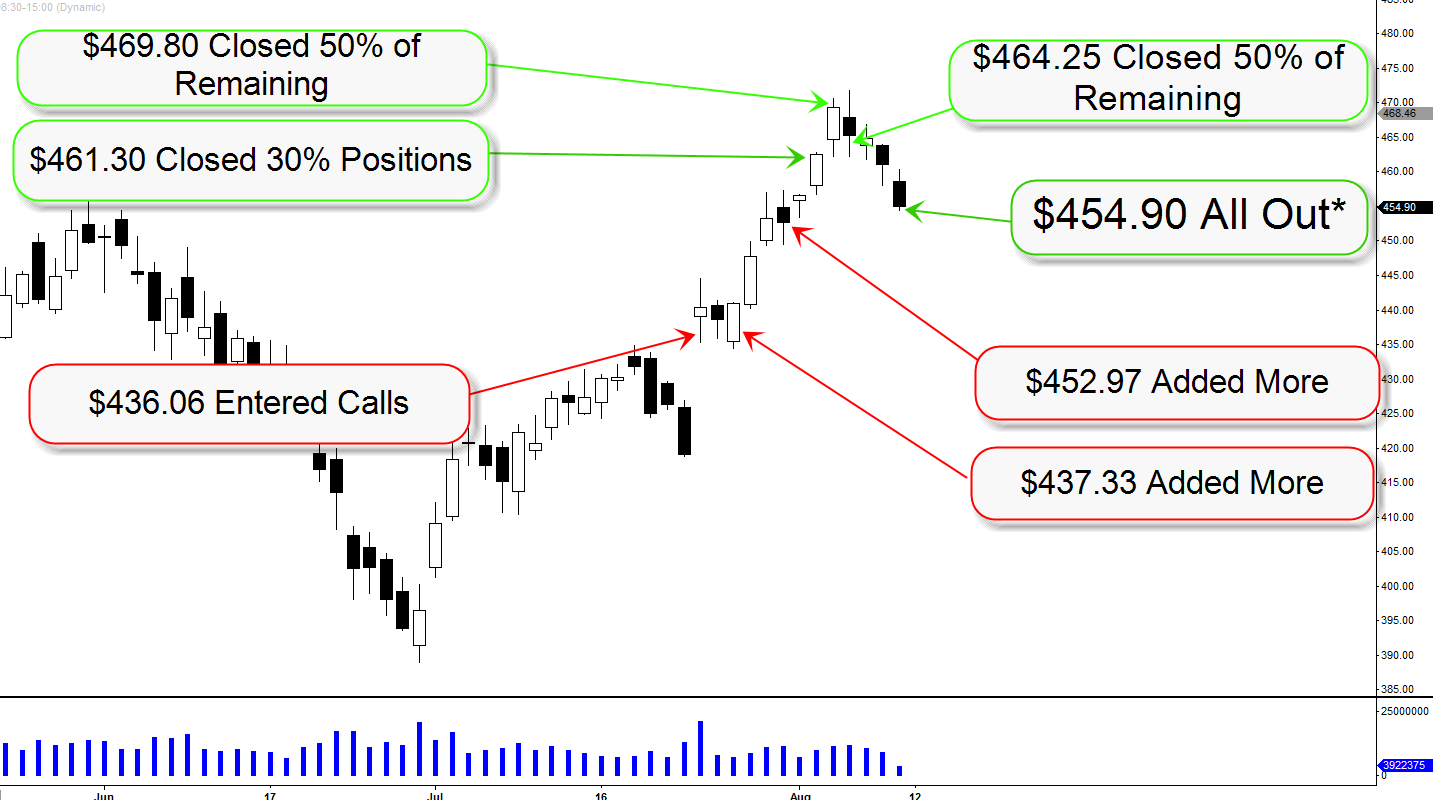 Today was the day if this bull flag was going to play out but it failed and that's when I got out completely. I have been profit taking though so I was only holding very small positions when I completely closed out my positions as you can see.  Next level support is $452.30 but I have a feeling it might wants to come down to where 50EMA ($439) is and test that level before possibly finding support.   I wouldn't go short at this level personally (unless you are day trading) because it might be coming down to create another lower high.
---
Go To Part 5
---