---
LAST UPDATE: 8.3.13
---
7.24.13 Wednesday
[Morning] Entered Call Positions @ $436.06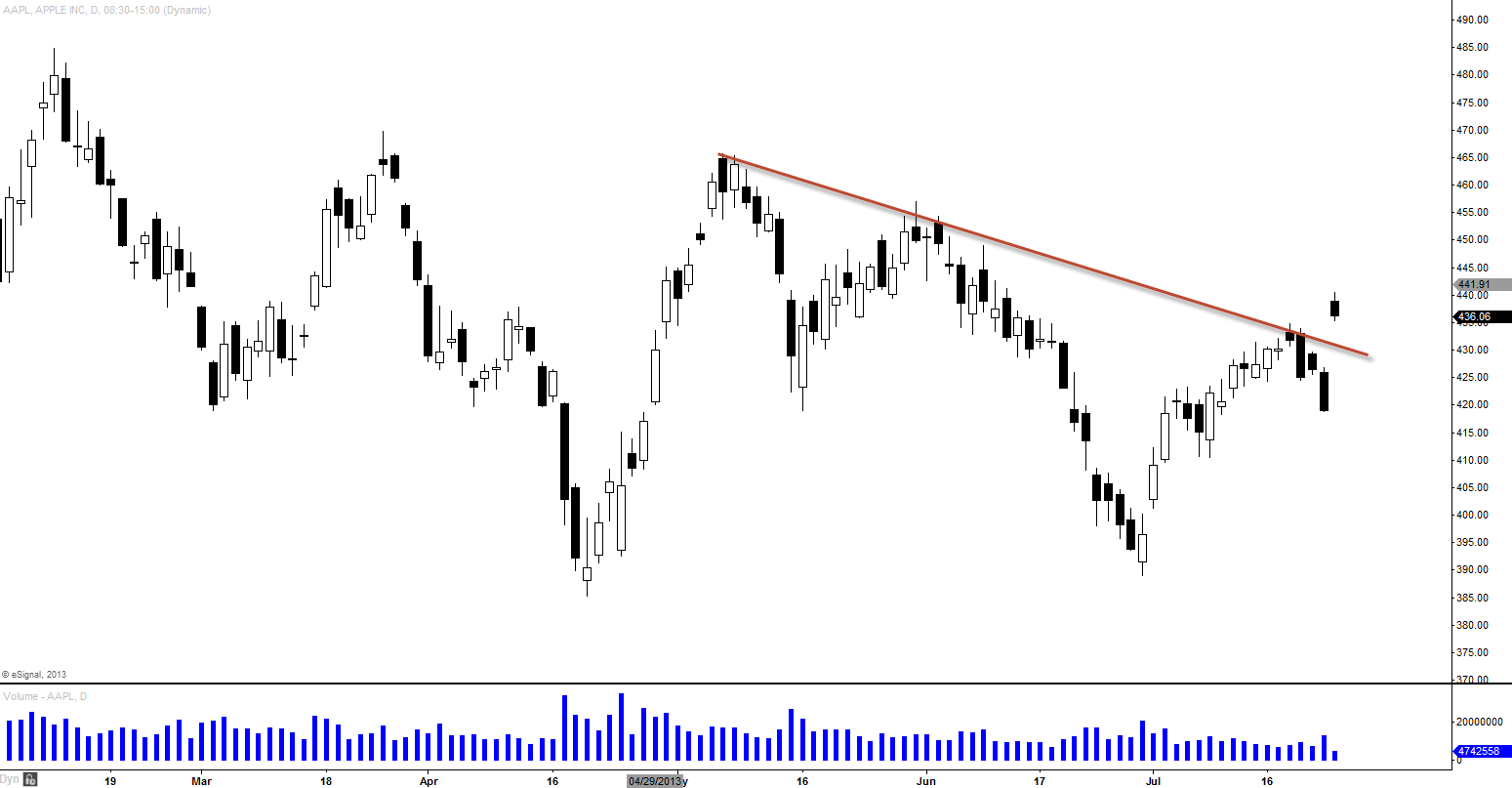 [After Close] Above 100SMA
Well we are well above 100SMA for the first time since the crash but one day can't make a trend which means we will need to see some follow through this week or next to establish some bullish momentum here.  I think if the buyers can protect $435 level (level that currently is coinciding with recent pivot (from 7/18) and 100SMA) and continue drive the stock higher, we might see something happening here for longer term bullish trend.  For long term trend change to bullish, bulls are desperately seeking  for 100SMA and 50EMA to cross to the upside which I talked about more in detail on this post.   Let's see if we can have follow through tomorrow otherwise it was another dead cat bounce.
---
7.26.13 Friday
[Morning] Added More Calls @ $437.33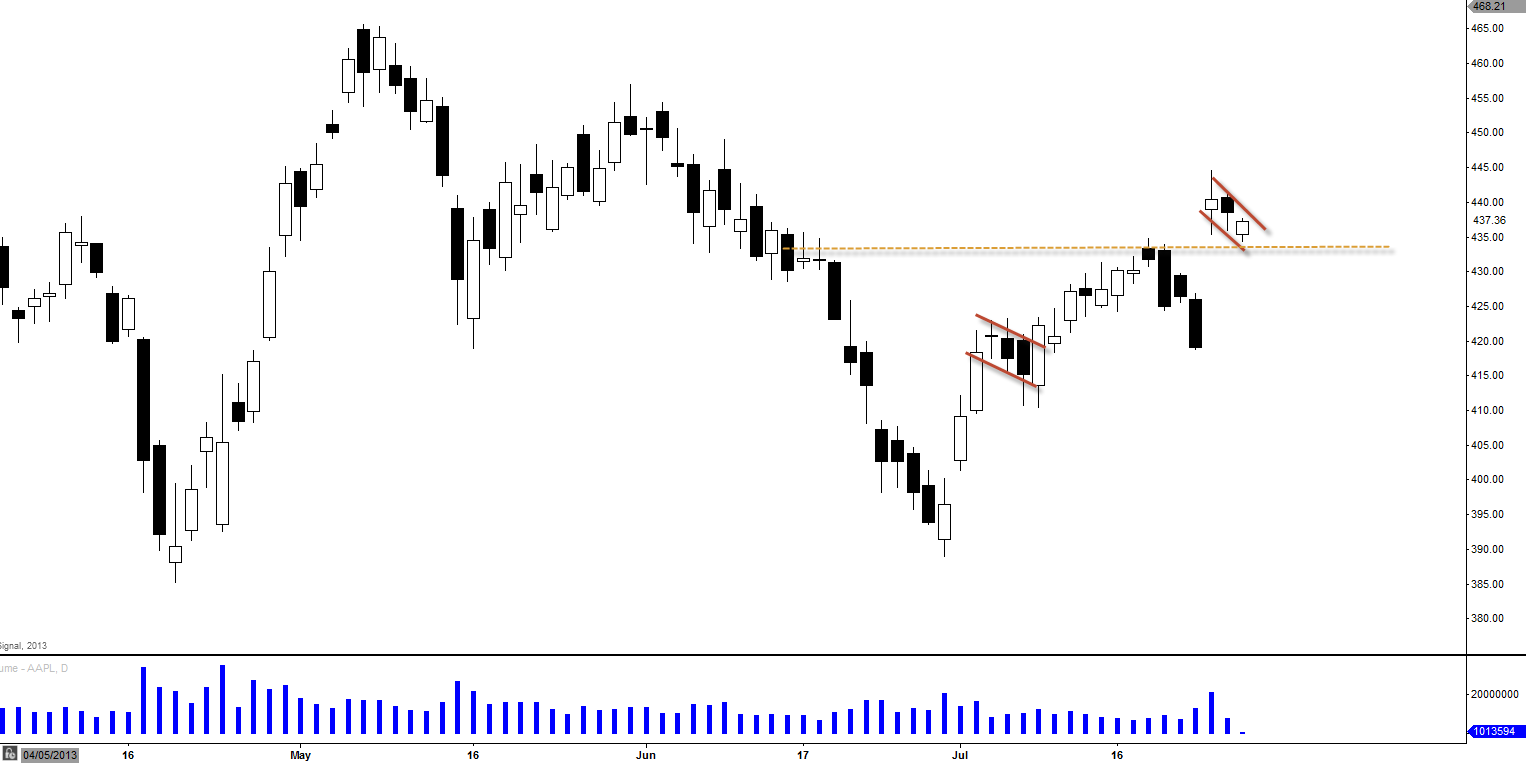 $433 is acting as support currently and we are forming possible bull flag right at that level so I decided to add more call positions at this level hoping that the bull flag could possible play out here.  Showing great bullish resiliency this morning while we are seeing the market showing some weakness.
[After Close] Weak Volume is a Concern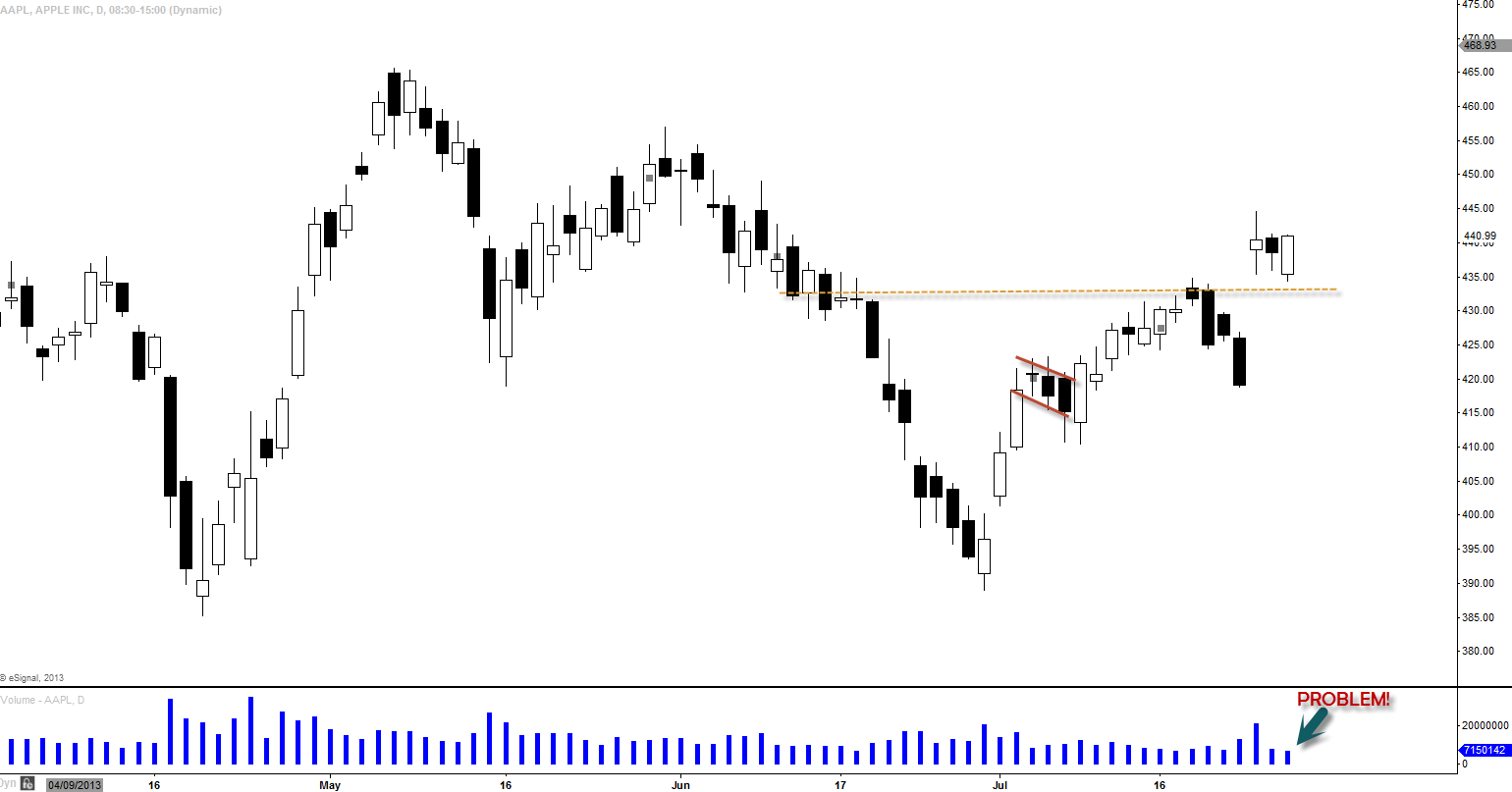 We did have nice run up today but we have extremely low volume today and this is a huge problem. You can see how big today's candle (compare to yesterday's) is but the volume is actually lower than yesterday's (That's not a good sign).  We need some volume and we need it very very soon preferably on Monday with possible run up.  If we don't get that volume soon, I think $AAPL can slowly fade away and start to roll over because we are still in primary downtrend. To remedy this situation, I am looking for another run up early next week (Monday or Tuesday) with big volume spike.  If we don't get that, $AAPL can fill that ER gap and just drip lower.
Weekly Chart Looking Better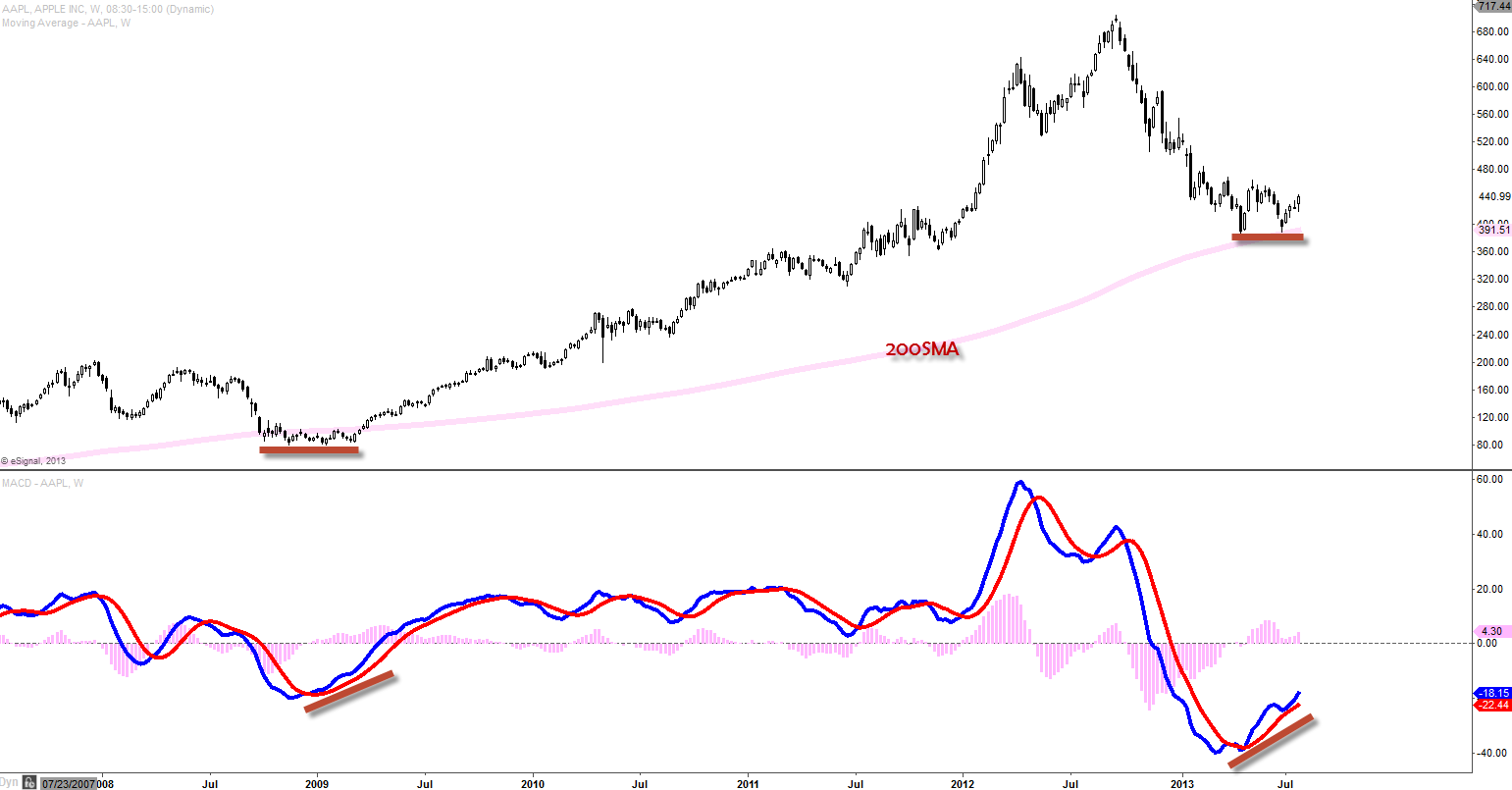 Found support at 200SMA with double bottom while MACD is rising higher.  Last March of 2009, that's exactly how it came out of the mess, by finding support at 200SMA with consolidation pattern while MACD rose higher.  For this double bottom to be confirmed, $AAPL needs to close well above $465 level.
---
7.29.13 Monday
Holding Full Positions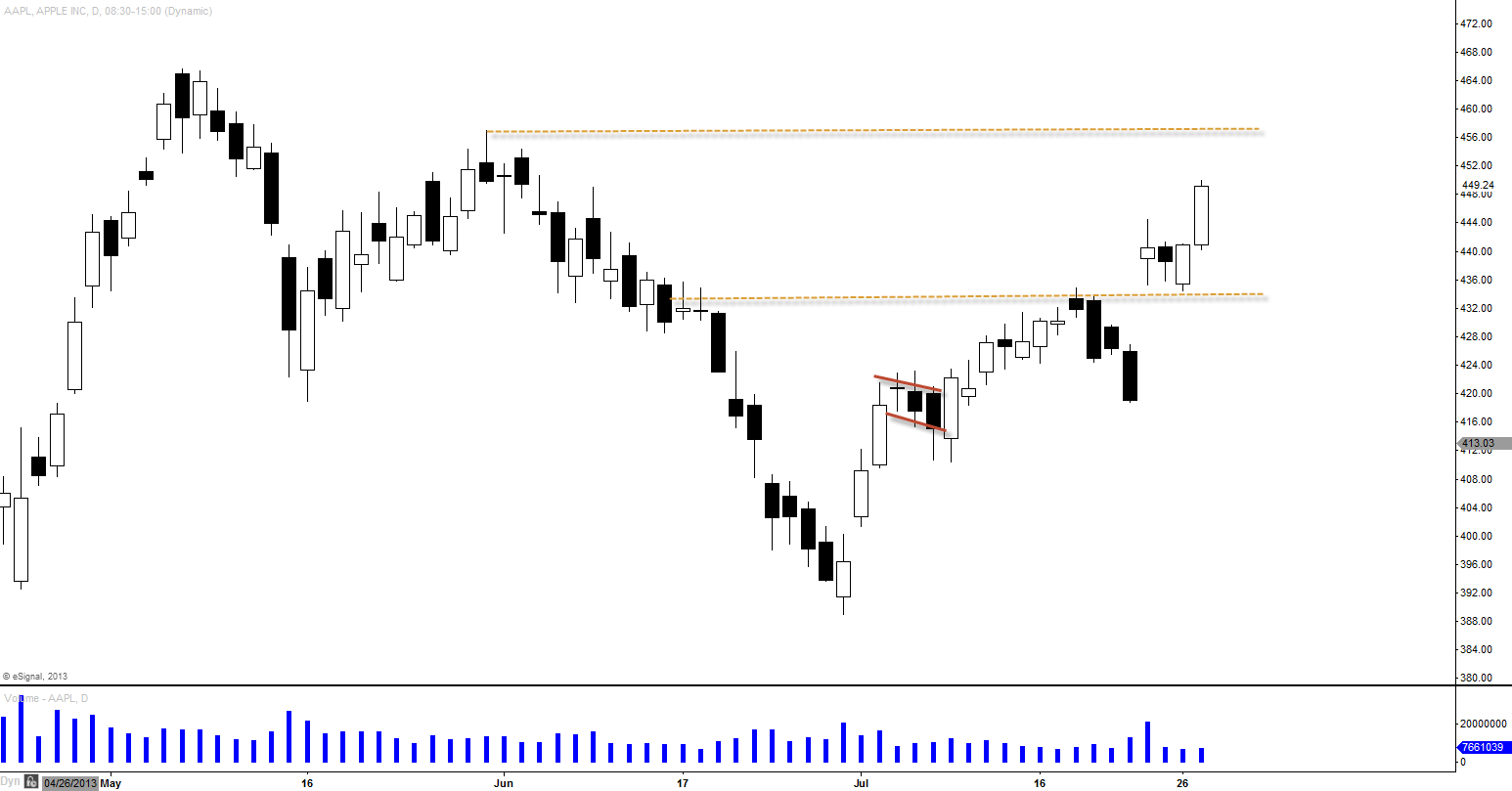 We've got the thrust today but still with low volume last three days which is very concerning. However because we've built some momentum since the ER gap I think we can able to get to next resistance ($457)but I am not sure if it we can able break that with no fuel (volume) in the tank.  I will probably make some adjustments tomorrow depending on its intraday action.
---
7.30.13 Tuesday
We did able to reach my recent target of $457 but closed with weak looking candle and I do not think today's candle qualifies to be a textbook Shooting Star reversal candle but that long upper wick definitely shows us some concern here.  We continue to have low volume but its RISING so that's not too bad.  If we can possibly move sideways for about a day or two, I think we can have another leg up to about $465 level.  However if we start closing below today's low, we might even have to treat today's candle as a Shooting Star reversal candle. (Still holding full positions)
---
7.31.13 Wednesday
[Morning] Added More Calls @ $452.97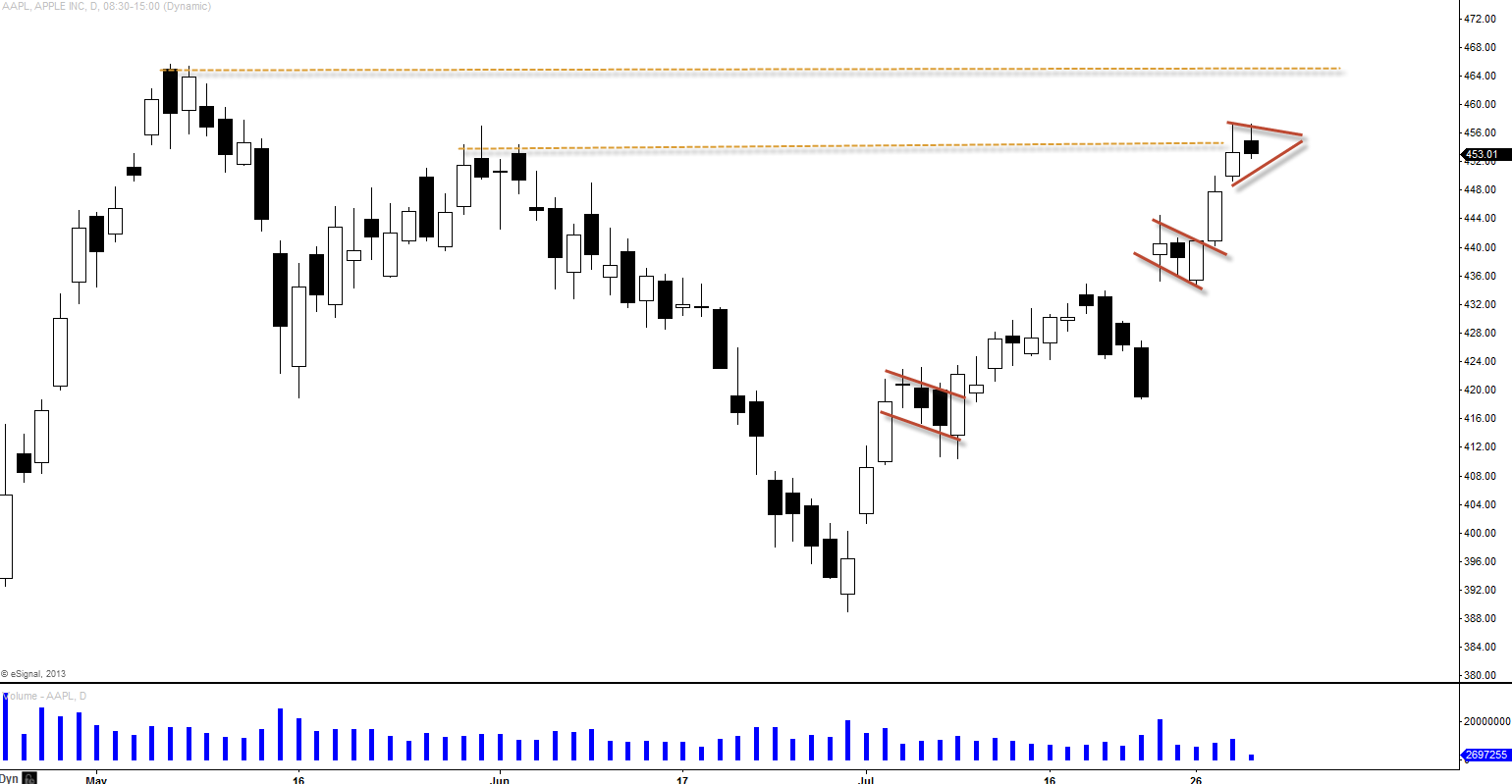 [After Close] Held Up Well
I would have to say that $AAPL held up very well despite the fact that we had very weak finish in the overall market.  When was last time $AAPL was able to not be bullied by the bears especially when trading right at pivot level and the market is down like today? Because of today's action, I think we can possibly form some sort of continuation/short-term consolidation pattern here such as bull flag or pennant.  If we can stay above $452, I think we can able to get to $465.00 or beyond.
Watch 50EMA and 100SMA in daily chart as they are about to cross.  Once they are crossed and starts to separate, that would be an early indication of primary trend reversal.
---
8.3.13 Saturday
Progress so Far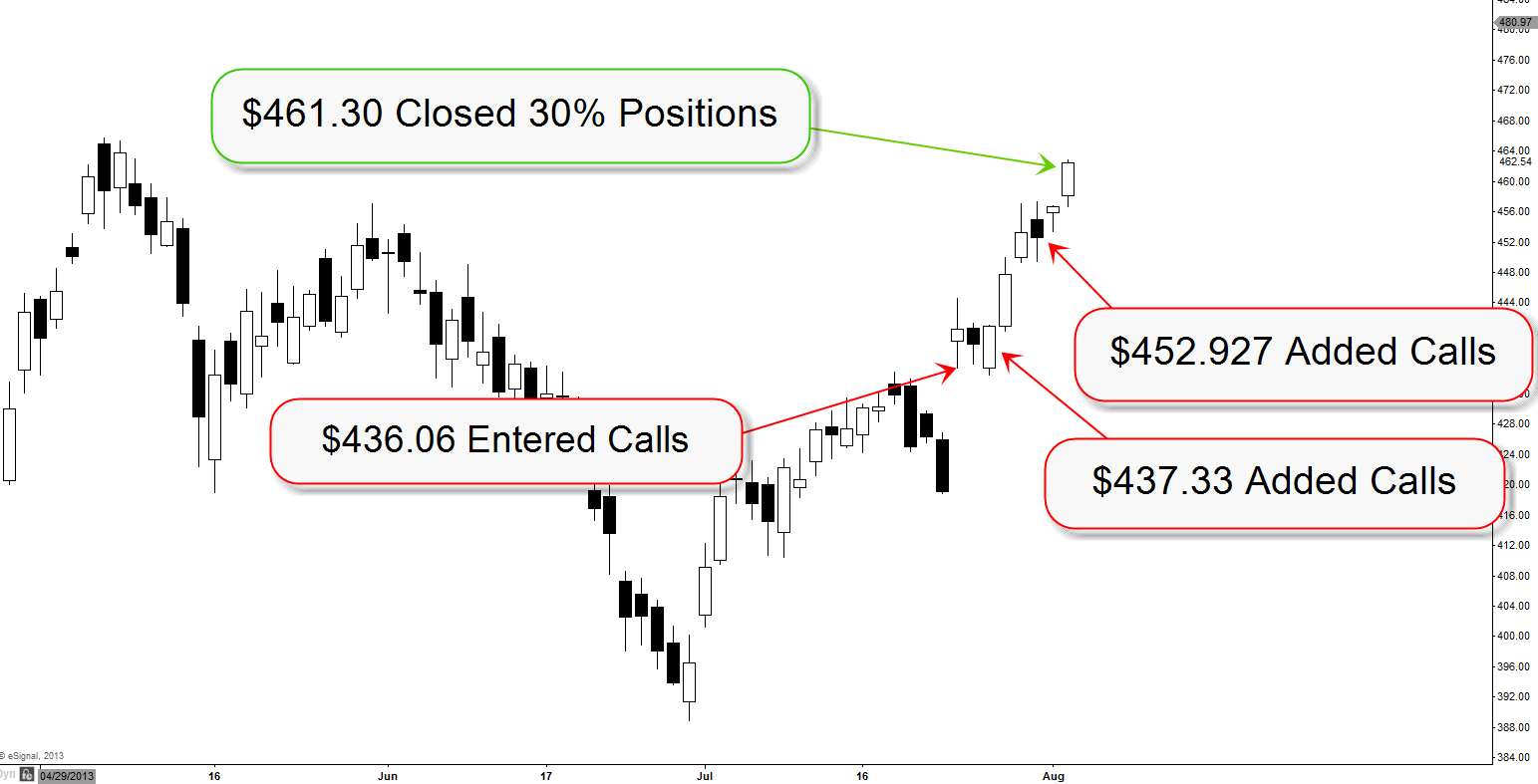 I did close about 30% of my entire call positions on $AAPL as I think $465 level can be a strong resistance.  As we have broken out of this bull pennant (yesterday), I'd have to say that we are continue to build this bullish uptrend here.  As of today, there are no known reversal formations so I would have to see how it's going to react to that $465 level next week.  Moving averages are looking great and ADX is continue to scream bullish.  $465 and $470 is going to be next levels to watch.
---
---