[divider]
Related Articles
06.17.14 "My $TSLA Calls"
10.09.14 "$TSLA Warning Signal [Part 1]"
10.27.14 "$TSLA Warning Signal [Part 2]"
12.03.14 "[VIDEO] Mid-Week Update with Kay Kim"
12.07.14 "$TSLA Warning Signal [Part 3]"
[divider]
Weekly Bearish Divergence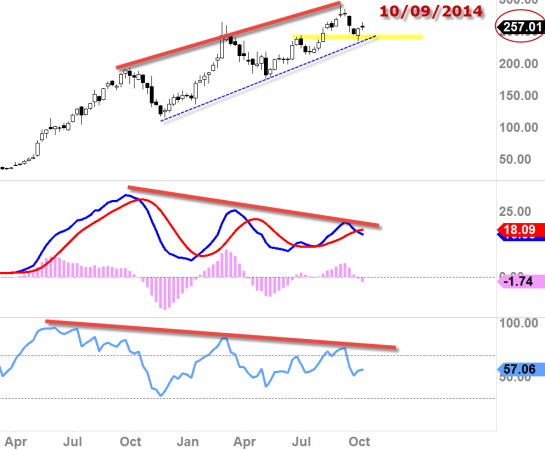 *Above chart (screened on 10/9/14) featured on the article 10/9/14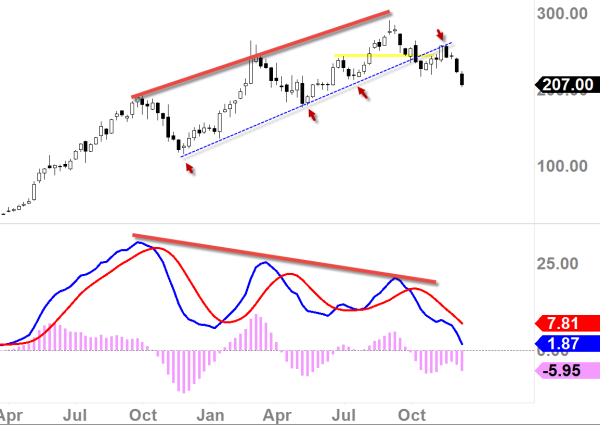 *Above chart screened today 
Since we've formed this weekly-bearish divergence back in early October, it has gotten worse making things very difficult for the buyers.  As I have been emphatically advocating, these weekly-signals can be very potent (I'm talking about primary term sentiment change–we are no longer in an uptrend), and because they are a weekly-signal, many traders/investors fail to recognize the big picture, thus not understanding why Tesla has been struggling so much.  When the emotions are high, I would completely forget the fundamentals and pay attention to the technicals. The problem continues to ramp up for Tesla in techncials as we have many warning signals mounting up.
[divider]
Monthly Bearish Divergence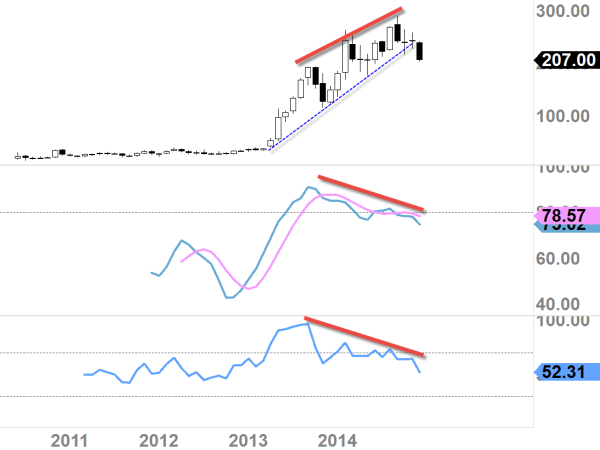 [Chart screened on 12/13/14]
To make things worse, we have bearish divergence starting to confirm in the monthly-term as well. This is probably the worst signal you would want to see if you are a Tesla fan-boy.  This signal alone isn't a huge deal, but when it forms along with weekly-term divergence; let's just say we are now fueling to the fire that has already begun.   Again this is a major warning signal, and I wouldn't ignore them.
[divider]
Daily H&S Confirmed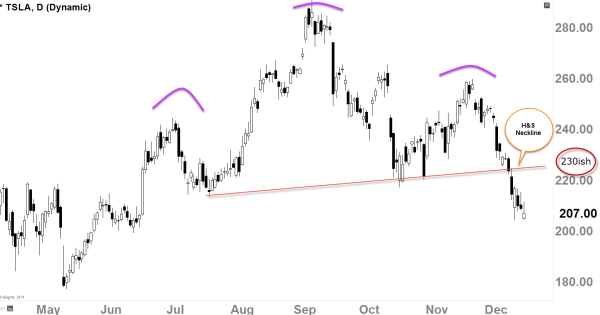 This massive H&S is now confirmed when it broke below the neckline, but I do think we may get a run-up within the few weeks to retest that neckline area.  This is where things could REALLY heat up if the neckline becomes a resistance.  Also we have to keep in mind that because this is such a massive scale of H&S, we have to make sure we also take a look at the weekly chart neckline pivot as well. But the daily chart H&S neckline is at around $230ish.   We get rejected there, sell-off will be intensified.
Weekly H&S Confirmed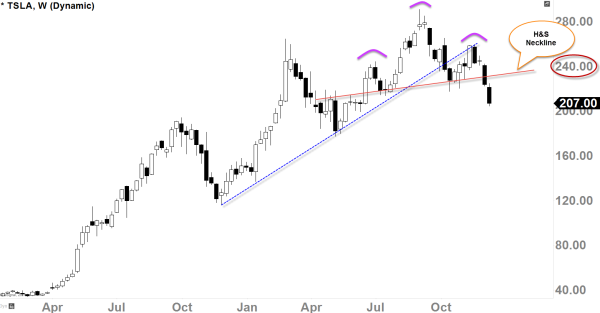 So looking at the weekly chart, H&S neckline is at $240 while the daily H&S neckline is at $230 so I would watch both levels as a potential resistance.  If or when the neckline of $230-$240 gets rejected and price falls, I think things are going to get so much worse and bears are going really tear things-up.  Yes, I've seen these H&S never play-out but when you already have weekly and monthly bearish divergence on top of the H&S confirmations, it has high probability of playing out.  again, we are no longer in an uptrend. Take caution.
[divider]
Let's Recap
Weekly bearish divergence
Monthly bearish divergence
Daily H&S confirmation
Weekly H&S confirmation
Primary-term uptrend supports have been broken and compromised
We are trading below all major moving averages including 100 & 200SMA
I do think short-term (1-2 weeks) pop might be seen to retest the neckline ($230-$240)
If the neckline rejects the price and it falls, true sell-off will begin
*This is a major warning signals–take heed
[divider]
Final Thoughts
I think the problem for Tesla is that we have multiple major-warning signals mounting up on top of each other.  This sentiment kind or reminds me of when Apple ($AAPL) fell in late 2012.  I am not sure if we are going to have complete crash, but I think these signals are insinuating that Tesla could have 50% correctional move (from its peak which was at $290ish so $150-$160 might be where its headed) if that H&S neckline rejects the price.  Unless you are trading short-term, I wouldn't try to call bottom because it's going to take a while before the bulls can nullify all these signals we've discussed on this post.  'V' shape reversal? Probably not. Again, remember, we are not in an primary uptrend anymore so the 'V' shape reversal is out of the equation.  Look for higher-lows and higher-highs in the primary term before entertaining the notion that it has bottomed.  It could take months before the bulls can nullify the pressure of H&S formation, so it's going to be tough for the Tesla investors for the next 3-5 months.