[divider]
Related Article
06.17.14 "My $TSLA Calls"
10.09.14 "$TSLA Warning Signal [Part 1]"
[divider]
Weekly Bearish Divergence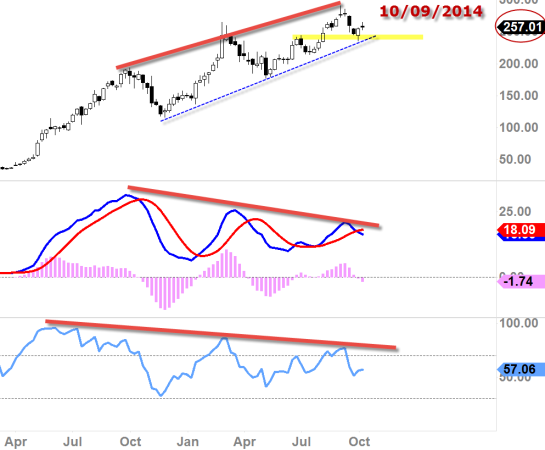 [Above weekly chart was featured on last article]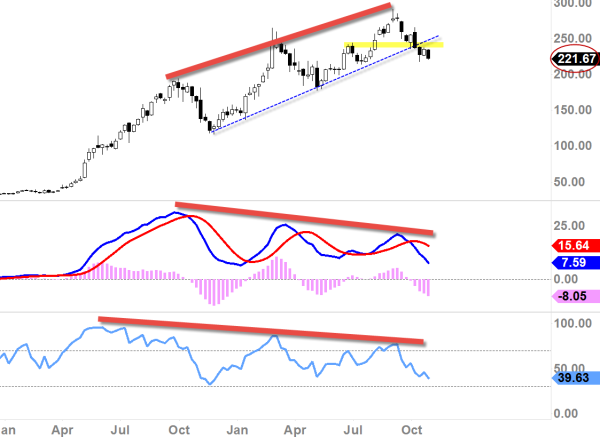 [Weekly Chart]
Since the early indication back in 10/09/2014, that weekly bearish divergence has progressed like a virus, and spread through the stock, losing nearly 40 points since then.  Because this is happening in the weekly term, the current weight is very heavy for the Tesla Motors.  There are unknown selling-forces and fear lingering around in the psychological aspect of traders and investors for this stock.  Now, we've lost recent support (blue dotted line) along with horizontal support (yellow highlighted), and it's a concern.   Again, when these things fully play out (I call them, "Three Peaks Divergence"), they can be served as major topping pattern, which could mean, we may not see high 200's again in a really long time.
[divider]
Daily-Levels 2 Watch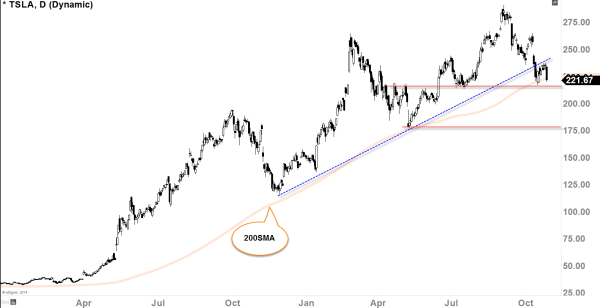 [Daily Chart]
200SMA, the savior of Tesla?  Tough to say as of today but it has served as critical level of support in the past.  We are sitting just right on it today while retesting the old support line as new resistance (rising blue dotted-line) today as it failed to trespass the level today (hence the long dark candle today). In the intermediate term, since the $290ish, Tesla has been forming lower lows and lower highs, which means, downtrend is continuing without any evidences (as of today) to recant from that argument.
So what now?  If we lose 200SMA and that horizontal support of $210-$215ish, I think Tesla might be headed to $175ish level.  Mainly because lots of forces at the top as we just looked at that Three Peaks Divergence chart on the weekly term.
So how can the bulls, possibly, salvage this mess?  I think if the bulls can reclaim $240ish to the upside and fill that gap at around $257ish, I think that's a good start.  But, until then, this thing is a mess, and that's the reason why we stayed away since our last positions.
[divider]
Our Last Positions
[See entire journal post here]
As long as we have that weekly bearish divergence in the picture, I will not look for another entry.  We didn't short because we are in a bull market (I don't like shorting anything when the overall market sentiment is bullish, also because, I don't get into anything short-term).  I still probably won't be shorting even if we continue to see further decline on this stock.  What I would do is that, I would keep an eye on it, and wait for the next long-term bullish entry. I am not sure when that's going to be but it will present itself when its ready to get back up.  We were very fortunate to close all of our call positions right at the top (back in 9/4/14), and that's very difficult to do and I just think we just got a good break on that.  We've got earnings coming up soon here (11/4/14 after close), and with a bad report, this thing might get flushed down hard…
[divider]
Bonus Monthly-Chart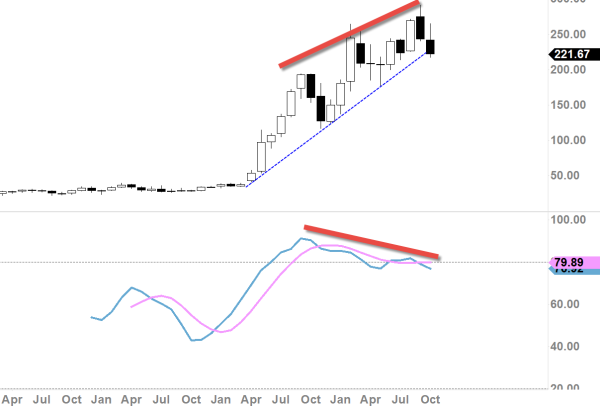 hmmm, interesting look here on the monthly chart with divergence while the price is barely dangling on that monthly rising support…  Definitely, something to keep an eye on for the long-term perspective.