[divider]
Related Article
6.17.14 "My $TSLA Calls"
[divider]
Weekly Bearish Divergence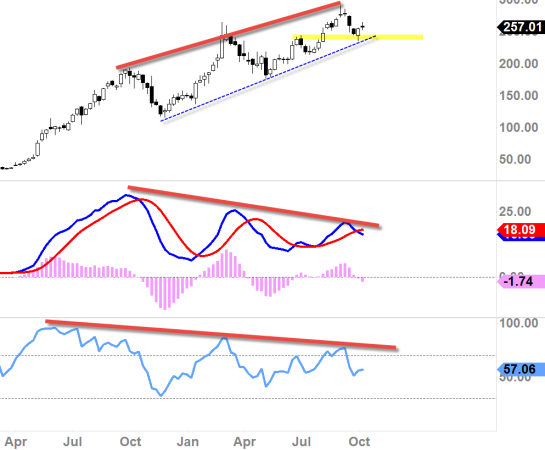 [Weekly Chart]
Since we closed all of our call-positions back in September 4th, we have not touched Tesla.  One of the main reason was because of this bearish divergence (stock is making higher-highs while the indicators are making lower-highs) was starting to form on the weekly term (it has been progressed since then).  That is what I like to call "Three Peaks Divergence", and it can be lethal warning-signal with the price-action confirmation.
If you look at the above chart, the yellow-highlighted and rising support (blue dotted-line) levels are the level to watch and the level the bulls must protect on this weekly chart.  If we lose that support-level, that could be the initial confirmation of this bearish divergence and further decline might be on its way.
It's not always the case, but often times, these weekly bearish divergences can be analyzed as primary-term top if confirmed.  So this is rather serious signals we are getting here on Tesla.  Again, as of today, we do not have a full confirmation but definitely I would take caution here for the next 1-2 months.