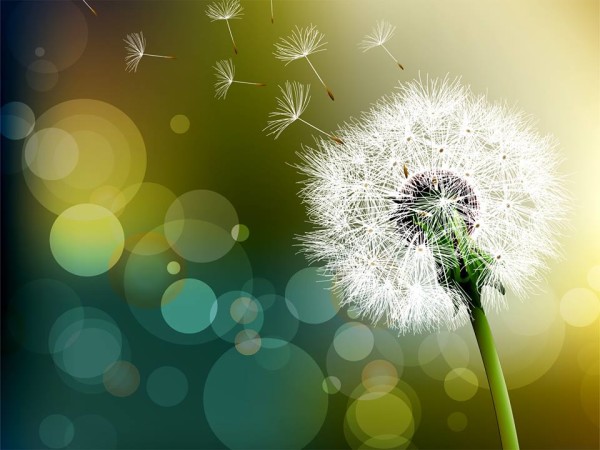 [divider]
Last Update: 12.03.13
[divider]
Related Articles
11.20.13 "LIVE Mid-Week Update $SPY $DIA $QQQ $XLF [VIDEO]"
11.14.13 "Several Charts 2 WOW! $SPX $INDU"
11.14.13 "Higher Calling $DIA (My Long Positions)"
10.11.13 "I am Long on $SPY"
10.11.13 "I am Long on $IWM"
10.11.13 "$XLF Nullification Project"
[divider]
11.14.13 Thursday
[divider]
[Morning] Entered Calls @ 178.35
Chart screened 8:53am CST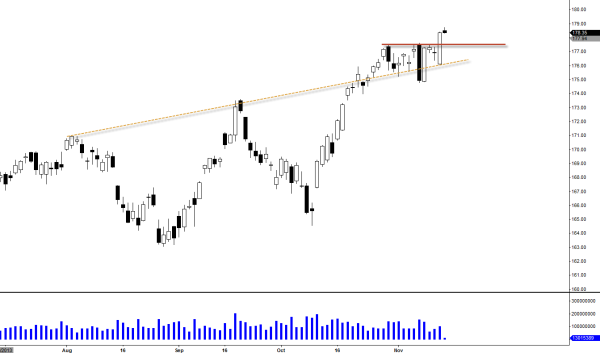 [Close]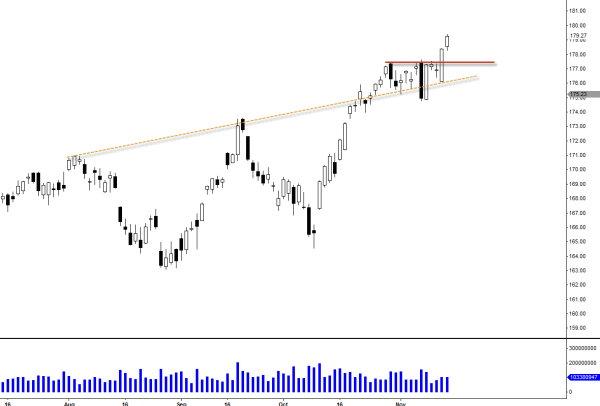 "Buy high sell higher" is exactly what's going on here.  We had so many speculations of $177 being the possible top but it defied all of that indictments (that I recently posted on my blog) and $SPY just wouldn't fall.  This is where the sentiment comes into play where ultimately price action becomes the king in my analysis and all other indications becomes less and less pertinent (for now at least).  I do think the market could continue grind higher with some pull backs here and there.
[divider]
11.18.13 Monday
[divider]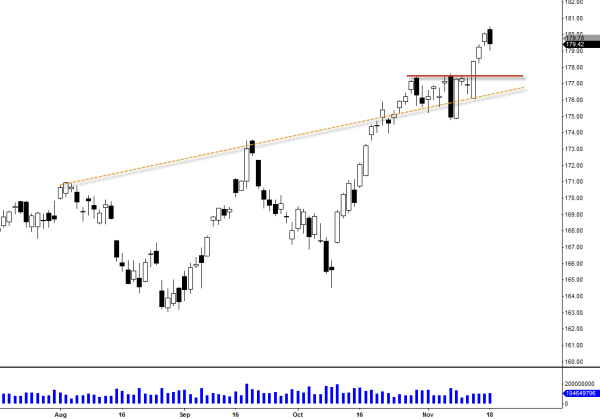 We do have bearish engulfing pattern but we had similar action on 10/30 and 10/15.  We are still well above 10EMA and I don't think this is the level to panic as it will still be bullish even if it comes down to about $177.50 to retest that level as old resistance new support. Still holding full positions.
[divider]
11.21.13 Thursday
[divider]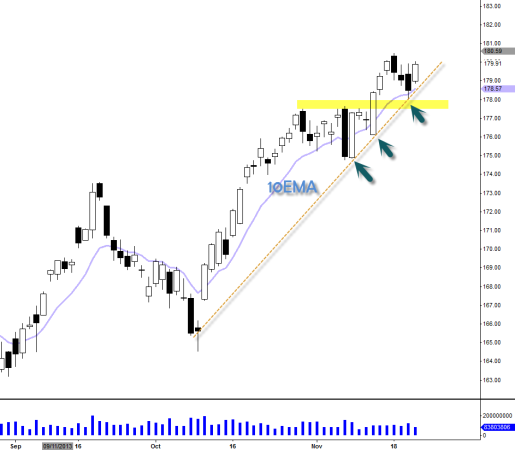 10EMA acting as support
Old resistance new support (yellow highlighted)
Uptrend support (green arrows)
Higher highs and higher lows (trend establishment)
Still holding calls since last Thursday open.
[divider]
11.22.13 Friday
[divider]
[Open] Added More Calls @ $179.83
@ 8:51am CST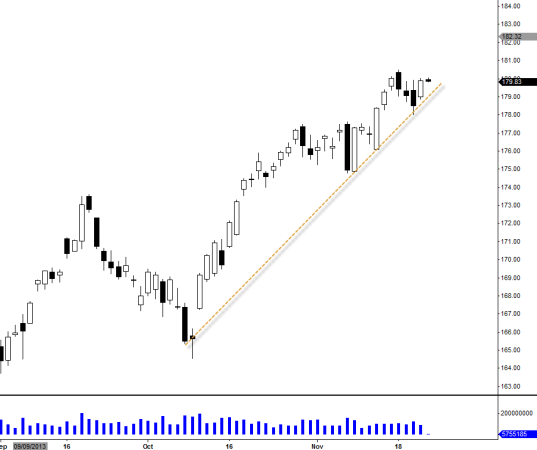 [Close]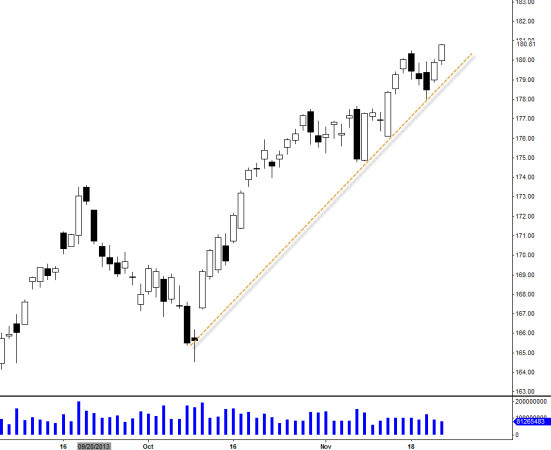 Higher highs and higher lows = trend continues.  Still holding full positions since 11/14 and this morning open and I do think $SPY will continue to grind higher pretty much all next week.
[divider]
11.26.13 Tuesday
[divider]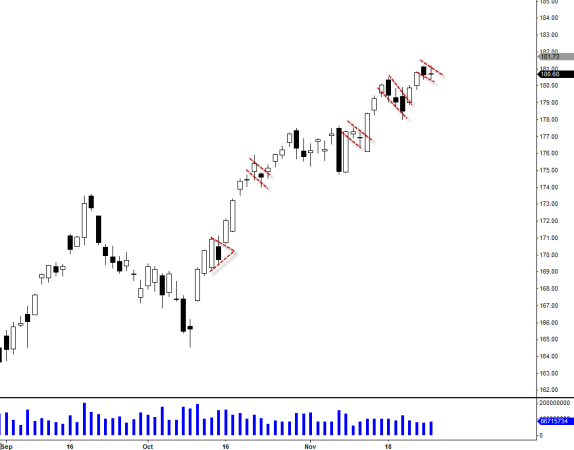 Still holding full call positions since 11/14 open and last Friday open as we are forming, yet, another bull flag continuation pattern.  It has been aggravating weeks for bears as they are trying to call tops and we know these patterns (last two days) does not help them. Because when bears come, they do not come subtly (like today) but they come with authority (for ex. 11/7) so its almost pitiful to hear bears continue to yell out market top whenever we see slightest pullback.
My guess is we gap up tomorrow and continue to grind higher as these bull flag definitely favors the bulls.
[divider]
12.02.13 Monday
[divider]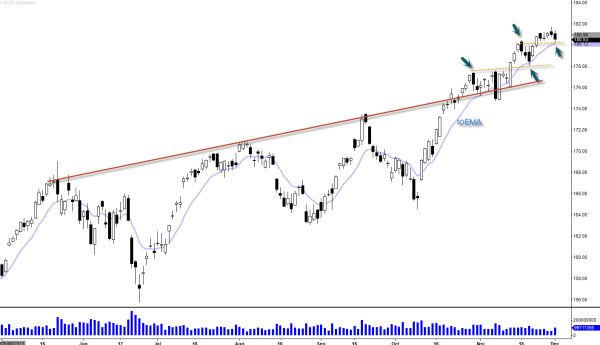 I am still holding full positions here that I got in on 11/14 open and last Friday open and here are the reasons why.
10EMA continue to act as support and we did not close below 10EMA (as of today).
Old resistance new support theory (see arrows) might be at work
Higher highs and higher lows in place thus we may be in the phase of creating another higher low
Today's candle with some lower wick exposure showing that bulls are fighting back just like 11/20 for possible run up next day.
[divider]
12.03.13 Tuesday
[divider]
Exited All Positions @ $180.01
@ 10:20am CST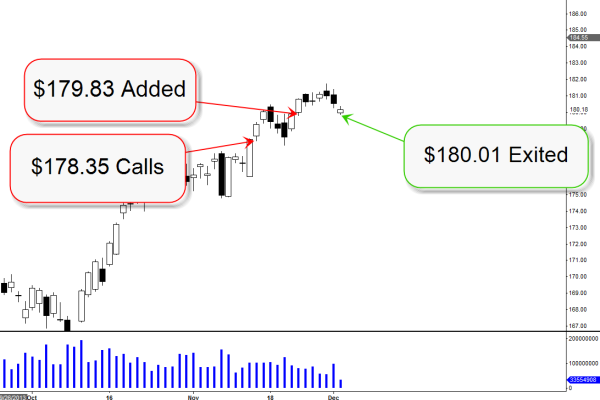 Very small gain here and we can only take what market gives us so as long as it's not a losing trade, I am ok with that.  I still think this is NOT the level to short but to wait for better long entry possibly next week.  Definitely, looking at today's closing candle, we can see resiliency from the bulls and fighting back to make sure this market does not tank.  20EMA acted as support 11/8 so I am wondering if it can act as support again here next few days.  If not, $177ish.