Last Update: 4.22.13
Related Articles
Article from 2.1.13 "7 Proposed Indictments on $AMZN"
Article from 2.20.13 "I Faced $AMZN Bulls Head-On" (Part 1)
Article from 3.13.13 "Facing the $AMZN Bulls Head-On" (Part 2)
[divider]
4.18.13 Thursday
[divider]
(65mins) Yesterday Mid-Day (Bearish @ $268.03)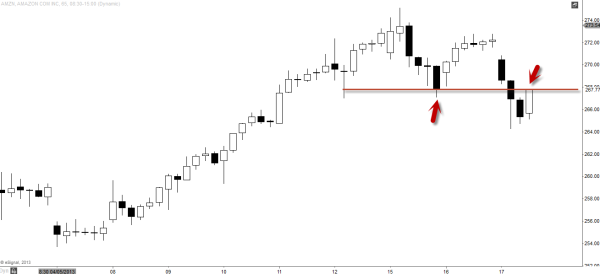 (65mins) Today 1 Hour In
Double top neckline is tested, failed, stock tanked.
(Daily) Downtrend Channel with Lanes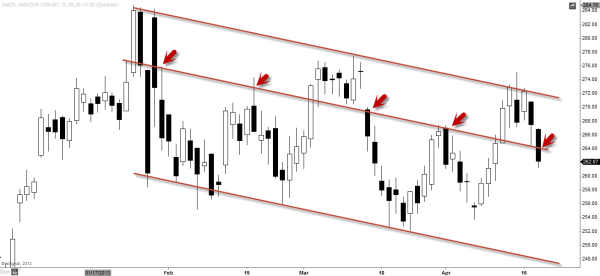 Looking at this daily chart, I am setting my target at around $253-$248 (bottom of the channel).  25th is the ER so I have about a week before I have to get out of this trade.  I think I will have plenty time as when $AMZN moves, it moves.
Closed 1/2 of My Bearish Positions @ $257.11
(1 Hour Before Close)
Riding other half and holding overnight.
[divider]
4.19.13 Friday
[divider]
Added More Bearish Positions @ $261.85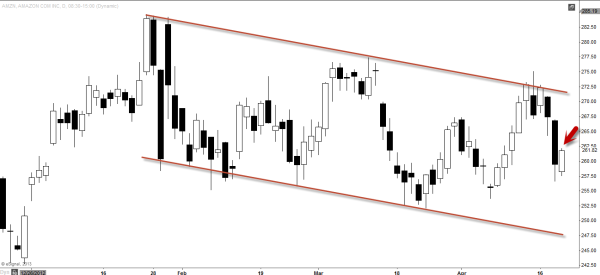 Added some bearish positions on a pull back earlier today and so far doing well. Holding positions over the weekend and $250 target next week.
[divider]
4.22.13 Monday
[divider]
All Positions Closed Out @ $263.44
Done trading $AMZN until after the ER (25th after close).