[divider]
Last Update: 3.27.13
[divider]
Related Article(s)
2.1.13  "7 Proposed Indictments on $AMZN" (Analysis)
2.20.13 "I Faced $AMZN Bulls Head-On Today" (Part 1)
[divider]
3.14.13 Thursday
[divider]
Entered Bearish at Market Open @ $269.20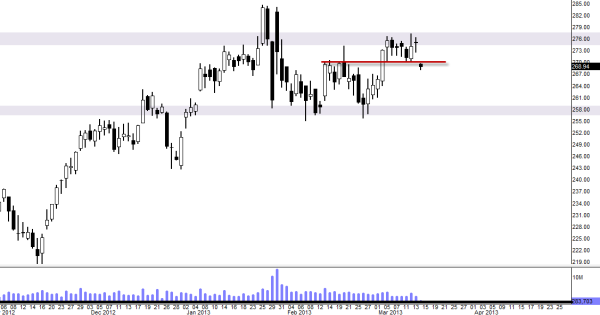 I got in with some Put Options this morning right at market open as I was watching the $AMZN gap down.  This came to me as big surprise this morning because I was not anticipated that move. However I thought the sentiment of recent bullish move has been shifted drastically by that gap down action this morning given the fact that we did not have any sort of reversal signals prior to today's action.
After Close – Gap is Still Open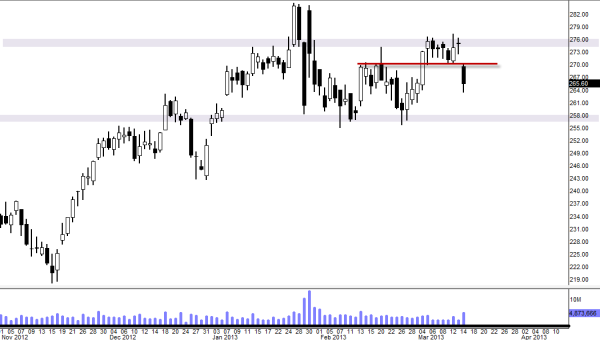 Bears made sure the gap was unfilled and they were successful.  That's a good sign if you are bearish on this stock. What needs to happen is, we would need that gap to be remain unfilled tomorrow and next week.  Breaking below $254.00 support level with good volume would cause sellers to really come out of their caves and roll this thing down to about $243 level in a week or two.
Currently finding support at 50EMA and 50EMA has been the support radiation last two months so not only we need to close below 50EMA but go far away from it as much as possible and definitely need to close below $254 support.   Today's selling pressure volume engulfs about 1 month of volume activities so we can really feel the pressure from the sellers today.
[divider]
3.19.13 Tuesday
[divider]
Closed 1/2 of my Bearish Positions @ $256.07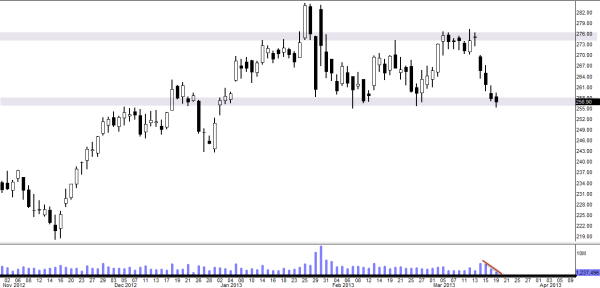 With declining volume last few days, I am starting wonder if it's going to find enough momentum to break through this major support of $255ish level.  If we close weak today, I anticipate some kind of bounce to test 50EMA as new resistance.
(After Close) We did close with hammer like candle and I am expecting some bounce to $260 and $265 levels before going lower
[divider]
3.20.13 Wednesday
[divider]
Added More Bearish Positions @ $259.05
[divider]
3.21.13 Thursday
[divider]
Important Support Broken, Closed below 100SMA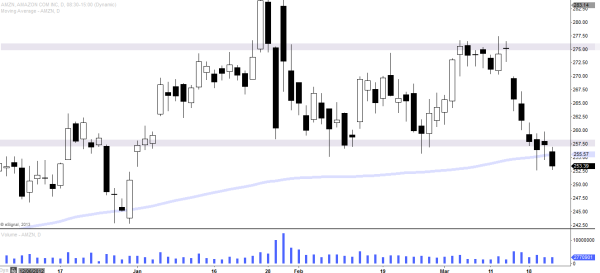 Finally we have broken $257ish strong support level that has been served as a brick for about 2 months.  We also did close below 100SMA (blue) today on a declining volume (last three days) and we've had 5 straight down days.  So I won't be surprised to see some pull back to about $257.50ish level to test that area as new resistance in the near future before another bearish run to start.
[divider]
3.26.13 Tuesday
[divider]
Added More Bearish Positions @ $260.33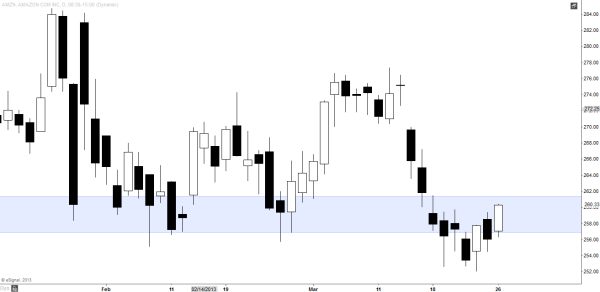 Earlier today I added more bearish positions at $260.33. If you look at your volume last 4 days, you can find that we have declining volume while the stock rose higher.  Especially today,  looking at the candle size, we have the lowest volume since about 2 weeks ago which means this recent upwards movement has no strength.  So I am classifying this as bear flag to test that $260ish level and 10EMA as new resistance before rolling over.
However 100SMA has been working as support last 3 days so in the event that we break below 100SMA, 200SMA ($246.76) is where its headed.  At around $245, we find many strong supports in that vicinity (horizontal support, uptrend support and 200SMA all residing in that level).  This is level where I would take some load off and close some of my Put options when we get to around $245ish area.
[divider]
3.27.13 Wednesday
[divider]
All Positions (Puts) Closed Out @ $264.23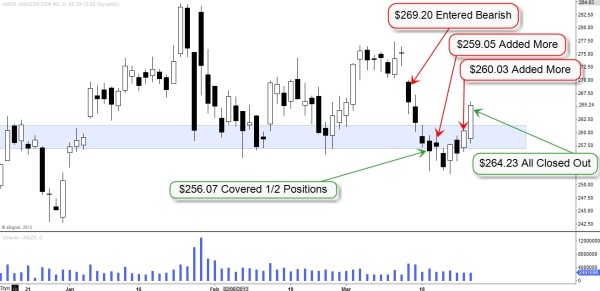 Despite of today's bullish move, I am still bearish in this stock. I will look into re-entry to short sometime near future.