[divider]
Related Article
2.1.13 "7 Proposed Indictments on $AMZN"
[divider]
2.20.13 Wednesday
[divider]
9:00AM CT- I Entered Bearish @ $273.83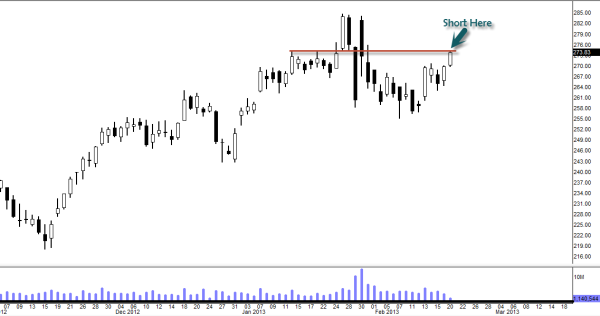 After Close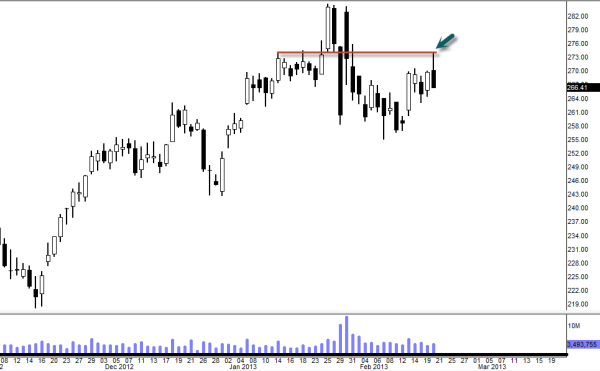 Reason 1 : As I have shown my take on $AMZN, I am bearish on it as you can see it on this analysis.
Reason 2: It looks like we are forming a awkward looking Head and Shoulders pattern on this daily chart.
Reason 3: Sharp bearish divergence on the weekly chart
Reason 4: Possible bearish flag on the weekly chart
Reason 5: Recent bullish move was not supported by volume
[divider]
2.23.13 Saturday
[divider]
Confluence Zone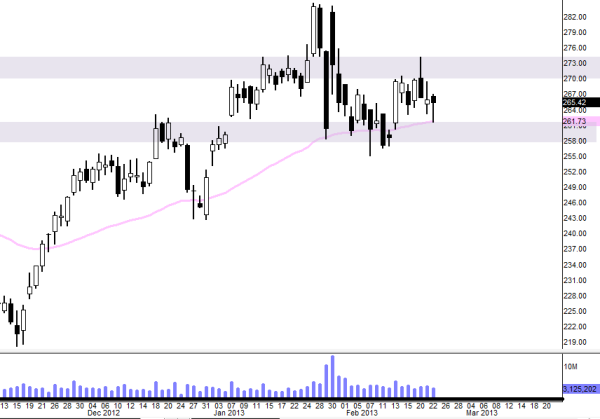 Congestion zone to watch next week.  We break below lower congestion zone, it's toast. We break above upper congestion zone, headed to retest that all time high level at $284ish. I have reasons to believe that we might test $273-$270 level early next week.
[divider]
*Deleted some previous updates as it was irrelevant at this point
[divider]
3.4.13 Monday
[divider]
Still Holding My Bearish Positions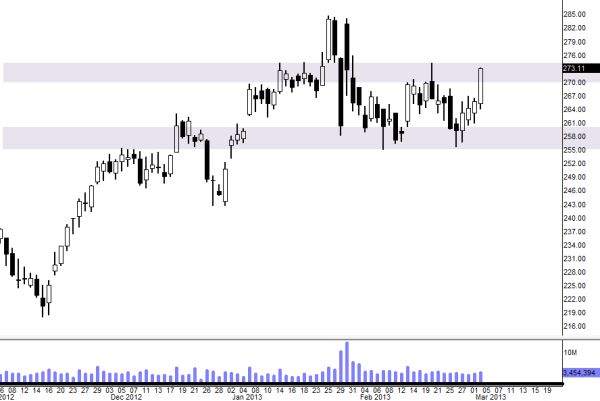 I am getting very close to stopping out here possibly tomorrow.  Why didn't I take profit while I had the chance? Because I didn't get into this trade to make few bucks but I got in this trade to make at least $40-$50 swing trade to the downside.  Volume is fair today but comparing with rest of the volume last week, it is low considering the size of it's length of the candle today.   $274 upper confluence zone has been solid resistance back in 2/20 so I am curious to see how it will react tomorrow. It is very much possible we could push through and retest that $284 level.   I am still standing behind my analysis and I am still bearish unless it closes above $284 level this week with high volume.
[divider]
3.5.13 Tuesday
[divider]
Stopped Out @ $275.31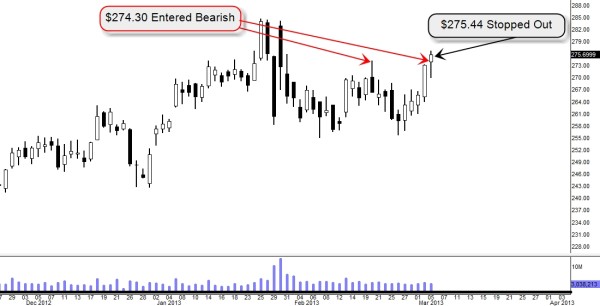 Well tried to face the bulls head-on once again this morning but failed this time.  I am still bearish on this name and I would have to wait for next entry to short.  It could go up to test that $285 level and make true double top but I am not sure at this point.