---
Related Articles: Part 1 | Part 2 | Part 3
---
Primary-Term Uptrend
Weekly-100SMA (Simple Moving Average) is a predominant supporter of the bulls as you can see in the chart below.
Since 2010 it has been acting/providing as strong support-levels protecting the buyers; this is how you understand the probability of the potential outcome.  As long as the primary-term uptrend is perceived as 'valid', the trend is assumed to be in effect until it gives us a clear signal that it has been 'reversed.'  Despite the fact that the overall market has been very shaky last several  month, General Mills (GIS) truly stood it's ground and held up above the weekly-100SMA support level.   As long as we stay above the weekly-100SMA, I would have to assume that the primary-term uptrend will continue (along with it's minor to intermediate-term ups and downs).
Minor-Term "Overbought"
Though long-term picture looks solid for General Mills (GIS), minor-term sentiment is bit 'overbought' as you can see as the Oscillators insinuate possible pullback or sideways movement that could be in the horizon.  If we see rather sharp decline in the next 1-2 weeks, $58-$59 is the level to watch for possible level of support.
Our Holdings
Earnings report is coming up for GIS which is next Wednesday (after market close).  With ER coming up and the minor-term 'overbought' assessment, we've decided to unload half of our positions  here today at $61.89 earlier this morning.  If we pullback to $58-$59, we may think about adding more  to our remainder positions, and that decision will also be depending on the ER reaction on next Wednesday.
---
Post Update: 3/31/16
---
Completely Closed-Out Our Holdings
We felt that General Mills (GIS) is extremely "overbought" in the minor-term so we've decided to close everything out here to lock in profit.  Long-term outlook still strong for General Mills so we will continue to watch this and perhaps re-enter in the future after a pullback.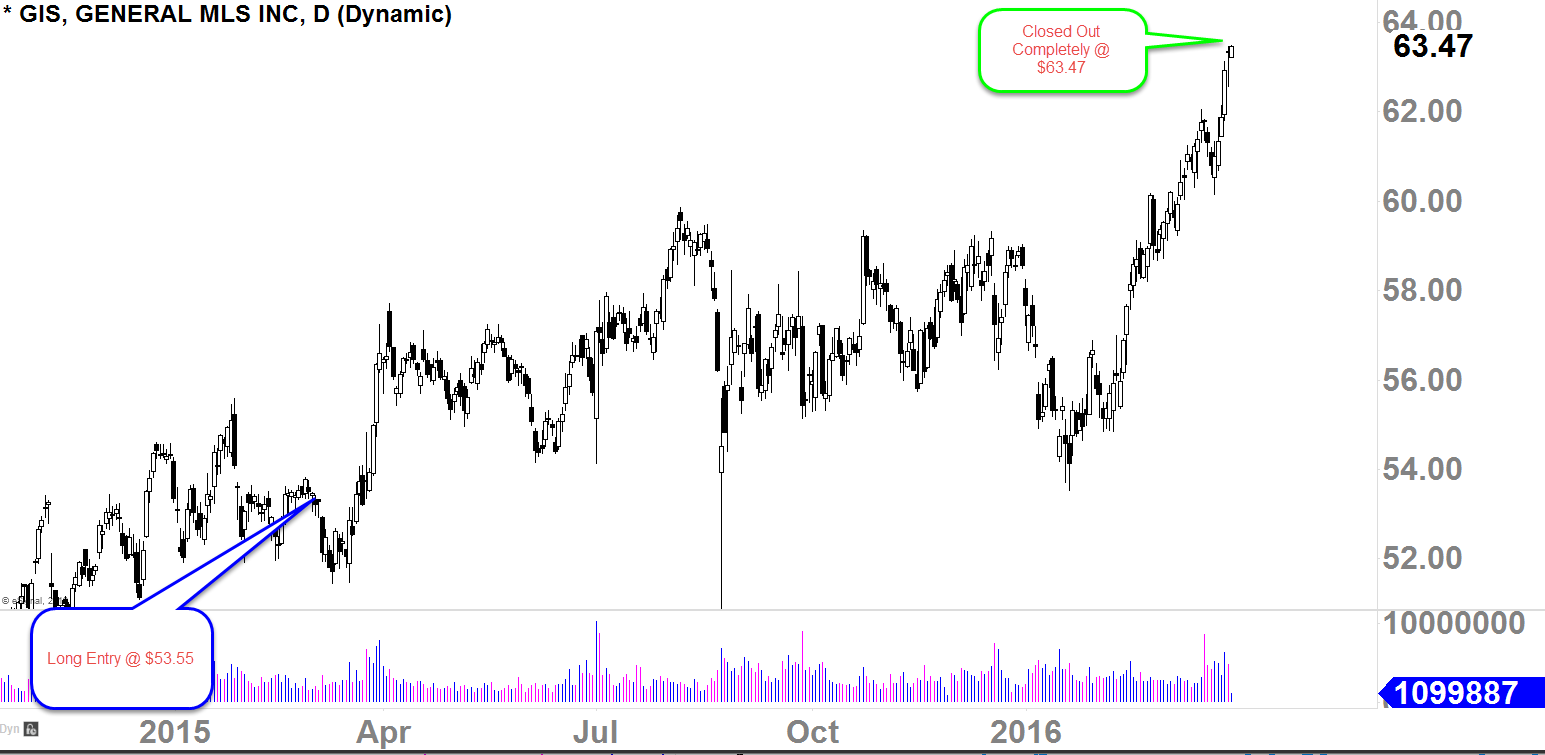 ---
Also Seen On Investing.com
---