---
Last Update: 2.23.15
---
12.19.14 Friday
[2:04pm CT] Entered Calls @ $112.21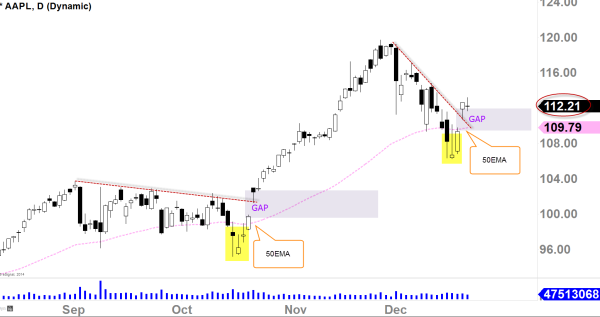 [Daily Chart]
So on my previous article on Apple, Inc., I have depicted three levels I will be watching before going long; and it looks like it was just about $2 shy of my first level of $104 as it bounced off of $106 level on the 16th of this month with a inverted-hammer candle.  When it gaped-up above 50EMA on December 18th, I wanted to make sure to wait another day or so to make sure the gap is sustained before initiating long to avoid gap-and-fade action.  We also had quite a similar action back in middle-October when we traded below 50EMA for three days (10/15 – 10/17 –see highlighted) and then it gaped above 50EMA and the move continued for over a month; today, we have something similar as we stayed below 50EMA for three days (12/15 – 12/17 –see highlighted) and indeed it gaped above the 50EMA again.  Quite interesting pattern there.
About an hour before market close on the 19th of Friday, we've decided to enter Calls as its holding up above the gap area.
[divider]
12.28.14 Sunday
[divider]
[Daily Chart]
So for the entire week, Apple pretty much moved sideways holding up above the gap area, but last Friday, we've had pretty constructive move closing above $113.44 which was the recent-resistance.  With that move, we have now formed a higher-low in the miner-term which means bulls are trying to cultivate an uptrend here.  Gap is still open, 50EMA is now starting to rise along with 10EMA, I think filling $115.30ish gap to the upside might be in stored this week.
[divider]
1.06.15 Tuesday
[divider]
Problem: Lower High (blue dotted line)
Possible Savior: 100SMA (daily)
I am still holding my Calls but now its a losing position.  Tomorrow is going to be very important for Apple as we are trying to find some support at this 100SMA with that Doji candle.  If we don't get some follow through to the upside next few days, I do think the selling will continue; and if that's the case, we might be forming a intermediate-term downtrend as we have already formed that lower high.
[divider]
1.08.15 Thursday
[divider]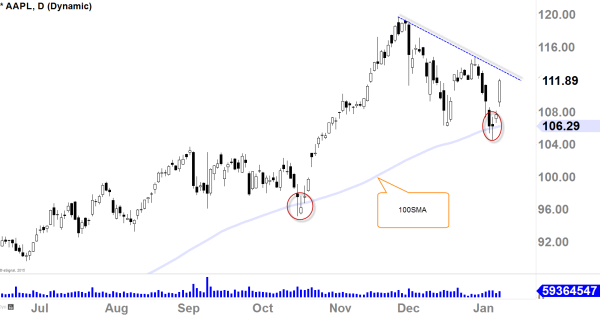 Well I guess the "savior" showed up right on that 100SMA there since my last update.  With a powerful gap-up and the follow-through today, it is looking strong for the minor term.  However, we do have a downtrend resistance (blue dotted-line) coming down which carries enmity for the bulls, so here are two resistance levels bulls must conquer before attempting for $120 and higher.
$112.60-$113 downtrend resistance
$114.20-$115 [12/19] swing-high resistance and also gap area
It will be a interesting battle in those areas.
[divider]
1.18.15 Sunday
[divider]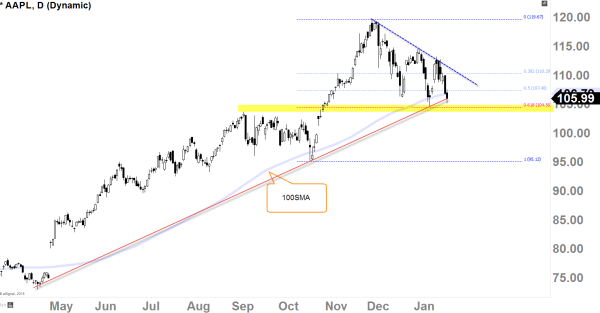 Problem: Downtrend resistance (blue dotted-line) with lower highs
Possible Supports: Daily-100SMA, rising-uptrend support (red), Fib. 61.8% retracement (highlighted)
Apple is still struggling to make its run to the upside, and mostly because of the development of the downtrend resistance with lower highs in place.  Good news for the buyers is that there are still many support-levels sellers must break before the true selling goes into an effect.  We did see 1.39% gain on the NASDAQ ($COMPQ) last Friday, and so if we get a follow through on Tuesday on the index, I think Apple can possibly use that environment to move higher.
Still lot of work needs to be done for this chart to look bullish; but first things first, if the buyers can break above the downtrend resistance, I think that's a start.
[divider]
1.22.15 Thursday
[divider]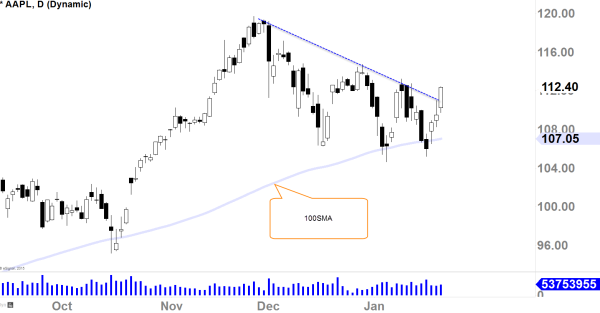 Since my last update (18th), the support levels (daily-100SMA, rising uptrend, Fib Retracement; see previous update) held-up very well last three days.  Today, buyers were able to close above the downtrend resistance as you can see in the chart above which is a good sign.  I don't think bulls are completely out of the woods yet until they close above $115ish level; but good news is the price is now have reclaimed above all the moving averages such as 10/20/50EMAs.
[divider]
1.29.15 Thursday
[divider]
[Yesterday 10:43am CT] Added More @ $116.36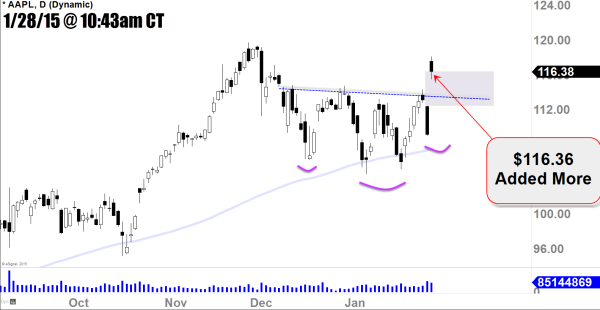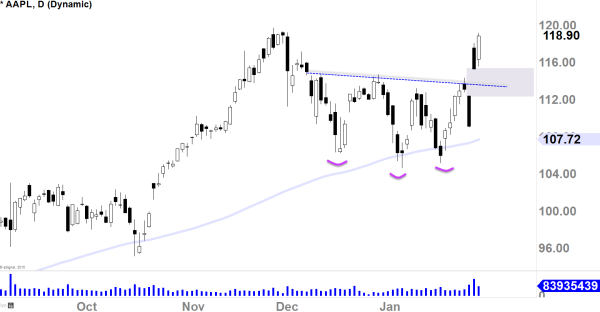 *I did cover Apple on my video last night – click here to watch
We have been looking at the resistance-level (blue dotted line) of $114ish level, which the level that the buyers needed to close well above for Apple to really thrive; because it was the level to overcome to confirm the triple-bottom or the Inverted H&S reversal pattern (see purple annotations) right on that 100SMA (we've been talking about the daily-100SMA all through out this post, indeed, it was the most important level for Apple to regain it's control since early January).
Yesterday, after the ER, it gaped up, bulls were able to close well above that resistance-level; so we've decided to add more to our current positions @ $116.36 yesterday at 10:43am CT.  Today, with a strong 3.11% gain, our target remains $127-$130ish level.  Obvious level to watch is the $119-$120ish level for the next resistance to overcome.
[divider]
2.3.15 Tuesday
[divider]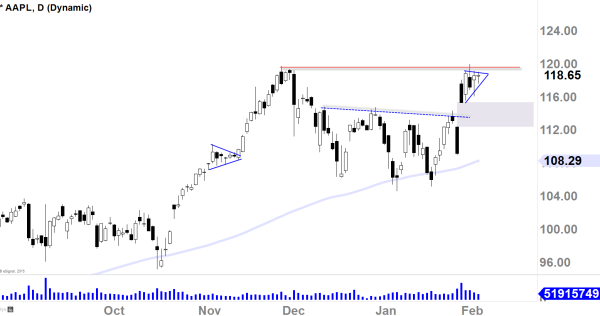 On our last update, we talked about $120ish level as a next resistance-level to overcome; and as it seems, last 4 days, the bulls are having hard time pushing above that level.  However, I do think we are forming "Bull Pennant" pattern so I think we have high probability breaking to the upside here as early as tomorrow.  If we can able to close well above $120ish this week and hold above it, I believe Apple can continue higher at least for few weeks.  We are still targeting $128ish level as our next level to close some of our positions we've been holding since $112.21.
[divider]
2.10.15 Tuesday
[divider]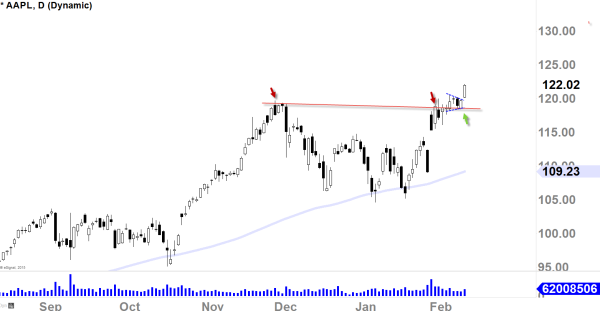 Classic "old resistance new support" (red & green arrows) right on that pivot line (red horizontal line); and today, with Bull Pennant breakout with a gap up; things are starting to look very positive for the buyers.  This is a great victory from the bulls after finding support right on that 100SMA back in 1/6/15 (see previous update on it).  We will get it's ups-and-downs, but I believe Apple will have a good ride up to our next target at $128-$130ish. We are still holding our Call positions we've initiated at $112.21 and $116.36.
[divider]
2.12.15 Thursday
[divider]
[11:07am CT] Closed 70% Positions @ $126.36
Earlier today, we've decided to close 70% of our Call positions at $126.36 with satisfying gain.  Apple pulled back a little bit this morning after getting close to our target at $128ish. I do think Apple got more to go in the intermediate to primary term but not sure about the minor term.  We may get a slow down or maybe a pullback here.
[divider]
2.18.15 Wednesday
[divider]
As we are still holding reminder of our positions, I do think Apple is getting into an "extended" territory.  This does not mean that Apple must roll over but it is meaning that we could in the near future as you can see the chart above with the daily RSI.  Also keep in mind that oscillators such as RSI can stay in a "overbought" status for 1-2 weeks before finally resetting.  So I would conclude that this definitely is not a level to initiate any long positions but to wait for a pullback for a better price.  We will continue to hold our reminder positions, but we are planning on adding more positions on it once we see a pullback with a confirmation of a bounce.
[divider]
2.23.15 Monday
[divider]
[11:15am CT] Closed 50% Remaining @ $131.82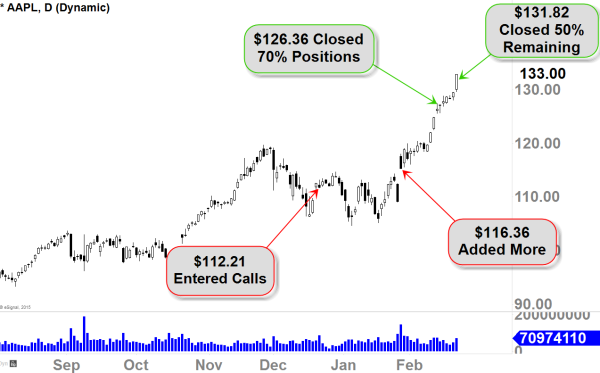 Apple continues to move higher strongly today, and we've decided closed another 50% of our remaining-positions at $131.82 earlier this morning; now we are only holding marginal position on it.  I do think we are getting into a "very extended" level with $140ish level as 161.8% Fib. Expansion resistance with most oscillators at "overbought" status.  I think it is possible that the stock can continue to grind higher even though it is at a "overbought" status, but I do think the odds are stacking up against the buyers in the minor and intermediate term.  I definitely don't think this is a level to buy nor short, but this is a level to take profits.   When stock moves up this fast and this quickly, lot of times the pullback can be sudden and violent.  We are very comfortable taking most of our profits at this level, and seat back and watch what is to come in the remainder of this week.