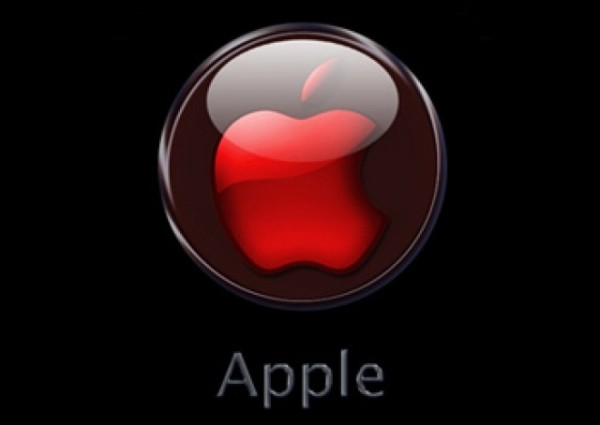 [divider]
Related Article
[divider]
I haven't touched Apple in a while now as I was not able to find the right timing to get involved.  As many of you already know, I do not day trade and I do not get into anything short-term; so it's a big deal to me to find that right timing, not just with the stock itself, but also timing it right with the overall market indices. Obviously Apple has been in an primary uptrend since our 'bottoming analysis' back in late-June of 2013, since then Apple has been trending up very well cultivating primary-term higher lows and higher highs.  As of today, we do not have any kind of major-topping patterns or signals, so I don't believe primary-term threat is there for another crash, but it seems as though we are seeing a intermediate-term pullback within a primary-term uptrend.
In this post, I want to share with you technical levels I will be watching to possibly go long for a Position-Trading (3-6months +) positions.  Keep in mind that just because we get to these levels (levels I am about to share with you), does not mean that you go long blindly.  You must ascertain and analyze the situations and the sentiment of the price-action correctly to make sure it has a confirmation of a bounce before pulling the trigger; also it will prudent to analyze the overall market index to make sure the overall market is going to bounce back up so that Apple can able to grow in the good soil of bullish-sentiment market.  Why does it matter?  We can have phenomenal price-action or signal to go long but if you find yourself going against the whole market, things can be very hectic (it can be done but very rough).
[divider]
Level 1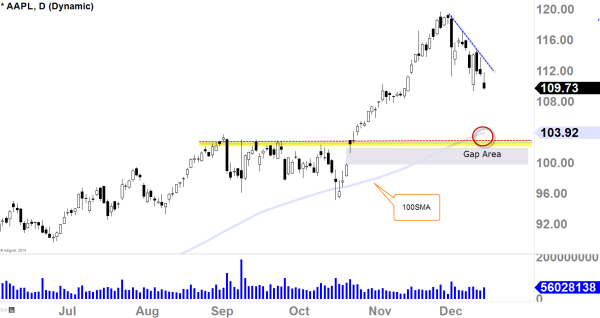 [Daily Chart]
In my opinion, this $103-$100 level is likely to become, next, a strong support-level should the price continues to decline.  We do have 100SMA residing there (which has been served as strong support back in October 15th), and this is the 38.2% Fib. Retracement level (not shown in the chart above–refer to the chart below), and not to mention the fact that its just above the Gap Area (shaded box).  Many times when the price reverses, it gravitates towards the next open gap-area to fill so this might be where the bears are trying to push down to.  Also its possible that the upon filling the gap area at $100ish, it could act as support and bounce.
Level 2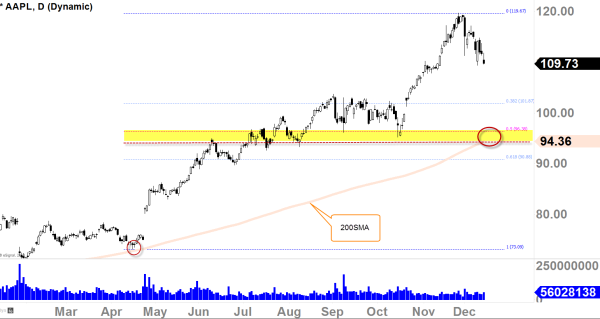 [Daily Chart]
It's the 200SMA (pink moving average above) level and it's the Fib. Retracement 50% level and also it's the price-action, congestion, support-levels (highlighted).  This is the level where Apple had a strong bounce back in October 15th, so it's quite a prominent level at around $96-$94.  If the price comes down to this level, it's going to make things very hectic for the buyers because this is the territory where bears can able to cultivate major H&S formation (primary-term reversal pattern which we've seen recently on Tesla chart).  $94ish being a possible neckline, bounce back up to $103ish level as a right shoulder, and falls back down for a confirmation if break well below $94.  I am not saying it's going to happen, I am saying watch out when it does come down to this level because when it does, I wouldn't be hasty about going long (again because of the possibility of H&S formation).
Level 3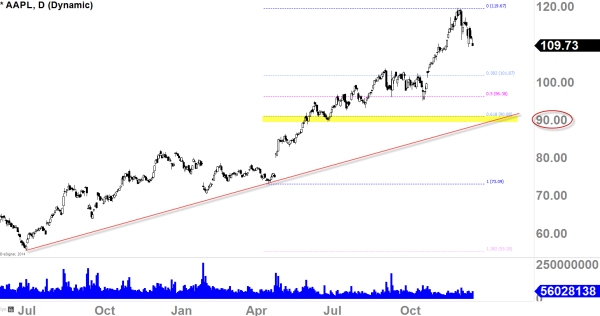 [Daily Chart]
This would be the most attractive price-level for me start accumulating positions for long-term trade as long as Apple does not form that massive H&S formation as we've discussed on the Level 2 scenario.  This is the last Fib. Retracement level of 61.8% that is coinciding with potential long-term uptrend support at $90 (see red uptrend-line).  Unless the whole market crashes, I do not think Apple can go any lower than the level of $90; but then again Apple might never have to come down to this level.  Should the price declines to $90ish level, I will be watching very closely for a good entry for 6 months to 1 year term trade/investment on Apple.  Again, I am not saying it's going to come down to this level (it's impossible to know with limited data we have as of today), but I am saying if it comes down to this level without forming major reversal pattern such as H&S, I will be very incline to start accumulating with a good confirmation of a bounce.