[divider]
Last Update: 11.2.14
[divider]
Related Articles
6.25.14 "$GOOGL Running Up with Google" [Part 1]
6.27.14 "$GOOGL $GOOG "The 700 Club""
[divider]
8.13.14 Wednesday
[divider]
65Mins Chart

We've been watching Google as it started to form 65mins bullish divergence (as you can see on this chart) but we needed the price action to confirm this divergence.  This analysis was done back in the 11th as we were trying to ascertain what level the price action needs to get above for it to really get going.  And as I highlighted on the chart above, it's the $583-$585, the bulls need to reclaim for it to get going.   Well today, we did that and we just need the follow in the coming days.
So as you can see on this chart, we are now trading at $584ish and it's a encouraging sign for the buyers, however we would  need a follow through from this level.  It's not enough to reclaim the price but also, its important to hold that level as we've all seen 'fake-outs'.  If we can hold the level of $584ish and then continue higher next 1-2 weeks, I do believe Google  can continue in its uptrend.
Let's look at the daily chart.
[divider]
Daily Chart
Looking at this chart, you can see that we did close well above 50EMA which is good (because you can see that 50EMA has been served as strong pivot level: Served as strong resistance back in April and served as strong support back in June through July), however, the gap area might be the problem for the buyers in the near term.  If we can able to fill the gap close well above the gap area, say, $598ish, I believe the uptrend will continue with next target of $640-$650ish.  Also its worth to note that, we bounced right on the Fib. 38.2% retracement level – measuring from 5/7 low to 7/22 high (not shown on this chart).  We are still holding our positions since $574.05.
[divider]
8.19.14 Tuesday
[divider]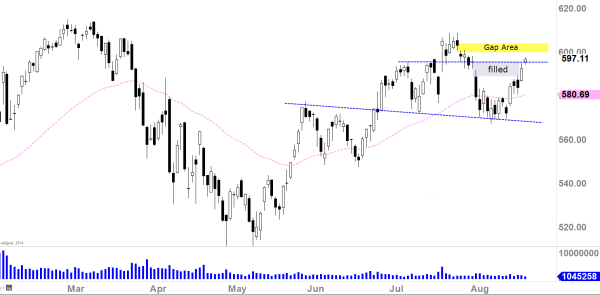 Well, since our last update, the first gap area was filled and now, bulls might be eyeing on the next gap area to fill.  I wanted to see Google getting back above $595ish because of the potential H&S reversal pattern.  But with the price action today, I think bulls are safe (if we stay above $595 rest of the week).  Cautionary signal of the potential H&S might still be there if the bulls does not protect $595ish level.  If the price can get well above $610ish, I do think $640ish doable.  Still, calmly, holding our positions.
[divider]
9.5.14 Friday
[divider]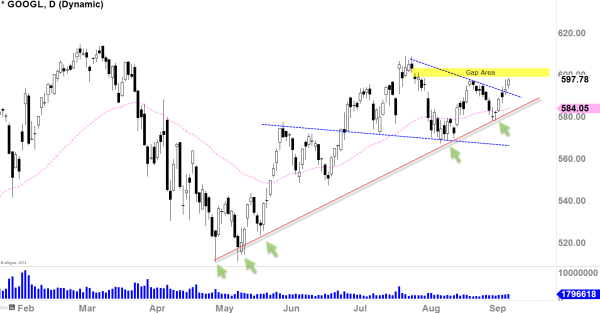 Since our last update, Google pulled back, but we were firmly holding our Call positions because we were looking at this support (rising red support line) level.  We've bounced (see arrows) on that red support line and we firmly cleared the potential resistance (blue dotted line) level today with that close (fairly ok looking candle).  Bulls must close that Gap Area (yellow highlighted) next week and get the price action to above $610ish, then, I think Google can really fly from there on with potential target of $630ish.  We are still, firmly and calmly holding our Call positions since $574.05.
[divider]
11.2.14 Sunday
[divider]
[Friday 11:03am CT] All Positions Closed @ $567.63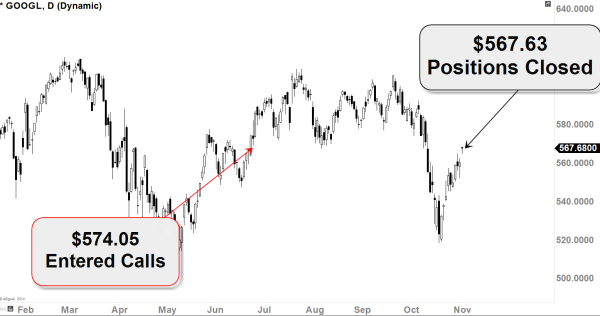 [Chart screened on 10/31/13 @ 11:03am CT]
Google struggled to find its traction since the early August as it started to find intermediate-term volatility, swinging wildly.   We held through our positions through that because the trend was still up in the intermediate-term.  But, early October, this thing tanked hard and fast, and something that we were not expected.  When it came down to $520ish level, we thought Google can bounce from there to execute our Exit Strategy which is near where we entered which also going to be served as resistance level (old support) and that was the level where 50EMA is currently residing.  We were holding ITM January calls, and we had to exit the positions with loss.