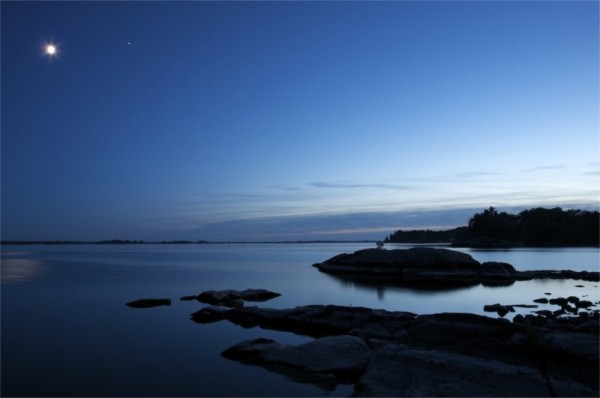 [divider]
Related Articles
5.14.14 "Launch Sequence on Treasury Bond (Why This is Bad for the Equities) $TLT $SPY $IEF"
5.06.14 "Financials & Micro-Caps Insinuation $XLF $IWC"
4.04.14 "Market Characteristics Have Changed $QQQ $SPY $XLF $IWM"
[divider]
5.20.14 Tuesday
[divider]
"Evening Star Island Reversal"
Dow Jones Industrial Average ($DIA) Daily Chart
On May 13th, we've made new all-time-high but the day ended with Doji (which was a cautionary signal).  Next day, we had the sell-off which was inauguration of Evening Star reversal that needed to be confirmed by follow through.
Well,  we had that follow through the next day with a gap down but with that gap down, it created Island Reversal along with Evening Star reversal already in place (double the strength!).  So with two gaps on each side, we have now constituted Evening Star Island Reversal, and that Evening Star Island Reversal still in play after two days of bear flag (5/16-5/19), and with another sell-off today, it is still in control with this recent move.
Today's sell off is somewhat significant because we have now breached below daily 50EMA (see arrows).  It was that 50EMA vicinity where dip-buyers showed up, and kept this market up since early March.  Well, after today's action, it seems that dip-buyers are maybe getting tired.
If we continue to head lower from this level, and fill that $162.20ish level gap, I think we will be at $160 pretty quickly.  I do think we will find pretty decent support at that $160ish level.  However, $160 is very important level for the Dow Jones.  If we lose that level, I think we are going to see some MASSIVE PANIC-SELLING to about $154ish VERY QUICKLY.
"Bearish Divergence"
Dow Jones Industrial Average ($DIA) Daily Chart with MACD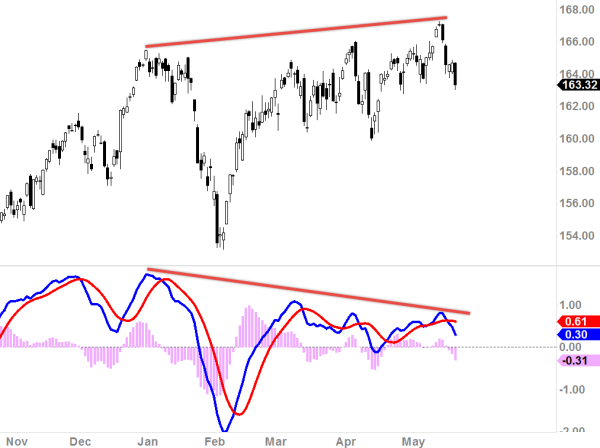 This divergence isn't very potent because of the fact that it doesn't have the clean 'peak to peak' pattern, but it is a divergence, and definitely something to take heed of, especially, after a conformity of a Evening Star Island Reversal we just talked about.
If the MACD breaches below it's "zero" level, I would have to assume that we are going to see a MACD roll-over, and that would cause the Dow Jones to see further sell-off.