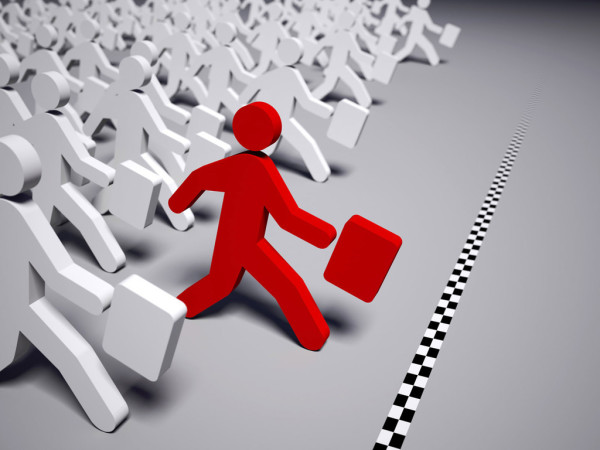 [divider]
Related Articles
3.27.14 "Mid-Week Update $SPY $IWM $QQQ $XLF $AAPL [VIDEO]"
3.26.13 "$XLF $SPY Financial's Insinuation"
[divider]
4.4.14 Friday
[divider]
NASDAQ POWERSHARES ($QQQ)
Daily Chart
There are few problems here for the buyers.
We have been cultivating lower-lows and lower-highs  (we made new low today)
For the first time since 10/19/12, we have broken daily 100SMA (see annotations)
Though $SPY made new ATH, $IWM and $QQQ was no where near the highs (see video)
Especially when the indices are making decision to make all time highs, you would really want them (most indices) to be unanimous and condoning each other's move but in this case, I really thought we had some discrepancies. Today, with NASDAQ's unyielding and furious selling event, it really solidified that intermediate downtrend.  We might get some short-term oversold bounce next week but I do think it's going to continue lower.
I see $84 and $81 as next supports.
[divider]
Financial Sector ETF ($XLF)
Daily Chart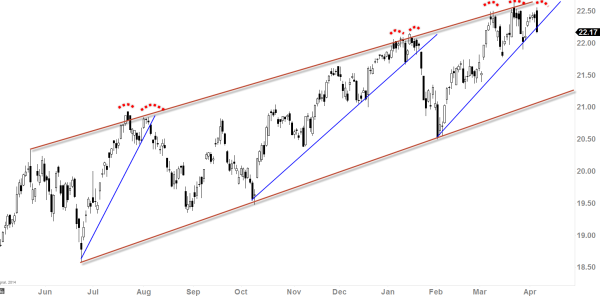 I posted last week that we would want to see Financials do well for the equities to have it's follow through to the upside.  Especially when $SPY is trying to make all time highs, I would specially want to see some strength in the Financials.  Well, that rising channel resistance really did a toil on them today.  As you can see, with today's sell-off, we have now created triple-top reversal formation.  In the past, financials dropped hard after double top formations which then it dragged the market to the downside (it has been the banks that gave us that early indication before the market fall).  Today, we have triple-top reversal formation in place and after its confirmation, I wouldn't be surprised to see banks fall back down to that rising channel support, and that would put $SPY to also get on it's knees.
[divider]
S&P 500 ETF ($SPY)
Daily Chart
I don't think $SPY's problem is actually $SPY itself but its problem really is the NASDAQ ($QQQ), the Russell ($IWM), the banks ($XLF) and even Biotech ($IBB) as they are all breaking down pretty severely.  As far as above chart is concerned, "benefit of the doubt" still does go to the buyers as long as we are above this pivot level (red dotted line) but I guess the question remains, how long can it stay up.  Failed breakouts always add a bit more to the bearish argument, and I think because its psychological damage that has been done today to the investors and traders when so many of them thought the market was a safe haven for another leg up.  Panic selling is probably what we saw today because of that psychological mentality last few days.
We probably going to revisit $184ish pivot level early next week, and if it breaks that level to the downside, I do think the selling is going to be intensified with possible supports of $182ish (daily 100SMA) and $175-$174ish (2/5/14 lows and daily 200SMA).
[divider]
Russell 2000 ETF ($IWM)
Daily Chart
What I am noticing the most about the Russell is the fact that we are continue to cultivate lower-highs and lower-lows.  That's the recipe for the inauguration of a downtrend (for intermediate term, obviously primary trend is still up).  If you observe this daily chart, you can see that we have pretty similar activities comparing to late 2012 correction with that lower-lows and lower-highs, and simply that tells us that the characteristics have changed.   We might get a bounce here and there next week but if this fashion continues, I do think the bearish action will continue.
This long-term uptrend was finally broken on 1/27/14 but this week, it acted as new resistance. That's not a good sign.  Old support becoming a new resistance is first sign of characteristic change, and it seems like that's what's happening here.  If we lose $114 support, I think we are going to $108-$109.50ish support (2/5/14 low and daily 200SMA in that vicinity).
[divider]
Final Thoughts
I think it's still too early say if the whole market is getting into a big correctional mode (though there are signals pertaining to steep overall market correction – see last Wednesday LIVE Mid-Week Update event video for this), but I do believe that the characteristics are changing, and I do think the selling could continue next few weeks with short-term bounces here and there.  Once $SPY loses $184 pivot, things could get ugly and possibly come down to retest that daily 200SMA before a sizable bounce.  My video analysis from last week is still pertinent today so you can watch it for more elaboration of what we could expect in the overall market if $SPY loses $184 pivot.