[divider]
3.26.14 "$XLF $SPY Financial's Insinuation "
4.04.14 "Market Characteristics Have Changed $QQQ $SPY $XLF $IWM"
4.14.14 "Market Correction Warning Signals $SPY $IWM $QQQ $XLF [VIDEO]"
4.30.13 "Discrepancies & Topping Signals [VIDEO]"
[divider]
5.6.14 Tuesday
[divider]
Financials Sector ($XLF)
Daily Chart
I do treat Financials Sector ($XLF) as like one of the indices because Financials Sector analysis can really give you that heads up on the overall market.  Because you normally want to see banks to do well for the market to be healthy. Well, in this case, we are not seeing healthy movement but rather, much weakness from the Financials today.
We are seeing double top confirmation today with huge selling volume.  This is not a good sign at all given the fact that $XLF loves to reverse with triple or double top patterns (as you can see in this chart).  On January 23rd, we did something similar as it formed double top pattern, and once it confirmed (by closing below it's neckline), this thing tanked, and S&P 500 ($SPY) followed.
Russell Micro-Cap ETF ($IWC)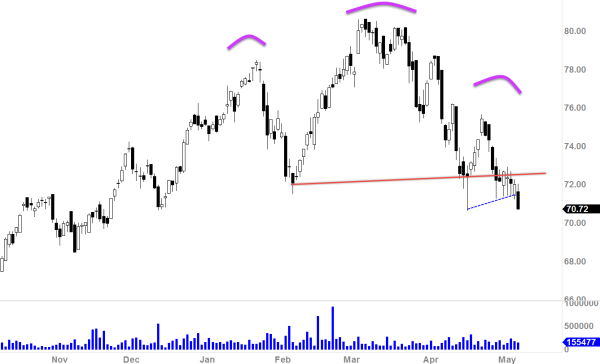 Micro-Cap ($IWC) has been that leader all year long. As I recall, multiple times, Micro-Cap made new highs well before the S&P 500 did indicating the sustenance and the strength of the bullish momentum.  That actually helped me in my trading to gauge the market with Micro-Cap last 12+ months.
Well today, Micro-Cap is once again doing that but now it has teamed up with the bears. Not only we have establishment of lower-lows and lower-highs which constitutes and confirms this intermediate downtrend, but we have full confirmation of H&S reversal formation with the neckline broken. This is a HUGE warning signal for the market, especially S&P 500.
Here, let me give you a example of what I was talking about when Micro-Cap led the S&P 500 to the upside.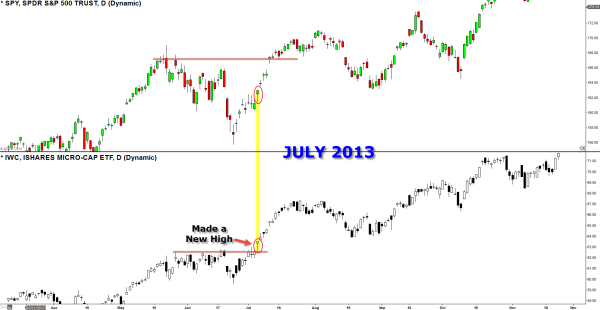 In the above daily comparison chart, you can see that Micro-Cap made a new high before S&P 500 did. It gave us that early signal of strength to the upside. Sure enough, market continued higher for the next 9 months.
Now check the chart below.
Interestingly enough, Micro-Cap made a new low today while S&P 500 still staying up close to the highs.  Is Micro-Cap insinuating the S&P 500 to follow to the downside?  I think Financials being weak, alone, gives much trouble for the S&P 500 but now with the Micro-Cap's insinuation, I think it weighs heavy on the market.  And not to mention, we've seen much weakness on the NASDAQ ($QQQ) as well possibly forming that massive H&S reversal formation (not yet confirmed).
I have been witnessing and gathering cautionary signals since late March. Though, S&P 500 has been resilient, as more days go by, the more evidences I am discovering that endorses and condones bearish-momentum which is growing stronger.