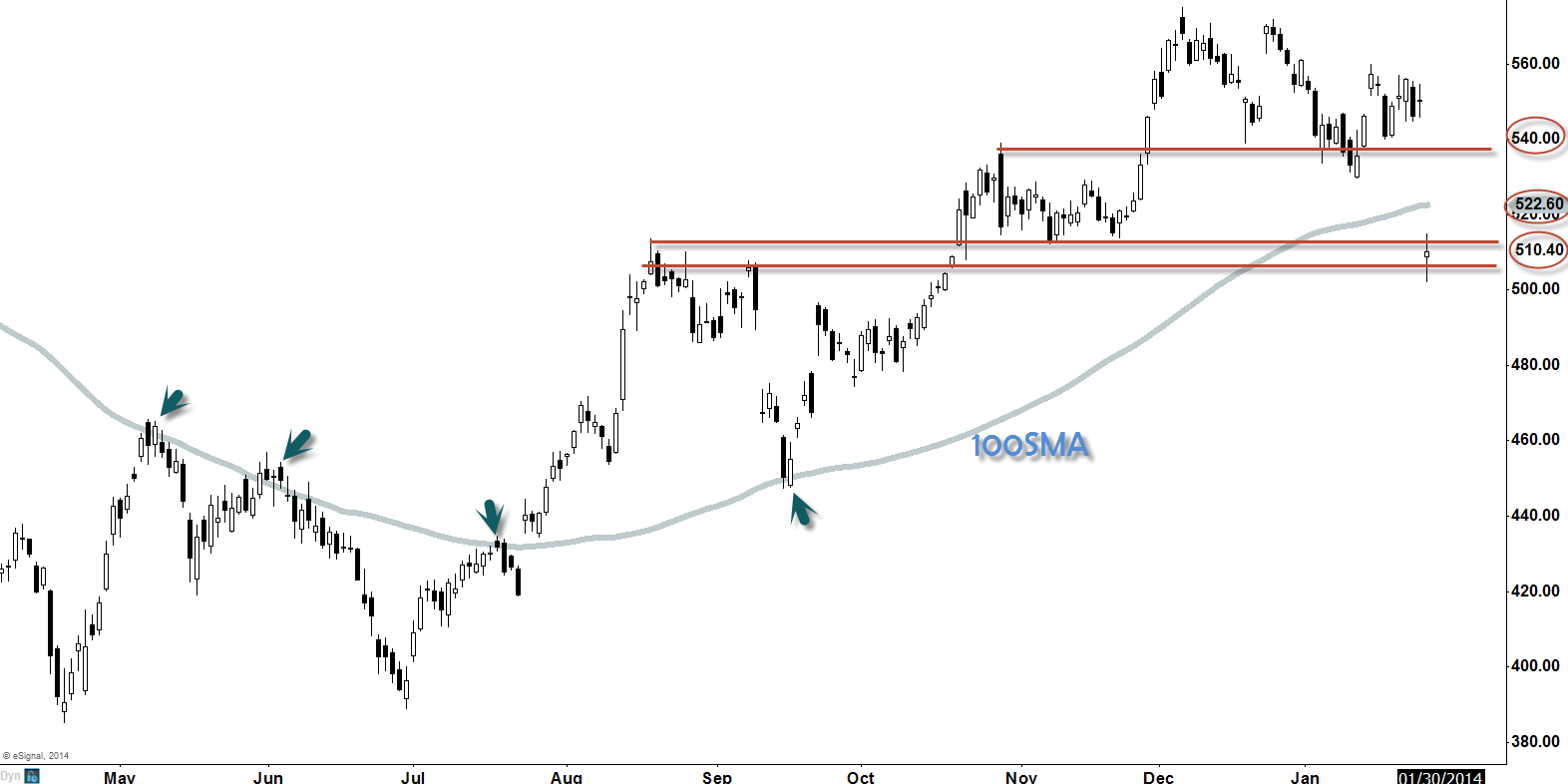 [Click 2 Enlarge]
[Step 1]
We must stay above this pivot level of $510ish.  Currently we are sandwiched between $510-$505 pivot level but I really think if we close below this level, I think $AAPL is going to lose almost all of its momentum that it has built last several months. Next level of supports are $480 and $450 and $AAPL really can't afford that right now (mainly because $AAPL wants to keep this bullish momentum going).  Months of accumulation could be in jeopardy and fear from investors and traders will increase so I really think this ($510ish) is the level to be protected and hold if we want to see any immediate recovering action.
[Step 2]
We are now back below 100SMA.  This in itself is a big problem because as you can see how well it has been served as strong pivot-level last several occasions (5/7/13, 5/31/13, 7/18/13, 9/17/13 – see arrows). And because of this, the presence of 100SMA is definitely threatening.  Now that we are below 100SMA, it could act as strong resistance and that's the problem.  We must reclaim 100SMA to the upside which means closing well above 100SMA ($522ish), if not, 100SMA will reject price and $AAPL could head much lower.
[Step 3]
$540 pivot.  This is it.  We get above $540, I think the threat (from the bears) is pretty much gone at this point but that double top ($570 resistance) is still lingering around and could still trying to push the price lower.  But at this level, $AAPL would find some good momentum and filling most of it's earnings gap-down.  We would need to hold above this level and maybe consolidate for few weeks to build some base.  However, if we get rejected from this point, we will be forming H&S bearish reversal and $AAPL is going "bye bye".
[Final Step]
As I have mentioned in Step 1, 2 & 3, there are so many threatening variables because of today's big gap down.  It won't be an easy tasks also because we are seeing potential correctional move happening in the broad market.  But if we manage to complete all the steps, next final step would be… Closing above $570 to completely nullify that double top presence and demolishing bear's dream.  If we see these things happening here, I could see $AAPL seeing $700 by end of the year.   If not, I think $AAPL is going to have hard time and possibly moving sideways for years to come (like $MSFT since 2001 – present).