---
1.15.14 Wednesday
---
[Double Top Nullification]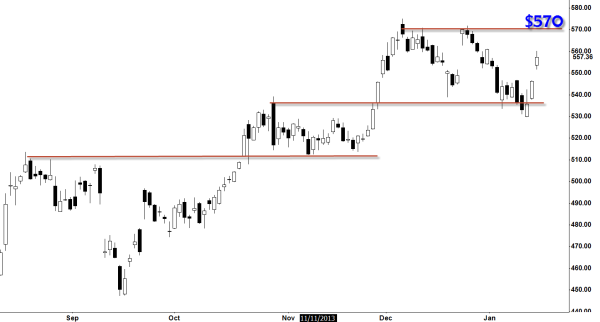 Last Wednesday, I wrote an article regarding this double top reversal formation (see article here) informing that the cautionary signals are rising but I have stated in that article that I wouldn't short it yet because the market was still in bullish state and $AAPL was still in long term uptrend despite of this pattern.
Well, last three days, we have begun in this double top nullification process (as we bounced right on that pivot level) and looks like $AAPL wants to completely demolish that double top reversal dream from the bears.  If we can get above $570, I do believe we will see much much higher prices.
[Uptrend Support Establishment]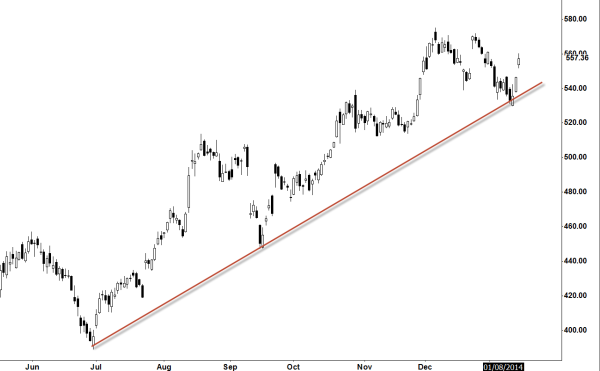 In the recent article, I talked about potentially this level becoming support but it wasn't yet established because, at that time, we've only had two touches. But with recent bounce, bulls can now confidently say that this uptrend support is now confirmed and well established (three touches including recent bounce).  I do believe this support is going to be served as strong support level all throughout this year.  Keep this support going and protect this level, we go higher all year long.
[Stair-Steps]
Weekly Chart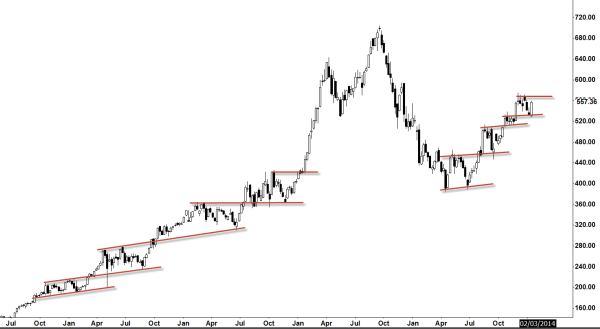 As you can see, stair-stepping is $AAPL's favorite way of moving higher (as I have been talking about this in the past article) before that parabolic move occurs. I don't even expect to see 90degrees move like December 2011 – April 2012, but as long as we move in this fashion, I think we can do very well this year, possibly, reaching $700 price target.  Because this movement supports, higher highs and higher lows which means uptrend is continue to be in effect (follow that trend!)
[Important Pivot Levels]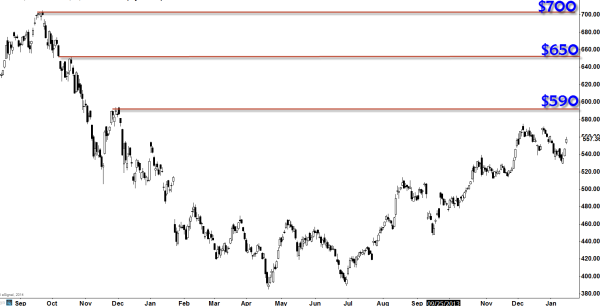 Let's get above $570, for $590, then $650, then $700.  The ultimate target possibly before the year ends.
[Fibonacci Numbers]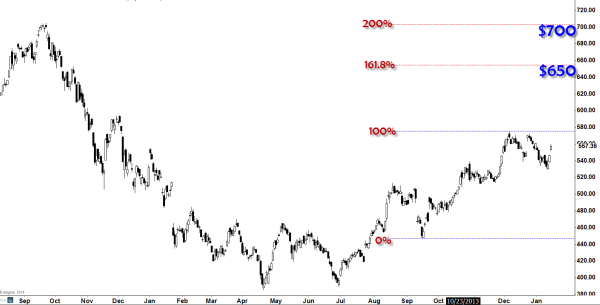 Fibonacci levels definitely confirming those pivot levels and  $650 and $700. It means those two price points will be very important pivots when we get to that level so watch those levels. We might even get steep pull back on those levels before going higher.
[B-Band's Insinuation]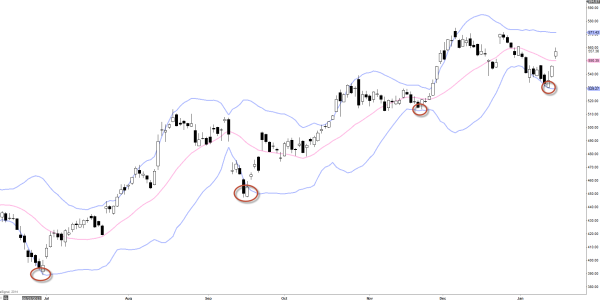 This is another confirmation that uptrend is strong and well, as every time, we get to the bottom of the Bollinger Bands, we tend to bounce.  We might just continue to do that as long we are in an uptrend.
[MACD's Insinuation]
*Chart added on 1/23/14
Since $AAPL bottomed at $380, MACD bullish cross has been on point!  The question is, can it do it again.  Well, no-one knows the answer to that question but what I can say is that we have a good chance concerning the fact that other analysis I have done on this post affirms & condones this MACD analysis.  Either it plays out or not, this is a encouraging sign for the buyers.
[divider]
Final Thoughts
As many of you know I was the biggest bear on $AAPL back in late 2012 through summer of 2013 (long term bearish article 1 and article 2) and when we bottomed at around $380 (bottoming article), things changed. Ever since then, $AAPL has been performing impressively in my opinion.  Yes, it has been tough to swing trade, but its has been good to long term investors if they got in anywhere below $450 and continue to hold.  I am mostly impressed by recent double top reversal confirmation that took place but the bulls took charge and remedy that situation quickly.  That's encouraging sign for the buyers because we can see that now they are not going to let bears bully them anymore like they did late 2012 through summer of 2013.  I am currently long on $AAPL and quite a bull for $AAPL.
---
9-Months Later…
*Stock price is different due to the stock split