[divider]
1.08.14 Wednesday
[divider]
[1] Double Top Confirmation
Daily Line Chart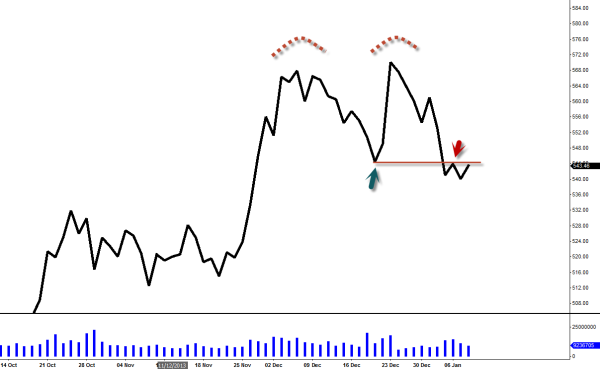 Technically, double top is now confirmed because we broke below the neckline. It can be nullified if it can closes above this level with solid bullish candle and reclaim 10EMA to the upside but as long as we stay below this level (see red arrow – double top neckline pivot), I would have to say the selling pressure is still there and could continue from that double top reversal.
[2] Negative Divergence
Daily MACD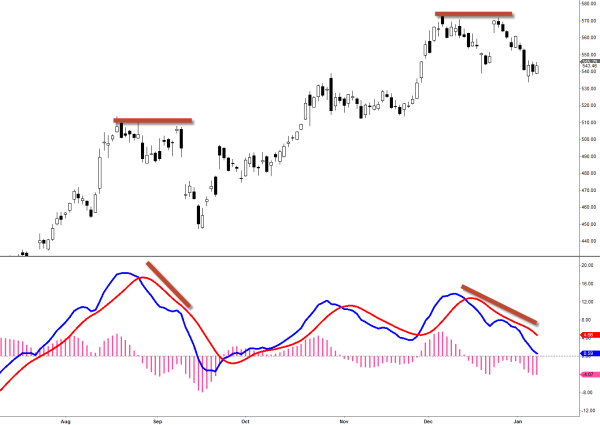 This just adds the fuel to that double top analysis.  We've seen this before (back in early September 2013) and this is not a good sign for the bulls.
[3] Oscillators Agree
Daily Stoch (full), RSI, MFI
When the oscillators agree with MACD, the insinuation grows.
[4] Bearish Cross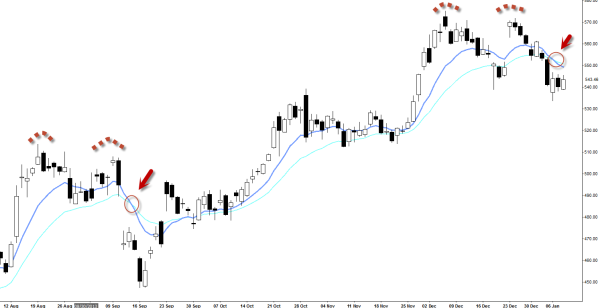 DejaVu anyone?  Double top and 10 and 20EMAs bearish cross happening here yet again.
[5] Bearish Pennant
Last three days, as volume declines, the stock moving sideways below the double top neckline pivot, this is usually a bearish sign called bearish pennant pattern (volume suggests that recent move doesn't have much bullish force but more of resting pattern before leg lower).  Again this pennant can be nullified if bulls can get it back up above 10EMA, but until then, it's tough for the buyers at this level because this pattern favors the sellers.
[divider]
[*] Next Level of Supports
This uptrend support is NOT established (three points to establish) so I am not sure if it will hold but definitely level to watch.
[*] 100SMA "MUST HOLD" Level @ $515-$510

I think if $AAPL comes down more, this daily 100SMA will be acting as strong support because it does carry impressive resume (see circles) where it has been served as strong pivot in the past.  But this is the MUST HOLD level and if we breach below this level, BIG trouble for $AAPL.
[Bonus Chart] Fibonacci 50% Retracement @ $515-$510
If we break below 61.8% retracement level ($526) which could act as support, 50% retracement level will be important level.  Also you can see that this is the level with peaks and valleys from August through late November.  Because this is the level that is coinciding with 100SMA, I am guessing it's going to be significant level if or when $AAPL decides to visit this vicinity.
[divider]
Final Thoughts
Even with these signals, I wouldn't want to short $AAPL because the general market is still bullish (unless you are day trading it) and also there aren't much room for good swing to the downside for my taste (at least as of today). But I also wouldn't want to go long right now because of the presence of that double top and the bearish divergences.  At minimum, you would want to see $AAPL reclaiming 10EMA to the upside before even thinking about going long.  I haven't touched $AAPL in a while and I don't have any plans to initiate any new positions and I think its best to stay away for now for better setups.