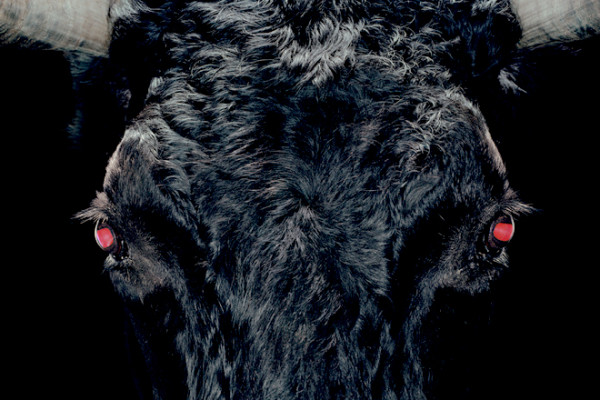 [divider]
Related Articles
12.09.13 "$SPY Bull Run (Target Price: $188-$190)"
11.25.13 "When Thanksgiving Happens in an Uptrend since 1982 $SPX"
11.22.13 "Tom DeMark vs Laszlo Birinyi $DJIA"
11.14.13 "Several Charts 2 Wow $SPX $INDU"
[divider]
12.6.13 Friday
[divider]
$DIA Daily Chart from Last Night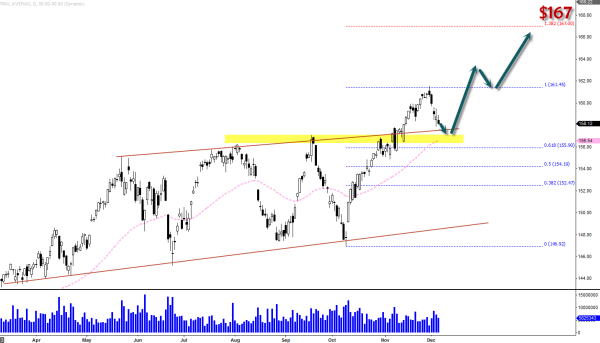 This is one of the chart I have posted for the club members and obviously I was not sure exactly where it was going to bounce but that yellow highlighted area was possible level of bounce and levels that the buyers needed to protect (for this bullish run to continue). We also talked about how buyers must step in and protect the Fib. 61.8% retracement level and that 50EMA (pink dotted line) area as well because we get back inside of this massive channel, things could get ugly with blood.
Well it bounced today right on that massive channel resistance level retesting it as new support today and confirming that pivot as new support. And now we don't even have to worry about 50EMA or the Fib retracement level because market is telling us this is the higher low to keep this bullish run.
Channel Breakout Measured Move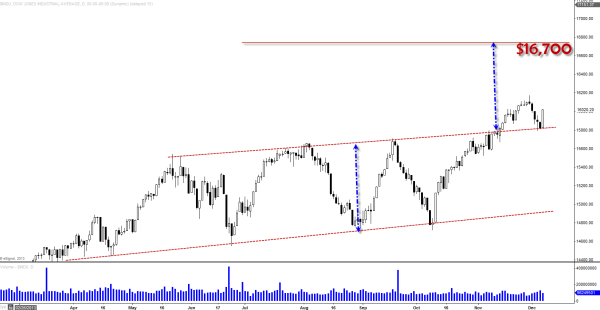 As you can see with bounce today, we have now pretty much confirmed this massive rising channel breakout (because many times they like to retest the resistance level as new support and we did that today).
Using measured move theory, I see that Dow Jones moving up to about $16,700 level possibly 1-2 months.
Fibonacci Expansion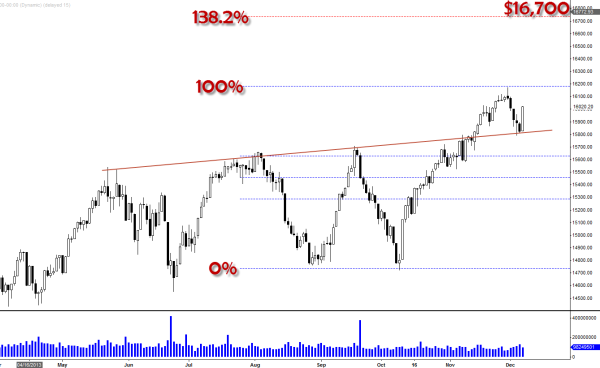 The move from mid October until late November was pretty parabolic and because of that I do think this recent 5 days decline was healthy event before thrusting much higher.  Using the bottom of the move as 0% and top of the move in late November as 100%, I've measured possible outcome using Fibonacci Expansion tool of 138.2% which comes to about $16,700 which then it confirms our initial analysis on that channel breakout measured move.
Obviously nothing goes straight up but I do believe if we take out the highs at $16,171ish, we could see another parabolic move like October-November with some hiccups & shakeouts here and there.