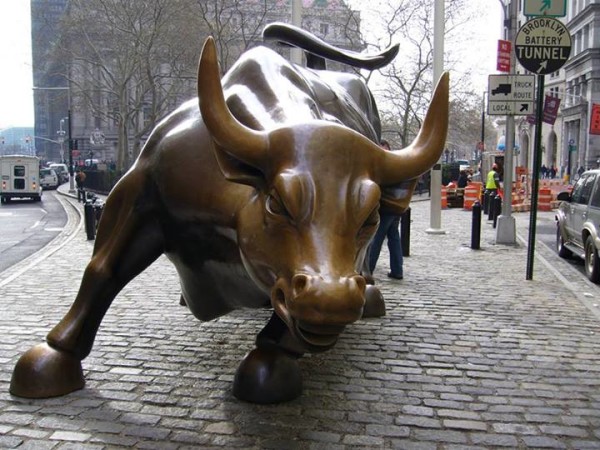 [divider]
Last Update: 12.27.13
[divider]
Related Articles
12.18.13 "$SPY Deja Vu (Target Price: $188-$190)"
12.6.13 "Dow Jones Industrial Avg. Target Price: $16,700"
[divider]
12.9.13 Monday
[divider]
Bullish Run Starts Here
Weekly Candle Chart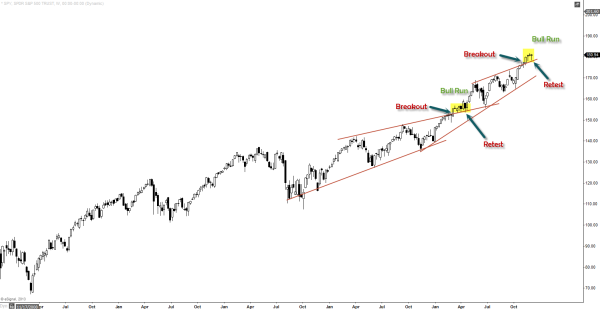 This chart was screened this morning before market open and while many are looking to ascertain reasons and arguments to support and accommodate market crash/correction theory, I have been following the trend and sticking with the current price action.
As a swing/trend-following trader, respecting tangible data (price action) that has been given to us is most important task while so many traders like to call things and attempt to look into the future with their "godlike" powers (which is folly because we are nothing like "godlike").
As we can see on this weekly chart that we had good confirmation of a breakout and we held above.  This is very important that we held above this pivot level as I have annotated "Retest".  Basically buyers took control and stabilized it so they can have another run to the upside while the sellers slowly dissipated with exhaustion of waiting for the market to crack.
Many times, when the retest is successful and holds true, it could attract buyers from the majority which is a "Public Participation" and that's when another trend could be developed.
Last time we held above this pivot level, we had very nice run up for the next 3-4 weeks and that's what I am looking for here for another run up for the next 3-4 weeks with target price of $188-$190ish. But as for the short-term is concerned, $SPY needs to hold above $181.30ish (all time high open price on 11/29) and make sure we stay above next few days.  If we can do that, I do think we can see much higher prices.
[divider]
Updated $SPX Weekly Chart
*Chart screened & analysis done on 12.22.13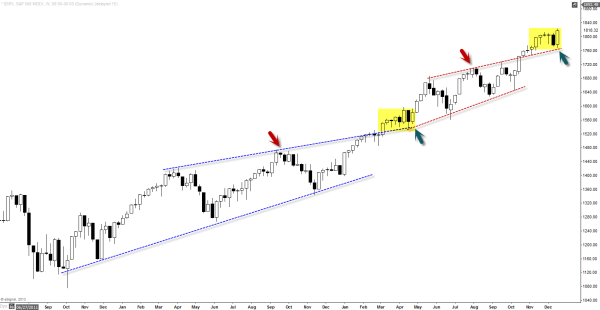 So perspective was as long as we hold above this level, we had to give "benefit of the doubt" to the bulls and looking at this weekly candle chart, we can see that we bounced right on that "old resistance new support level".  So it's prudent thing to wait for confirmations before shorting this market.  I do think the bull market can start this week for at least for about three weeks before another pull back.
[divider]
Fib. Extension Target $188-$190
Weekly Candle Chart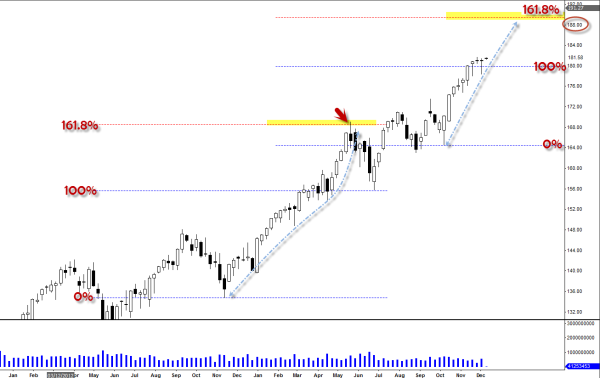 Using Fibonacci Extension tool to forecast 161.8% level as the possible target price of $188-$190.
[divider]
Rising Channel Breakout Target $188-$190
Daily Candle Chart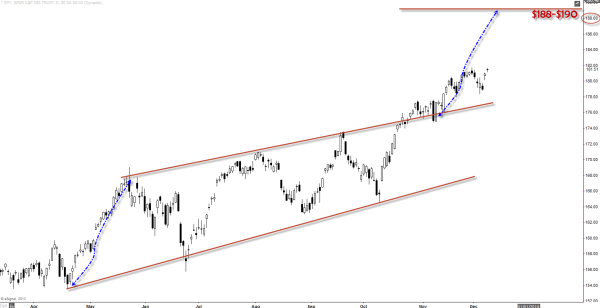 Measure the beginning of the channel move and lay that over on the breakout of this channel to get a possible measured move which comes to about $188-$190 which confirms Fibonacci Extension forecast.
[divider]
12.27.13 Friday
[divider]
Two More Weeks Of Bullishness
Weekly $SPX Chart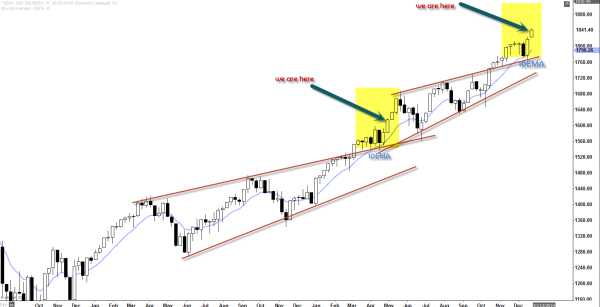 [Click to Enlarge]
If we solely rely on this chart, you can see that we have two more weeks before the correctional move happens as it had bounced perfectly right on that weekly 10EMA (just like late April of 2013) and now making new highs (2nd week) and back in May 2013, we went 2 more weeks after that initial bounce from 10EMA before correcting.  And I believe we will.