Last Update: 5.16.13
[divider]
Related Articles
Article from 9.28.12 – "10 Reasons of Why I am Extremely Bearish on $AAPL"
Article from 12.15.12 – "Why I Believe $AAPL is Headed $360"
Article from 1.1.13 – "Short-term Bullish Trade Idea Gone Rogue $AAPL"
Article from 2.12.13 – "Why I Entered Bearish Today on $AAPL" (Part 1)
Article from 3.27.13 – "Why I Entered Bearish on $AAPL" (Part 2)
Article from 4.12.13 – "Not Another Bearish Entry on $AAPL" (Part 1)
Recent Video from 5.6.13: "$AAPL Bottomed? Exploring Bullish Arguments"
[divider]
5.14.13 Tuesday
[divider]
Entered Bearish Positions @ $447.30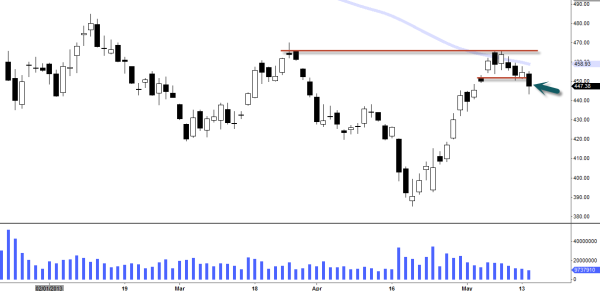 For about a week or so it looked as though $AAPL was forming bullish flag just under the 100SMA (blue) and $465 resistance but broke down today and reclaimed 10EMA to the downside. I waited after a flash crash until it bounced a little bit to enter short (about 1 hour and half before close) to find myself just little bit better entry.   We are trading below 10EMA currently and its imperative for bears that $AAPL close below 10EMA but not expect to close below 50EMA today (That will be the next obstacle to worry about for the bears).
There were 4 other indications that if $450 level didn't hold, $AAPL could roll over.
[1] Full Stochastic
This chart pretty much explains the possibility here
[2] Parabolics SAR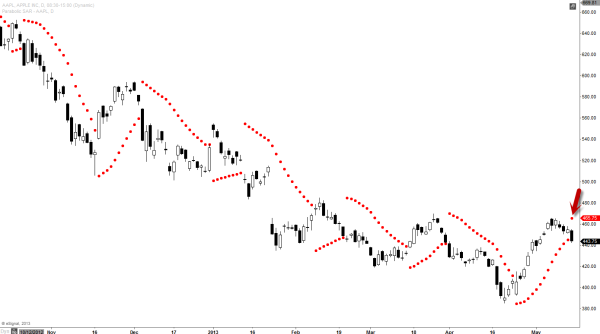 Parabolics agree that the momentum is starting shift to the downside.
[3] 10 EMA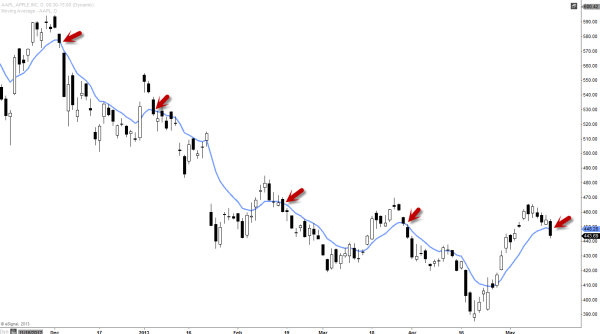 Not a good sign when $AAPL closes below 10EMA looking at the historical data here.
[4] Volume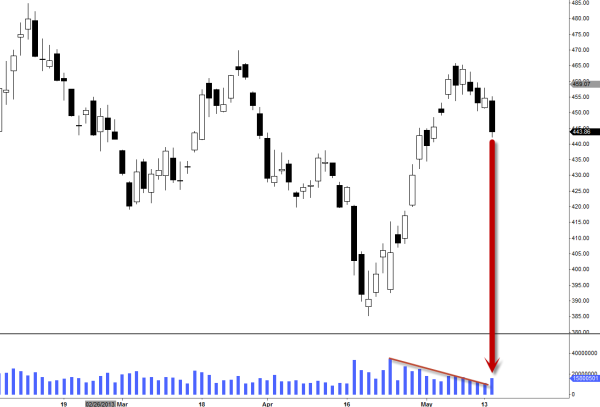 This is what I call, "Volume Breakout".  This recent uptrend move was slowly losing momentum as it was not able to put higher volume and today as $AAPL broke down, volume also spiked.  Currently $AAPL is just sitting on 50EMA which has been acting as very strong resistance in the past so I won't be surprised to see 50EMA slowing things down tomorrow.
[divider]
5.15.13 Tuesday
[divider]
[At Open] Added More Bearish Positions @ $438.77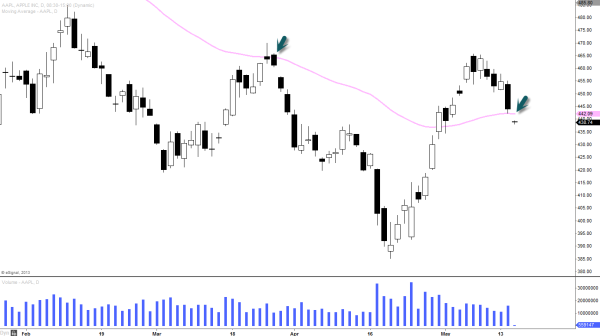 As I was talking on yesterday's update that 50EMA (pink) could possibly slow things down but now we don't have to worry about it since it gaped right through it. I believe we are going to see $420 pretty quickly here.
[After Close] Closed 1/2 Positions Earlier @ $424.18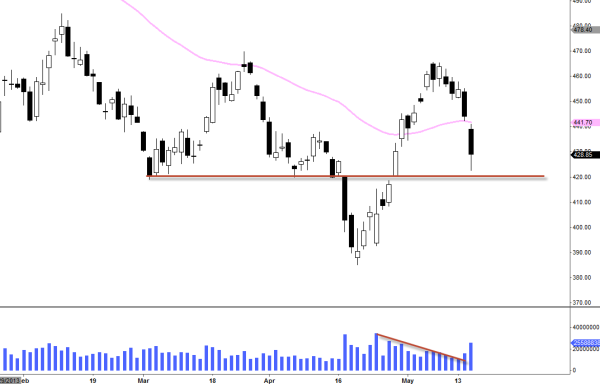 As soon as it tagged that support line at around $420, I closed 1/2 of my bearish positions. Now just riding other half to see how it's going to react to that level of $420.  We had very high volume today to confirm the heavy selling so I am curious to see how it's going to react rest of the week.
[divider]
5.16.13 Thursday
[divider]
All Positions Closed Out @ $432.25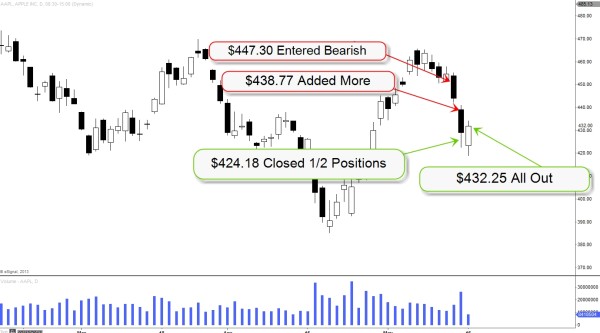 Possible bullish piercing reversal pattern forming here though we wouldn't know until close but bulls are strong this morning at $420 level.  If we can sustain this level, we might be also forming Inv. H&S pattern which could become the catalyst of this bottom process.