Last Update: 4.18.13
[divider]
Related Articles
Article from 9.28.12 – "10 Reasons of Why I am Extremely Bearish on $AAPL"
Article from 12.15.12 – "Why I Believe $AAPL is Headed $360"
Article from 1.1.13 – "Short-term Bullish Trade Idea Gone Rogue $AAPL"
Article from 2.12.13 – "Why I Entered Bearish Today on $AAPL" (Part 1)
Article from 3.27.13 – "Watch That 50!"
Article from 3.27.13 – "Why I Entered Bearish on $AAPL" (Part 2)
[divider]
4.12.13 Friday
[divider]
(At Open) Entered Bearish (Puts) @ $433.79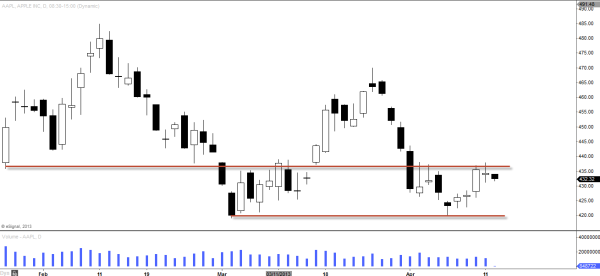 I entered bearish at open this morning as yesterday we threw a doji at 20EMA and $437 resistance.  $420 is going to be strong support to break and I might even consider closing my bearish positions at $420 if we don't see strength to break that level.
(After Close) Doji Reversal but Volume is Weak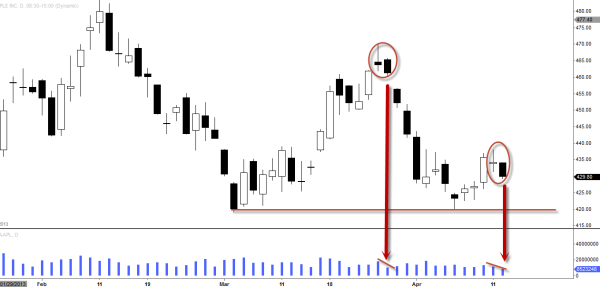 We do have what it looks like Doji reversal here with but the concerning matter (for bears) is the low selling pressure today.  Today being Friday, it's not too surprising but if you take a look at March 26th (see 1st red arrow), we also had very low volume but subsequently though  the bearish run continued with increasing volume next 3 days. So that's what I am looking for next 2-3 days to increase in selling pressure and find momentum to break $420 however if we continue to travel lower without much volume, I am not sure if we are going to able to break $420 support as it is a major pivot level.   We break below $420, $410 and $390 is expected.
[divider]
4.15.13 Monday
[divider]
(At Open) Added More @ $426.82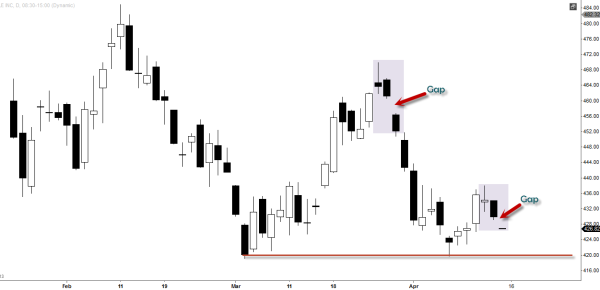 (Closing) Holding All Positions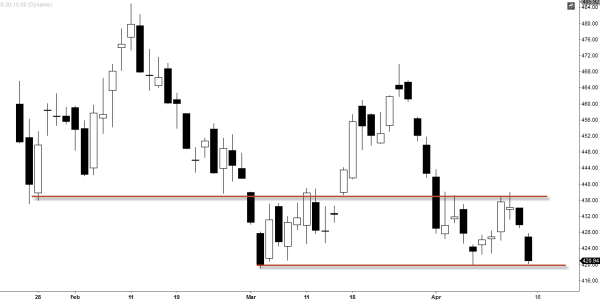 $420 is a major pivot level.  Upon breaking this level, lower price, perhaps $410-$400 is expected. Unlike $AAPL's most down days, today, bears have been dominant throughout the whole day.  Selling pressure (volume) is not as high as I would like to see it but I've decided to hold on to my positions to see if we can possibly gap down tomorrow or break that $420 level.
[divider]
4.16.13 Tuesday
[divider]
All Closed Out @ $423.79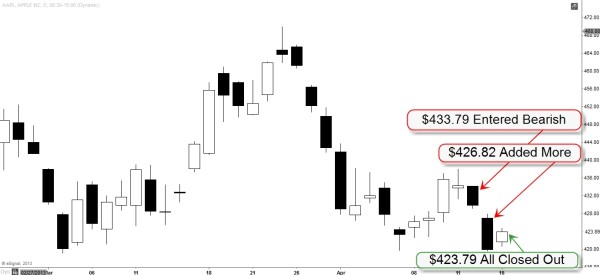 This isn't my ideal trade (2-3 days of trading) but I was hoping to ride it lower for another week before the ER but looking at today's intra-day action, it seems that $420 level seems to be holding up pretty well.  With the ER coming up next week, I wouldn't be surprised to see $AAPL continue to move sideways and grind until the ER resolution.
[divider]
4.17.13 Wednesday
[divider]
(At Open) Re-Entered Bearish @ $418.13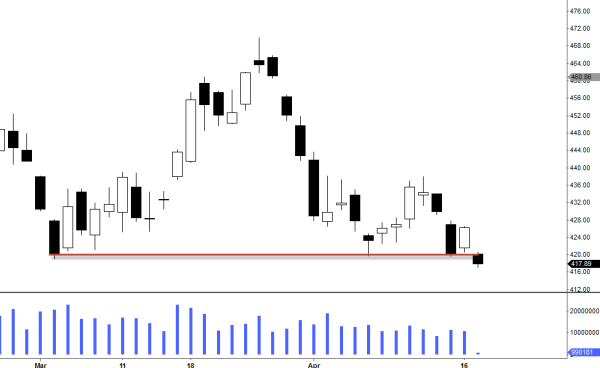 (1 Hour Later) Closed All Positions @ $405.16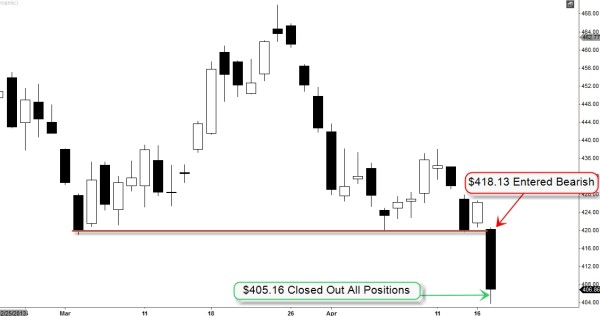 I am not a pig. 50% ROI in  1 hour trading is very satisfactory for me.
[divider]
4.18.13 Thursday
[divider]
Re-Entered Bearish Little After Open @ $402.11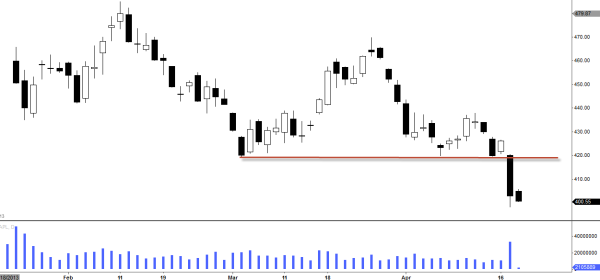 Closed 1/2 of My Bearish Positions @ $390.52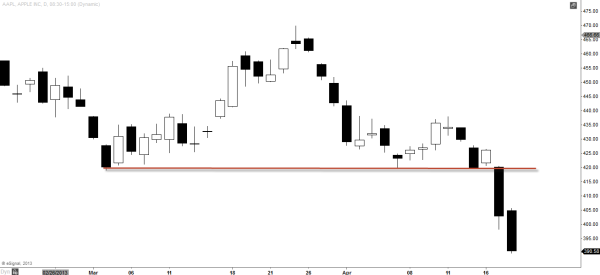 (1 Hour Before Close)
Keeping the other half overnight.
[divider]
4.19.13 Friday
[divider]
Closed Out All Bearish Positions @ $395.37
I think this is about all I am going to do until the ER.