Breakout
Ebay is breaking out today as we are clearing well above the downtrend-resistance (red) and the recent horizontal-resistance (blue) with a strong bullish candle as the stock is up nearly 3% as I write this article.  We have strong "Double Bottom Reversal" fully confirming while cultivating a healthy uptrend characteristics of higher lows and higher highs.  As of today, we are also now trading well above the 100SMA (not shown in the chart).  Bullish price-action.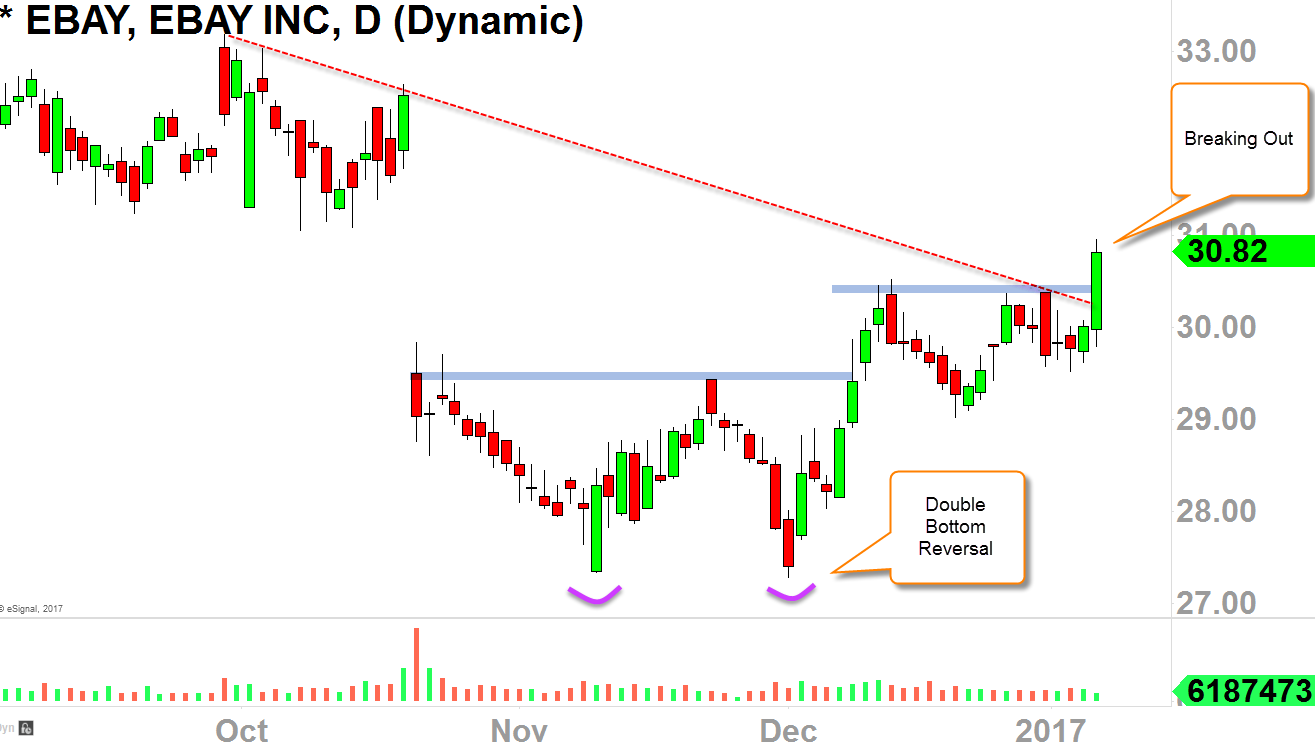 My Position & Target
I've been watching Ebay since the ER gap-down back in 10/20/2016 as I was anticipating for an entry.  When there is fear, I look for an entry; and when there is greed, I look for an exit. And definitely, there has been much fear and nervousness among investors/traders after it plunged about 18% since late-September to early-November. My plan was to buy the dip @ $27ish as I've tweeted out on 11/1/2016 because in my long-term forecast/analysis, I came to a conclusion that $27-level was a good level for a bounce.
My "Breakout Target" is @ $32.50, which I would close out about 1/2 of my positions there, if we can able to clear well above $33 and stay up, I think $36-$37 might even be possible which is my next target after $32.50.
---
Post Update: 1/26/2017
---
ER Reaction
After the ER last night, EBAY was initially up more than 9% before started falling through out the day, but still positive ending the day +5.00% gain as the "ER Gap" is still open at the close.  I think 31.20ish level could provide some support should the price continues to slide tomorrow and early next week.  I'm still bullish on EBAY in the long term, so I am still holding my full call-positions as of today and I might even think about adding some more to my current calls at around 31.20ish level.