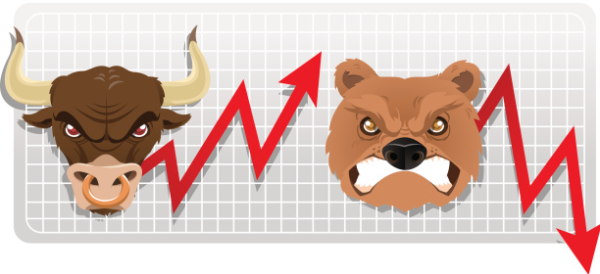 [divider]
Related Articles
10.15.14 "[RECORDED LIVE] LIVE Mid-Week Update with Kay Kim"
10.16.14 "$QQQ $COMPQ NASDAQ Composite Index and the Buyers Preparation"
10.21.14 "$SPY $QQQ The Final Push"
10.26.14 "$SPY $QQQ The Final Push [Part 2]"
[divider]
Our Positions on $QQQ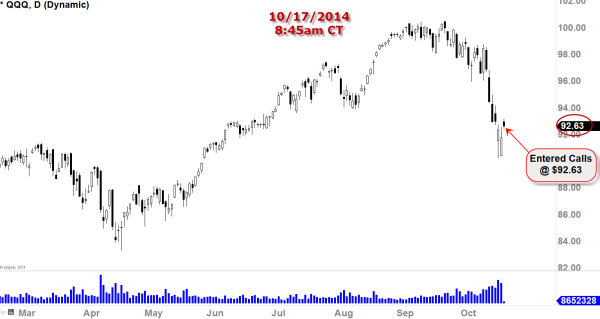 [see article from 10/16/14 here] [see article from 10/21/14 here]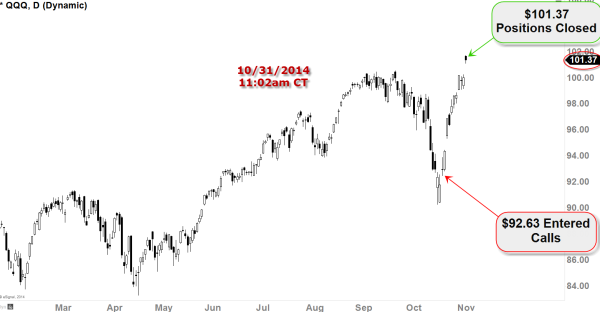 [divider]
Our Positions on $SPY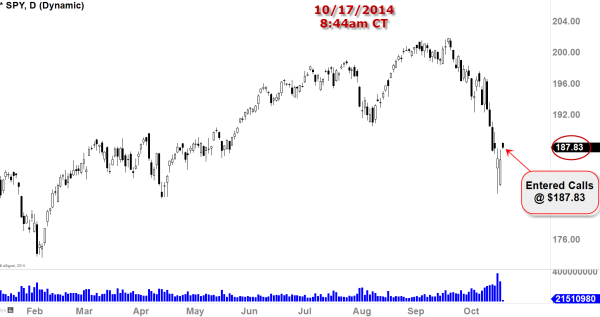 [see article from 10/16/14 here] [see article from 10/21/14 here]
[divider]
[divider]
Oscillator's Insinuation
[Above $SPY daily-chart screened on 10/31/14 @ 11:28am CT]
This was the chart we were looking at on last Friday afternoon, and why we've decided to close out our call positions here.  As you can see, we are getting near the 'overbought' status, and again, this does not mean the market has to roll over, but here are several reasons why we've made our decisions on top of the chart above.
Its too 'gappy' – too many gaps, so last Friday's gap potential 'exhaustion gap'?
No intermediate-term trend – it went straight up without any 'healthy' pullbacks
Friday's candle is a 'Hangman' candle right on that $202ish resistance
So with these signals piling up, we thought it was best to take profits here, and watch how the market reacts to that resistance level.
[divider]
The Final Push
*Excerpt from the "$SPY $QQQ The Final Push (Part 1)"

[S&P 500 Index Weekly Chart Screened on 10/17/14 – $SPY]

Weekly 50SMA continues to act as support
Long term uptrend support held
Long lower wick represents Hammer candle (see red arrow)
Sentiment VERY similar to late 2007

We have been talking about this chart over the weekend thus giving us more confidence of why the market was going to have a bounce this week.  But the biggest questions was, how long.  If you take a look at the red arrow on the left side of the chart, you can see that back in 2007, we've had very similar action with the long term uptrend holding while that weekly 50SMA also acting as support, and not mentioning, that long lower wick Hammer candle right on it (see red arrows)!  Today, everything is playing out exactly the same way as it did back in 2007. If we are going to have similar pattern as 2007 forming here, are we going to have one final push to fake everyone out and make new all-time-highs before the MASSIVE MARKET CRASH!?!?  Well, we do not know that yet as of today but we will.  Like I said before, this market will have to form a topping pattern before actually crashing down, and when it forms, we will know about it.  We are also planning on shorting this market if the topping pattern starts its substantiation process, but we also know things aren't going to happen overnight.
Since the last update, this potential theory has not changed, but again, we still do not have tangible evidence (as of today) to substantiate above hypothesis.  When the data is actually there to support the idea, that's when we will start to accommodate the situation.
[divider]
Weekly Candles Sentiment
Excerpt from the "$SPY $QQQ The Final Push [Part 2]"

*In candlestick analysis, 3 things are must: 1. size of the candle  2. location of the candle 3. volume of the candle.

Facts looking at the $SPY and $QQQ weekly candles…

Weekly hammer candle (strong & lean)
STRONG follow through last week
Hammer was confirmed with a follow through last week
Hammer was formed and confirmed right on the rising support & weekly 50SMA
Primary-term higher lows and higher highs are still in-tact (trend is UP)

Observing the facts above, I would have to continue to give 'benefit of the doubt' to the buyers as of today, and to me, it does look very strong going into this week.   Also, it's important to observe weekly charts now, because the totality and the scale of this uptrend. It has been in this prolonged uptrend so just doing daily chart analysis isn't enough with the current climate.

The biggest question is this.. Is this the inauguration of another major bullish run for the next 4-6 months or are the bulls giving it all for the final push?  Sometimes you don't need to know all the answers, but trade the current sentiment.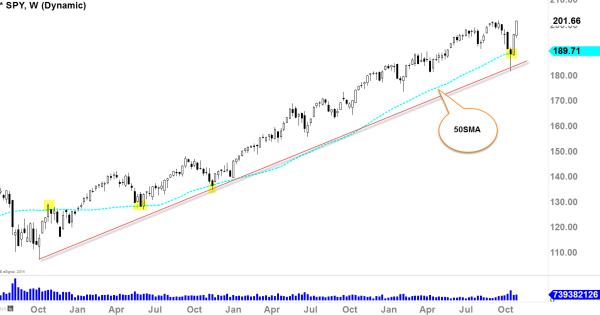 [Weekly chart screened today]
As far as looking at the pure price-action here, I have to say it looks very strong looking at the last three weeks of candle.   Weekly hammer is now fully confirmed, weekly long-term uptrend support line (red rising line) also confirming with that strong bounce last three weeks, and we might be moving up to create another higher-high in this primary uptrend. So I would have to say we still do not have a any tangible topping-pattern on the indices as of today.  Even the Russell looks like it could possibly nullify that major topping-pattern we've been seeing.  As I have emphatically advocated on my last LIVE Mid-Week Update, this market is NOT going to just roll-over after a prolonged uptrend, it will form a topping pattern, and we still do NOT have that.  Russell is the only index with the topping pattern, but with the recent price action, it might holds the key if the bulls can continue to make its run.  There are always speculations and guesses, but we should always put most weight on the current affairs analyzing the tangible data and not with data we may never see.
I do think the miner/intermediate term pullback is imminent, but the biggest question is, when we do get that pullback, are we pulling back to continue higher which would be healthy at this point or are the indices put in the "Final Push" before finally rolling over?  As of today, we the data that has been given to us, the 'benefit of the doubt' continues to go to the buyers.