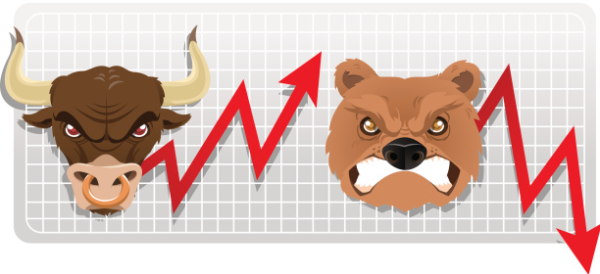 [divider]
Related Article/Video
10.15.14 "[RECORDED LIVE] LIVE Mid-Week Update with Kay Kim"
10.16.14 "$QQQ $COMPQ NASDAQ Composite Index and the Buyers Preparation"
[divider]
MACD's Prefiguration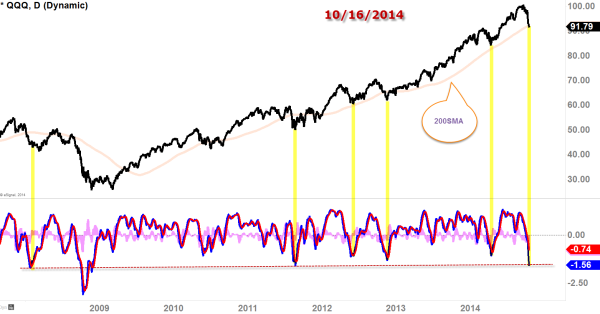 [$QQQ Daily Chart Screed on 10/16/14 after Market Close]
Above chart was featured on my last article, on the 16th, pointing out that this could be the level where the market could get a bounce, because as you can see, we are still very much in a primary uptrend riding that 200SMA.  Also I was emphatically advocating on my last video that this market isn't going to just roll-over without a proper topping pattern, especially, when we have been in this prolonged uptrend. And yes, its possible that the market is currently going up to form that topping pattern, but again, we don't have that data as of today yet so until it can be substantiated, benefit of the doubt continues go to the buyers in the primary term.
[divider]
[divider]
Position Initiation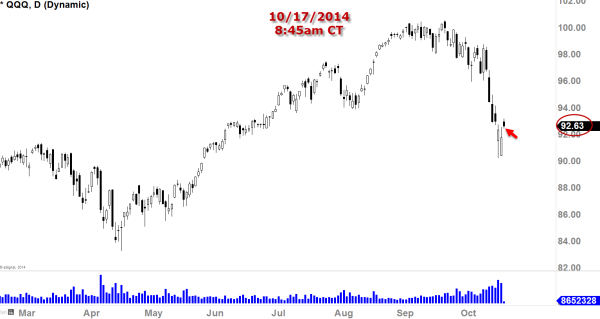 [$QQQ Daily Chart Screened on 10/17/14 @ 8:45am CT]
Next morning, on the 17th @ 8:45am Central Time, according to our analysis, we've decided to enter Calls on $QQQ @ $92.63ish (see arrow).  We were expecting/hoping for the gap up so that we could possibly have that Island Reversal (gap down 10/15 and gap up on 10/17) bottom to jump start this thing and we did.  And that was our signal.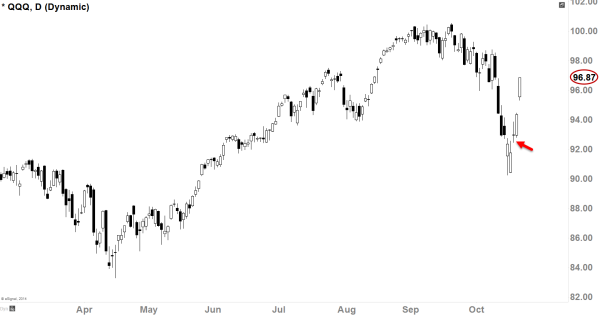 [$QQQ Daily Chart Screened Today after Market Close]
Looking at the last 4 days of bullish run with the breakaway gap to start and the potential continuation gap today, it looks very strong in its bounce.  Without the gaps, it almost looks like Three White Soldiers bottoming pattern, and we've seen that pattern on 10/10/13 – 10/13/14 and that trend lasted for a while.  We may get some slow down here in the miner-term but I would have to say this bounce looks to be pretty strong.
[divider]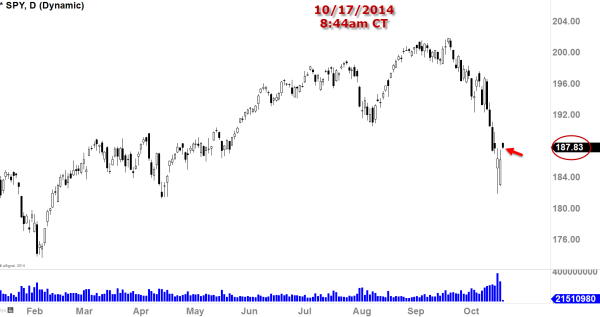 [$SPY Daily Chart Screened on 10/17/14 @ 8:44am CT]
We've also entered Calls on $SPY on the 17th at 8:44am Central Time with same strategy as $QQQ as I have explained it above.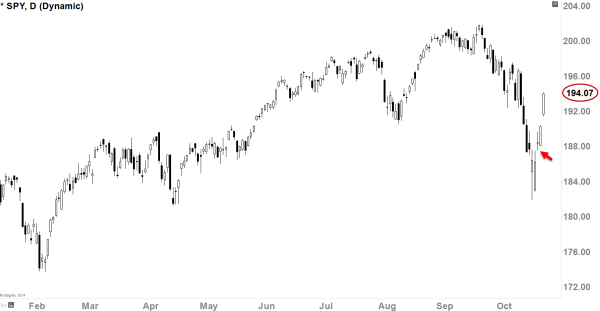 [$SPY Daily Chart Screened Today after Market Close]
S&P 500 Index also looks very strong last 4 days with an island reversal bottom.  These long and lean candles represent confidence and strength in it's bounce.  We may have some slow down here as we are hitting that daily 50EMA today, but if we can stay above $95.65ish and keep the gap open, I do think we can continue to $200ish or higher.
[divider]
[divider]
The Final Push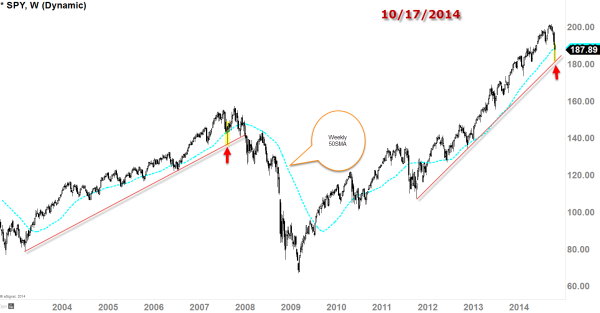 [S&P 500 Index Weekly Chart Screened on 10/17/14 – $SPY]
Weekly 50SMA continues to act as support
Long term uptrend support held
Long lower wick represents Hammer candle (see red arrow)
Sentiment VERY similar to late 2007
We have been talking about this chart over the weekend thus giving us more confidence of why the market was going to have a bounce this week.  But the biggest questions was, how long.  If you take a look at the red arrow on the left side of the chart, you can see that back in 2007, we've had very similar action with the long term uptrend holding while that weekly 50SMA also acting as support, and not mentioning, that long lower wick Hammer candle right on it (see red arrows)!  Today, everything is playing out exactly the same way as it did back in 2007. If we are going to have similar pattern as 2007 forming here, are we going to have one final push to fake everyone out and make new all-time-highs before the MASSIVE MARKET CRASH!?!?  Well, we do not know that yet as of today but we will.  Like I said before, this market will have to form a topping pattern before actually crashing down, and when it forms, we will know about it.  We are also planning on shorting this market if the topping pattern starts its substantiation process, but we also know things aren't going to happen overnight.