8.14.14 Thursday
Bullish Divergence
We have been holding our Call positions (January expiration) since June 18th morning @ $147.58 (see article here) where we were targeting $175-$185ish.  Well, things were going well until abrupt sell-off events started to occur for about a month.  We were trying to ascertain if its worth holding our positions or cut the loss.
Since the early to middle of July, we start to discover 65mins bullish divergence forming (not shown in this chart) but we were  not seeing the price action to confirm that divergence.  But what we discovered in late July was, potential bullish divergence on the daily chart as you can see it in the chart above.  Obviously, it was still immature in its formation and the price action needed to confirm that formation.
So we analyzed this chart yesterday morning (chart above) as it continued to form daily bullish divergence, but we just needed the price action to confirm that.  First, we needed to see the price to get above the recent resistance ($140ish) so bulls can slow down the pressure from the bears.    After our analysis yesterday morning, price started to soar really quickly finishing the day with about 9% gain.
But again, we knew that one day does not create a trend because we could have another abrupt sell-off like it did back in August 7th.  So we wanted to see if the bulls can able to stay after the move like yesterday.
Well, today, we didn't see a huge move but the bulls who brought up the price yesterday, stayed and held.  That's a good sign so far for the buyers.  Looking at the daily, we are currently trading above 50EMA so the next step for the price action to really thrive is that, bulls need to get another follow through making the price getting above $148-$150ish.  If we can see that, I believe our target still can be met within few months.
You can also see on those oscillators that, they are pointing back up showing the momentum is starting grow and the maturity of it's divergence.
---
8.19.14 Tuesday
Since our last update (8/14), we had about 10% rally in 3 days, and I was hoping we could close well above $155ish and we did that today.  Since we've had 5 straight days of bullish run, I think we may either get a pullback or slowdown (possible consolidation) in the near-term.  We are still holding our Call positions (since $147.58).
---
8.22.14 Friday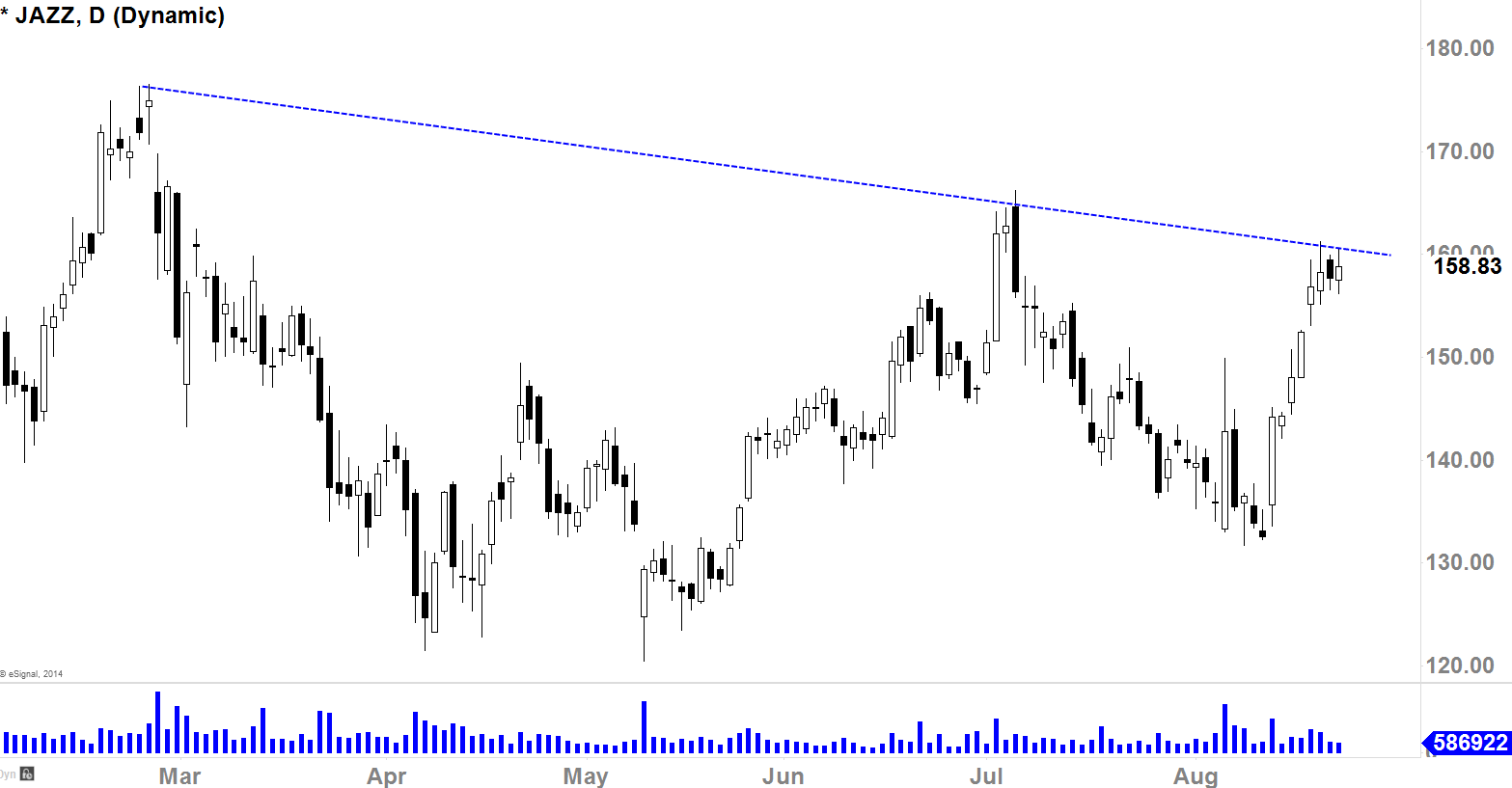 Looks like we may find some resistance here and pullback next week.  If it pullback, I would watch 10EMA and 50EMA as potential support levels. If 10EMA does not hold, we should able to find some support at 50EMA.  We are still holding our Call positions and still targeting $175ish and $185ish.
---
8.26.14 Tuesday
We cleared potential resistance level yesterday, held up, and today, we got another run from the bulls.  As long as we can able to hold above $158ish on/if any pullbacks, I do think we can able to fill that gap area at $175ish which has been our target.  We are still holding our Call positions since $147.58.
---
9.05.14 Friday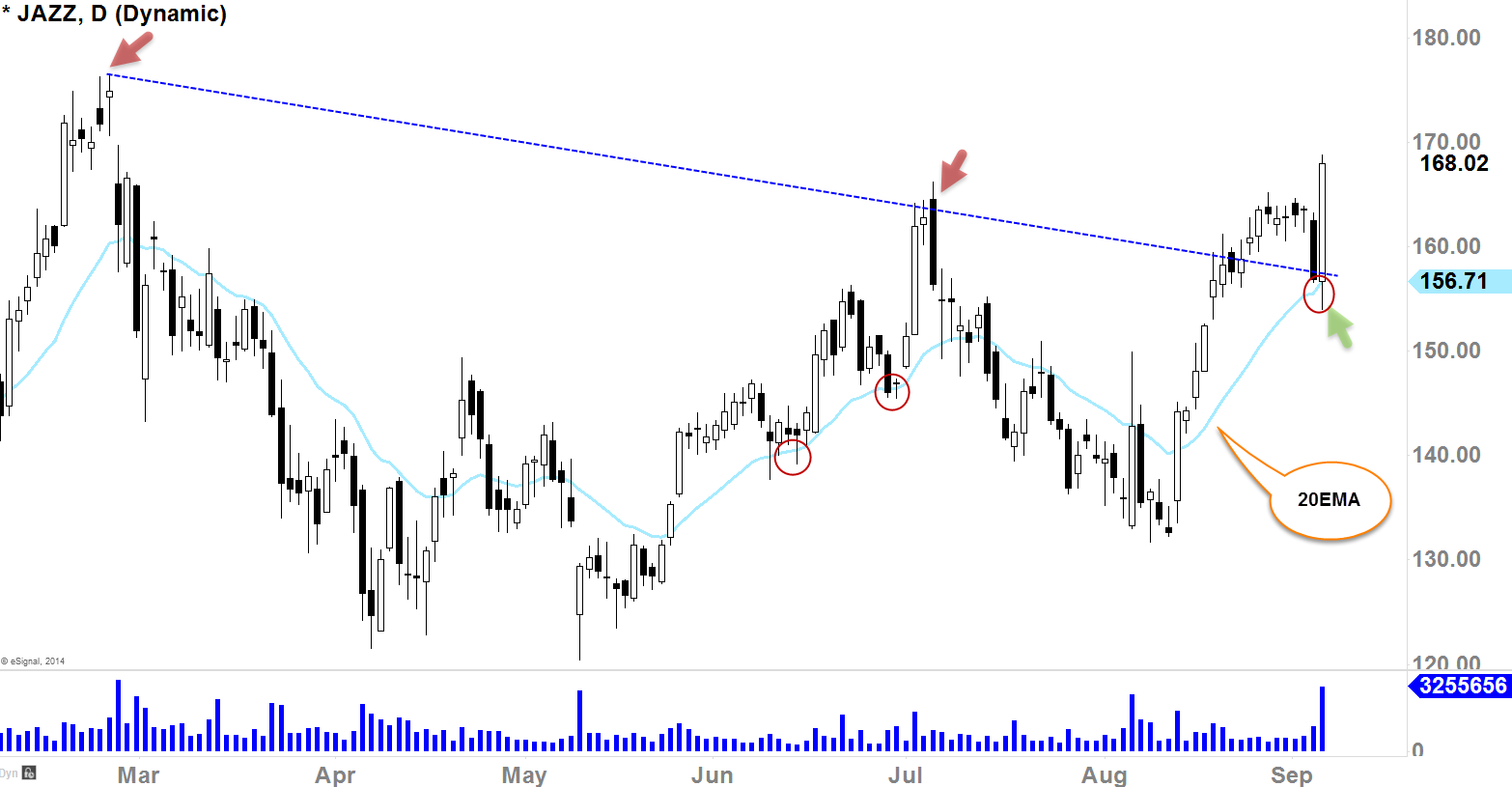 We've been looking at this pivot level (blue dotted line) for sometime now (see 8/22/14 update on this post). We've broken above it and pulled back but it rested that pivot level as new support (see arrows) and bounced hard today closing the day with 7.11% bullish run with monstrous volume. Also to note, you can see that 20EMA has been served as strong support (see red circles) back in June-July and today, it acted as strong support as well.  For $JAZZ being a pharmaceutical company, its not a certain thing to say we are going to get a follow through next few sessions (7/2/14 bullish breakout was failed, miserably, turning it into a month and half intermediate bearish trend), but we are targeting near-term target at $175ish and then possibly $185.  If any pullbacks in the miner term, bulls need to hold above $160-$164ish level for it to continue.  We are still, firmly and calmly holding our call positions since $147.58.