[divider]
7.16.14 Wednesday
[divider]
Long Term Resistance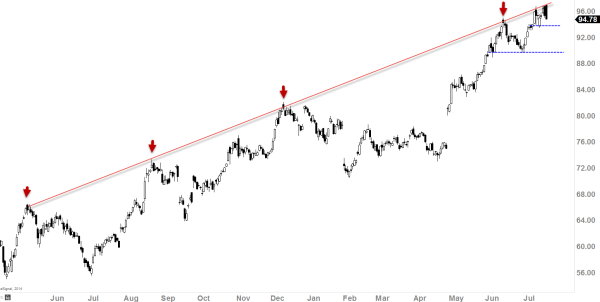 Daily Chart
With the ER coming up on the 22nd, it seems like $AAPL is having hard time at this resistance level, and no surprises there since it (this resistance line) has pretty impressive resume (see arrows) of doing damage, and no, it does not mean it has to crash here like it did in the past but it means to be cautious and look for further confirmations for that possibility.
But I would have to say that, $89-$90ish level will be a crucial level in technical perspective. If we do lose $89ish level, I do think we may get a steep decline, but for now, we still have support levels here as I have drawn with blue dotted line.  $93-$94ish and if that fails, $$89-90ish still a good support level and 50EMA is also residing at that $90ish level currently so definitely level to watch if or when this stock decides to come down to that level.
$AAPL did have a awesome run since the last ER and it's not that surprising that some would want to take some profits at this level.
I personally wouldn't want to short $AAPL here (unless you are day trading) but look for a solid bounce after a pullback/decline to go back long or initiate new positions, and that's what I am looking for.  Looking for it to pullback possibly to about $90ish and then look for a bounce to possibly go long.  I am not sure how the ER is going to turn out but I will be watching closely next few weeks here.
Bearish Divergence..?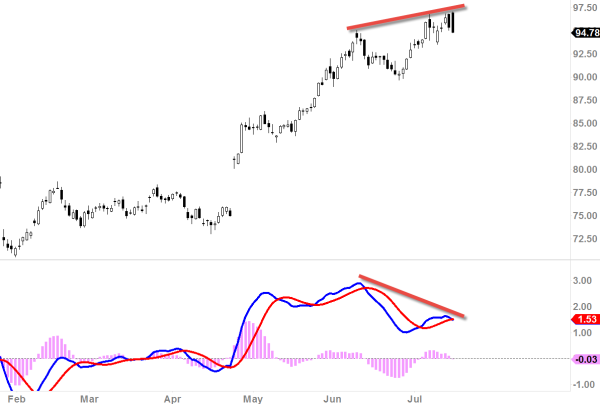 Daily Chart
I would have to say this bearish divergence is not fully confirmed as of today but definitely a warning signal (especially when we have that long term resistance line being there as well).  If $AAPL loses $93ish, that might be the first stage of a confirmation of this bearish divergence.  But yes, this generally is a warning signal for the trend change at least for the intermediate term.  And $AAPL is not immune to these divergences looking at the historical records.