[divider]
6.2.14 Monday
[divider]
I FEAR FOR THIS MARKET
S&P 500 ($SPY) vs Treasury Yield 10 Years ($TNX)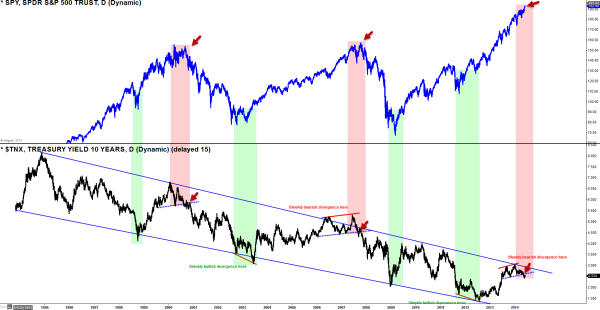 "Is this market holding a grudge before cracking its neck for blood?"
What we first need to see in this chart is the prominence & the preeminence of that long-term downtrend resistance line (top of the channel line) on the Yields ($TNX) because it has been respected and protected by the bears for over two decades.  Two decades?? Yes, two decades, and we must pay attention also because it has such a impressive resume.
Second, we have formed double top and that double top has been confirmed by breaking the neckline (see red arrows).  In technical analysis, location is everything.  we didn't just form double top in the middle of no-where but we have formed this double top formation right on that long-term downtrend resistance line.  When this happens, we pay attention.
Lastly, to make things worse, we also have weekly bearish divergence right on that long-term downtrend resistance line with double top.
So what is this all mean?  Well, let's check it's resume, and see what happened in the past. Last few occasions such as year 2000 and 2007, ended very badly.  And no, this does NOT mean that's we are going to see exactly the same results as before but definitely a warning sign, right?
So you either completely ignore this chart and say I don't believe in this voodoo-shenanigans or take heed and pay attention.  Yes, I get it, the price action on the $SPY continue to signal bullish motive but often times, if this is really the major top, the stubbornness of the market can continue grind higher (despite of the negative diagnostics) before it finally giving in.
No one truly knows where the top might be but one can only ascertain for possibilities, manage risk and prepare for the next big move.