[divider]
Related Articles
11.1.13 "Do I Dare 2 Call?"
[divider]
10.26.13 Saturday
[divider]
Intro
These charts are for observations only and by no means, I am not suggesting to go short in this raging bull market.  Trend is still up and as of last Friday, we do NOT have definite signal of reversal (Dow theory suggests, "Trend is assumed in effect until it gives us definite signal of reversal").  So I remain bullish in the market until it tells me otherwise.
Calling tops is exceedingly difficult task especially in this "never ending" bullish market with insurmountable dip buyers coming in, essentially, every single dip and that's exactly how I played this recent rally.   But when you are seeing extended sessions like we have seen on S&P 500, I can't not stop to wonder the possibility of the outcome (not to call tops but to be cautious in the general market).
There are many bullish supporting charts out there and I can provide them also but, today, I thought I could present you and choose from several charts that might be used as a forecasting tool for the next 1-2 weeks.
[divider]
Chart 1
S&P 500 ETF ($SPY) – Weekly Chart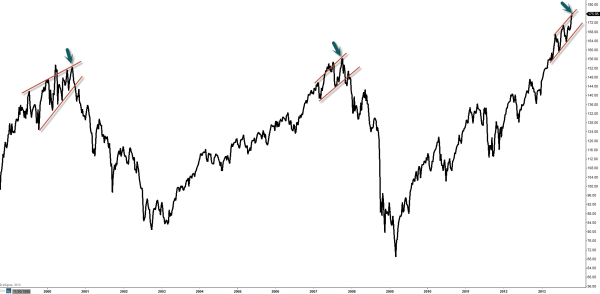 Chart 2
Emerging Markets ($EEM) resistance vs S&P 500 ($SPY)  – Weekly Chart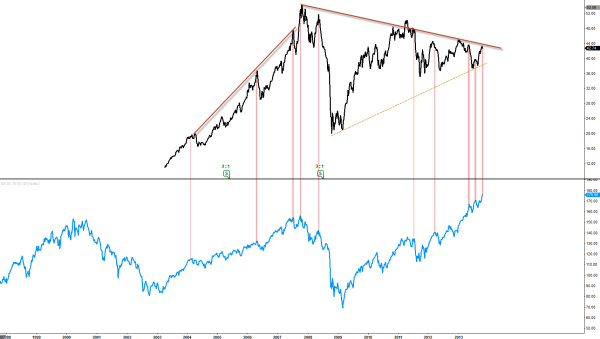 Chart 3
Russell 2000 ($IWM) Trading Lane Pivot Level – Daily Chart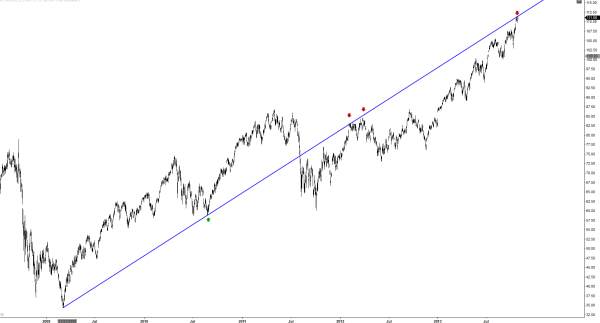 Chart 4
Chart from Abigail Doolittle
Chart 5
Chart from J.C. Parets