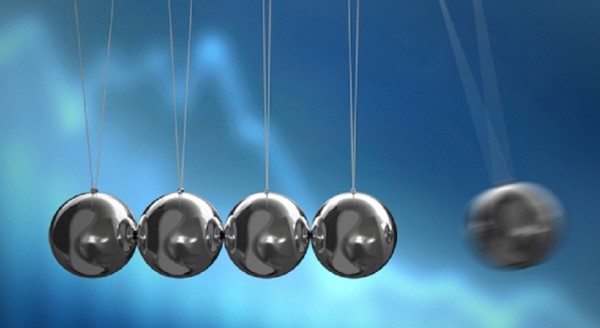 [divider]
Last Update: 10.8.13
[divider]
Related Article
9.22.13 "Why I am Watching $CME Closely"
[divider]
9.24.13 Tuesday
[divider]
Entered Call Positions @ $73.20
*Chart screened @ 9:11am CST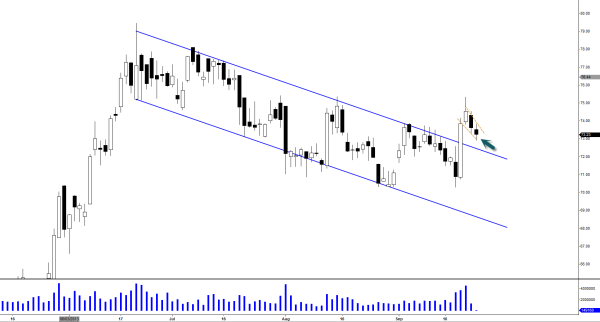 4 days ago, $CME broke out of this long drawn out declining channel and started fading slowly which looked more like a bull flag to me.  So I decided to go long here.
In-depth analysis here.
[divider]
9.26.13 Thursday
[divider]

$CME closed above very important level today.  The horizontal resistance level after several days of bull flagging pattern.  As long as the bulls keep this resistance level ($74.76ish) protected and work it as a support, I think we can get to $77.50ish pretty quickly here.  My ultimate target on $CME is about $83 but first things first.
[divider]
9.30.13 Friday
[divider]
Another Bull Flag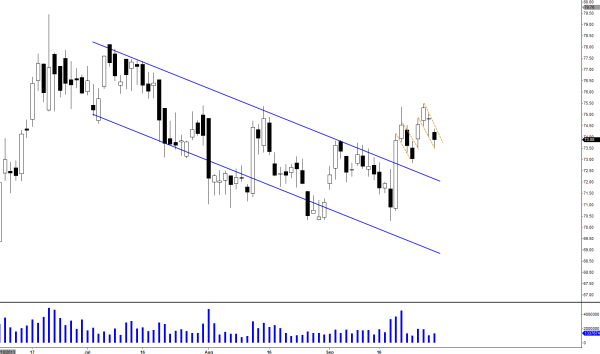 Well it looks like its forming another bull flag as its showing some resiliency while the broad market was very weak today.  I am wondering if it's going to just kind of consolidate here until the broad market find some support and run again once it's find some footing or just crack sometime this week.  Tough to say as of now.  I am still holding full positions.
[divider]
10.01.13 Tuesday
[divider]
Bull Flag Breakout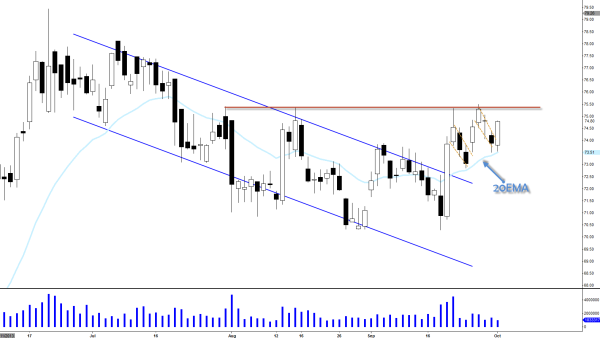 We broke out of bull flag today and 20EMA has been that support last few times (very nice).  We need to close above $75.30ish resistance level (red horizontal line) to see some real momentum building activities here.  Low volume today is a bit concerning but still looking bullish as of today.
[divider]
10.03.13 Thursday
[divider]

It's been about one week and half (since I entered into this long positions) and it seems like we are just moving sideways which I think its positive sign before a big breakout to the upside.  50EMA has been acting as support last few sessions and we did not break down today even though we saw much weakness in the overall market.  Still holding full positions and waiting for a big breakout.
[divider]
10.04.13 Friday
[divider]
Getting Ready 4 Breakout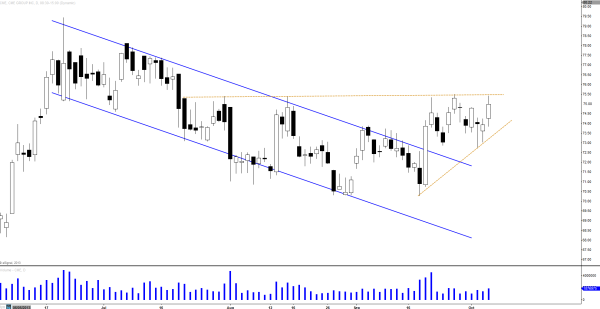 $CME has been holding up very nicely consolidating last few weeks after a huge breakout on 9/19/13.  This is what you would want to see and making sure that the long bullish candle on 9/19/13 is not negated by consolidating above 50% of it's candle.  And we did that last two weeks and now we are trading just below the resistance level $75.  I do believe much higher prices can be seen on this name if we can break above this level with authority (see full analysis here).  I am still holding long positions here (since 9/24).
[divider]
10.08.13 Tuesday
[divider]
All Positions Closed @ $72.60
*Chart screened @ 1:20pm CST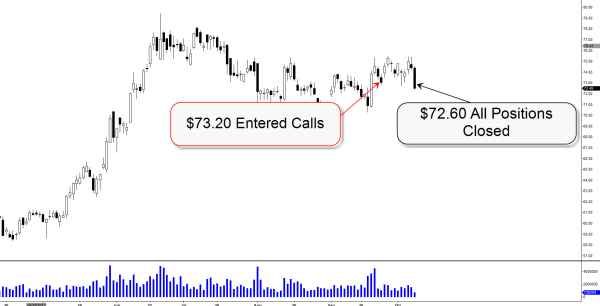 Small loss but bit disappointing as it was setting up so nicely but I guess something things just don't work.