[divider]
Last Update: 10.17.13
[divider]
Related Article
9.23.13 "I'm Short $IBM"
[divider]
9.22.13 Sunday
[divider]
Weekly Channel Broken, Retested and Failed
(Weekly Chart)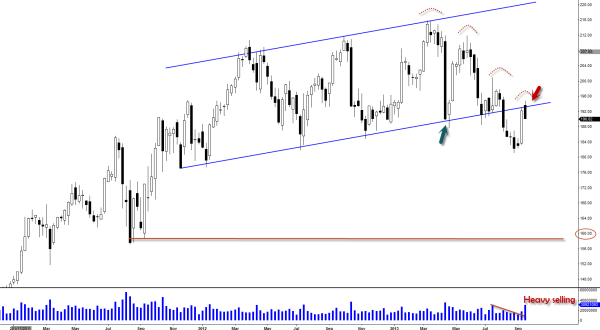 Around 8/7/13, $IBM broke down below this massive rising channel support but it came back up to retest that level as new resistance (last week) and we failed last Friday with very heavy selling volume.
As you can see on this weekly chart, we have been creating lower highs and if bulls wanted to reverse this whole thing, they needed to break the curse of lower highs and make new highs. But that didn't happen and we are in the early stage of making, yet another, lower high.
The key thing about that lower high is that we are right at that 'old support new resistance" zone (see arrows).  That was the level that the bulls needed to break higher to able to get right back inside of the channel and perhaps make its upside move.  Unfortunately, the rejection was severe last Friday (check your daily chart) and selling was heavy.
Looking at the longer term for this stock, if $IBM can't reverse things pretty quickly here, I do think the momentum will continue to the downside and will create another lower low and that's the definition of a downtrend.  And I also think the true reversal happens, not right after it breaks below pivotal level, but when it retest that old support level (as new resistance) and fails which, in this case, retested channel support/resistance and failed with very heavy selling volume.
If buyers can't reverse the situation quickly (within this week), I do think we will see $180 and $160 in the near future.
[divider]
Making Lower Lows & Lower Highs
*Chart screened on
10/5/13 after close
(Weekly Chart)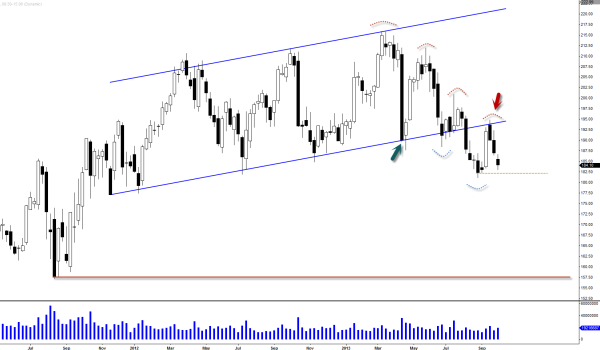 With this week's bearish action, last week's long bullish candle has been completely negated and nullified.  Only question remains if $182 is going to hold because if it doesn't, it could get ugly.  We have been putting multiple continuation patterns (check my journal entry on this one) on the daily chart and it's not looking good so far.  Looking at the big picture, if $182 breaks, $157ish is where it could be headed next.
As you can see the weekly chart, after this massive rising channel was broken to the downside and retested, I think the bullish spirit was broken.  Now that we are dripping lower with one last support remaining ($182), it is very concerning for this stock but looking good for those who are shorting or holding puts.
[divider]
ER Tankage
*Chart screened on
10/17/13 8:41am CST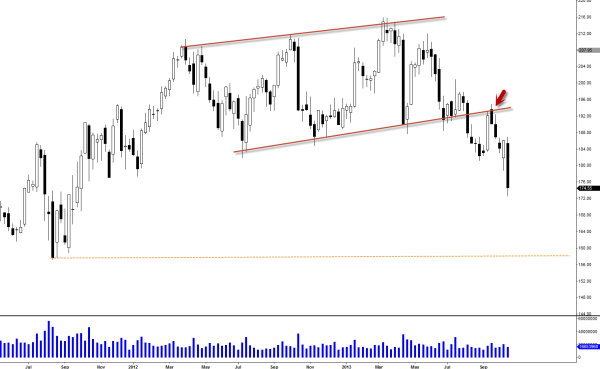 (Weekly Chart)
After a huge ER dump, we probably going to see some emotional buying activities in the morning but looking at this weekly chart, its very troubling with potential downside target of $160ish.  $IBM being huge contributor to Dow Jones, could be alarming sign for the broad market.