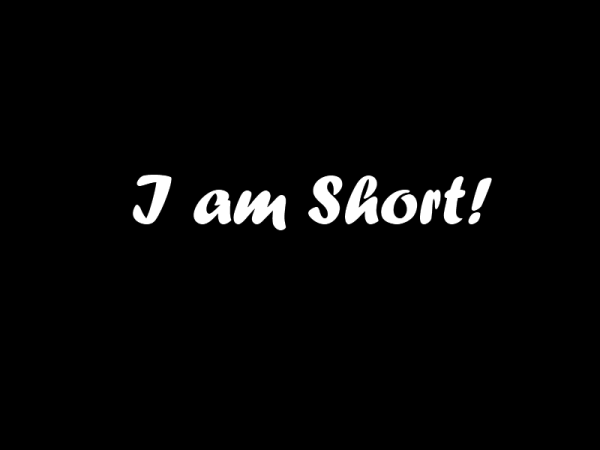 [divider]
Last Update: 10.10.13
[divider]
Related Article
9.22.13 "$IBM Troubling Signs"
[divider]
9.23.13 Monday
[divider]
[Morning] Entered Put Positions @ $191.62
*8:48am CST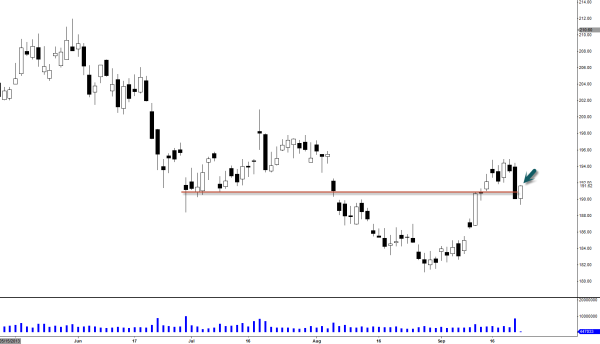 When I went short this morning, I was looking for a pull back towards end of the day leaving some upper wick to preserve the dominance of yesterday's bearish candle.  But biggest reason why I went short this morning is Click Here.
[After Close]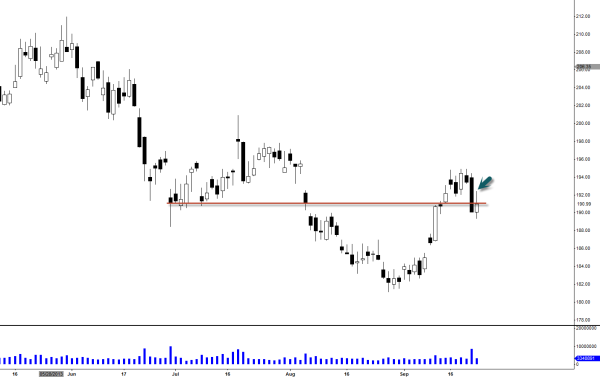 So we got some upper wick showing that yesterday's bearish candle is still in charge.  We break below today's low of $189.30ish, I do think we are going to see much lower prices.  My current targets are $182 and $177 maybe in few weeks.  Again I am putting much weight on my recent analysis on $IBM to make a decision to go get some puts this morning.
[divider]
9.26.13 Thursday
[divider]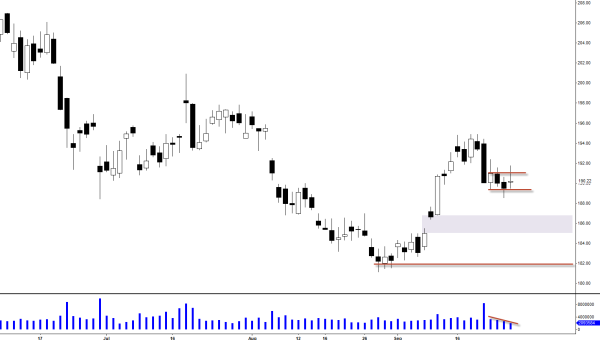 It looks to be that we have been forming bearish continuation pattern (perhaps bearish flag) last four days as declining volume tells me that we've been pretty much resting here.  I do think further bearishness is in stored and my next target is still at around $182 (still holding full positions).
[divider]
9.27.13 Friday
[divider]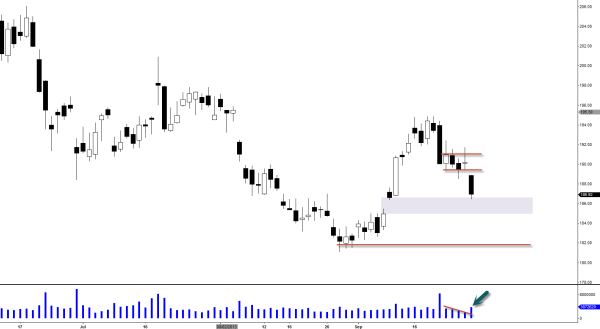 Finally $IBM cracked and came down hard with 'volume breakout' to confirm. We probably going to fill that entire gap early next week and my next target is still at around $182.
[divider]
9.30.13 Monday
[divider]
[Morning] Added More Puts @ $185.54
*8:52am CST
Added more puts this morning as we gaped down formed an island reversal but looking at the end of the day chart we can see that the gap was closed but did act as resistance.  So now $IBM is just hanging just below the open today. It still looks bearish and I think we will get to
[divider]
10.3.13 Thursday
[divider]

So I would think $IBM would really tank with weakness like today but we saw some resilience with some lower wick (though it did break down out of this bear pennant pattern). $182 is going to become solid support unless if the whole market rolls over, I would think even $182 probably couldn't hold this weight.  Still looking bearish here and I will be watching to see how it reacts to $182 support tomorrow.
[divider]
10.4.13 Friday
[divider]
Multiple Continuation Patterns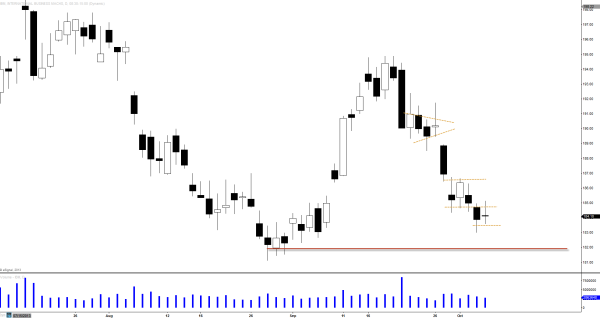 Despite of the bullish day on the broad market today, $IBM continue to not able to perform well as we have been forming this multiple continuation patterns.  I am not sure exactly how it's going to deal with $182 support but given the sentiment of today's move I think if we see a weakness in the broad market, $IBM might even break below that level before testing $182 as new resistance.  However $182 is the ideal level to bounce if its going to bounce so I will be taking heed of that level. Still holding short positions here since $191.62.
[divider]
10.7.13 Monday
[divider]
[Morning] Added More Puts @ $182.66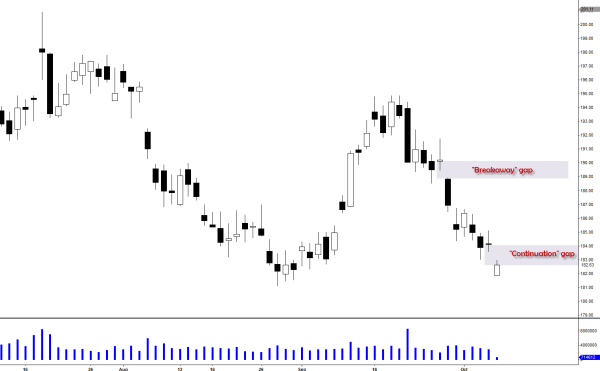 [Close]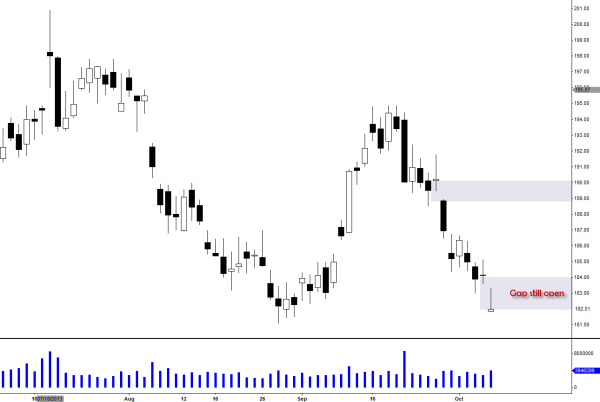 Gap is still open so is the selling pressure towards close.  We are sitting just right on that $182 support and this will be that pivotal level of "make or break" for $IBM. We close below this level, $177 and beyond is what I am looking at.  Also for the fact that the gap is still open, (it's still early to tell) it could be categorized as "continuation gap" if we break below without filling that gap and that gap can add to that selling pressure for the next leg lower.
[divider]
10.8.13 Tuesday
[divider]
Closed 65% Put Positions @ $180.23
So I have been holding pretty heavy put positions on $IBM since $191.62 and adding along the way down but earlier today, I decided to book some of those profits.  $177 is the next support and I wouldn't be surprised to see some short-term bounces next few days but if market continues with weakness, we can hit $177 tomorrow on $IBM (still holding remaining put positions).
[divider]
10.9.13 Wednesday
[divider]
Expected Oversold Bounce
*This was the chart screened for the club members last night
*Today after close
If bears want this downtrend to continue, there are certain levels to protect.
Old support new resistance level of $182
Gap fill resistance of $184 (last level for bears to continue)
If we start breaching above $184, I do think bulls can trying to fill another gap at $190.  My stop is tightened and see what happens.
[divider]
10.10.13 Thursday
[divider]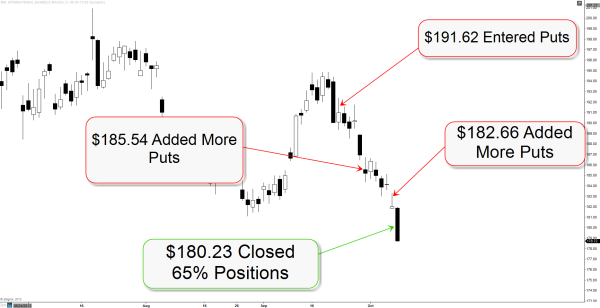 All Remaining Positions Closed @ $183.16
*9:10am CST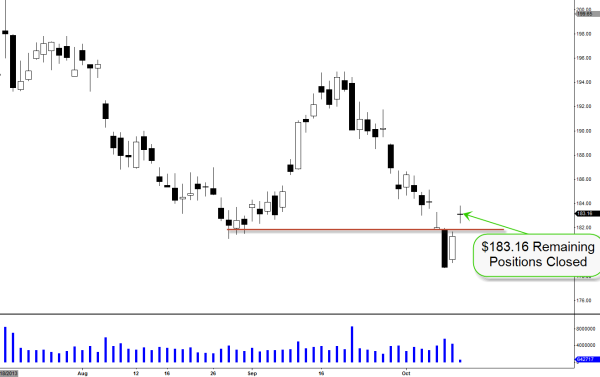 It has been a great swing trade with big gain on this trade.   I've decided to close all of my remaining positions as the broad market started to look very bullish this morning.