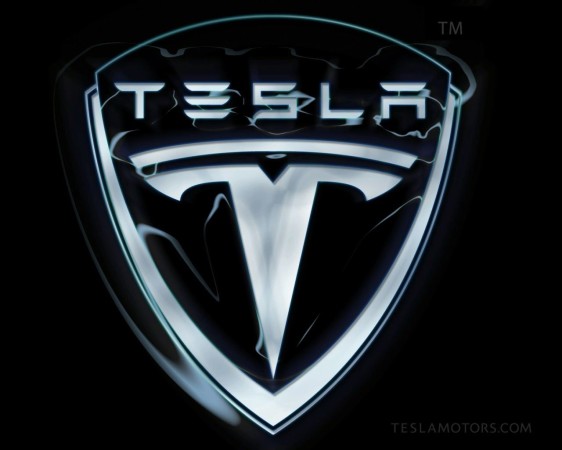 [divider]
7.17.13 Wednesday
[divider]
Massive Bearish Divergence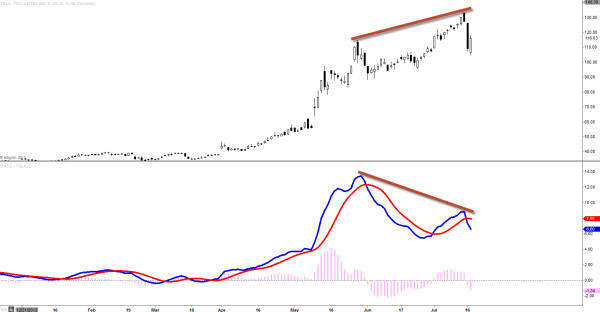 Daily Chart
This is one of those divergences that I like to call, "Clean Divergence" (Clean Divergence carries most potency).  This is the strongest bearish divergences in its kind and it's confirmed.  We saw something similar on $AAPL back in September 2012 on the weekly chart.  These divergences are very good at identifying the hypes and emotions that the prices are pushed too far and its ready to come back down to fair value.  Its very rare to see the stock making new highs after confirmation of this kind of divergence.
Extreme Conditions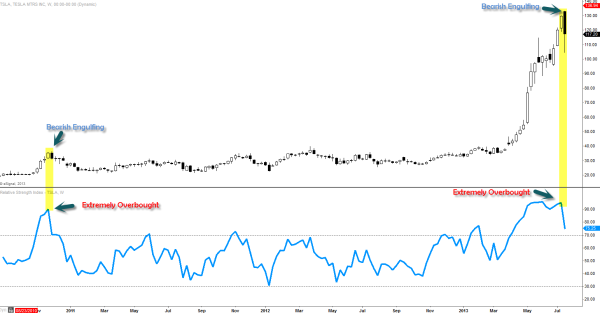 Weekly Chart
You are currently looking at the most extreme conditions $TSLA has ever seen since the late November of 2012.  Few things note here.  RSI extremely overbought status and the bearish engulfing candle stick patterns on the weekly chart.  Again, I want to emphasize that just because it's at overbought status does NOT mean it has to roll over but when it is confirmed with other analysis such as the MACD bearish divergence and the candle stick analysis, it's definitely a warning signal.  (*That weekly bearish engulfing pattern is not yet to be solidified as we have 3 more days to go this week)
Short-term Outlook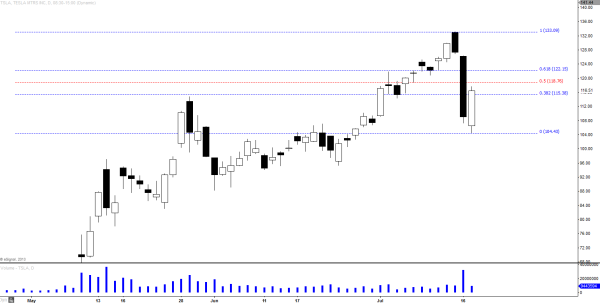 Daily Chart
Using Fibonacci retracement level measuring last three days (including today), 50% is usually the maximum level (when measuring short-term move) of retracement before further continuation move (in this case, bearish).  If we break above 50% retracement level, I would have to assume that we can get to the highs of $132ish but again with massive MACD bearish divergence in place, it will be very difficult to make new highs.
Potential Targets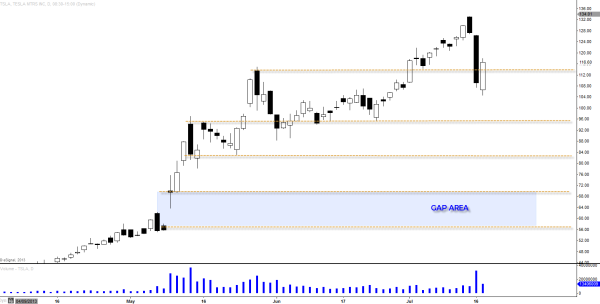 Daily Chart
Here are some levels of targets to the downside but if $TSLA close below today's low which is about $104, I do think we can get to about $70ish level (just above the gap area and the 100 SMA).
It will be very important to ascertain where it trades to remaining of this week and more importantly, what weekly candle it closes with and also as I have mentioned that Fib. 50% retracement level which can not be breached if bears want to push this down even more.