---
7.8.13 Monday
[After Open] Entered Long Positions (Calls) @ $13.18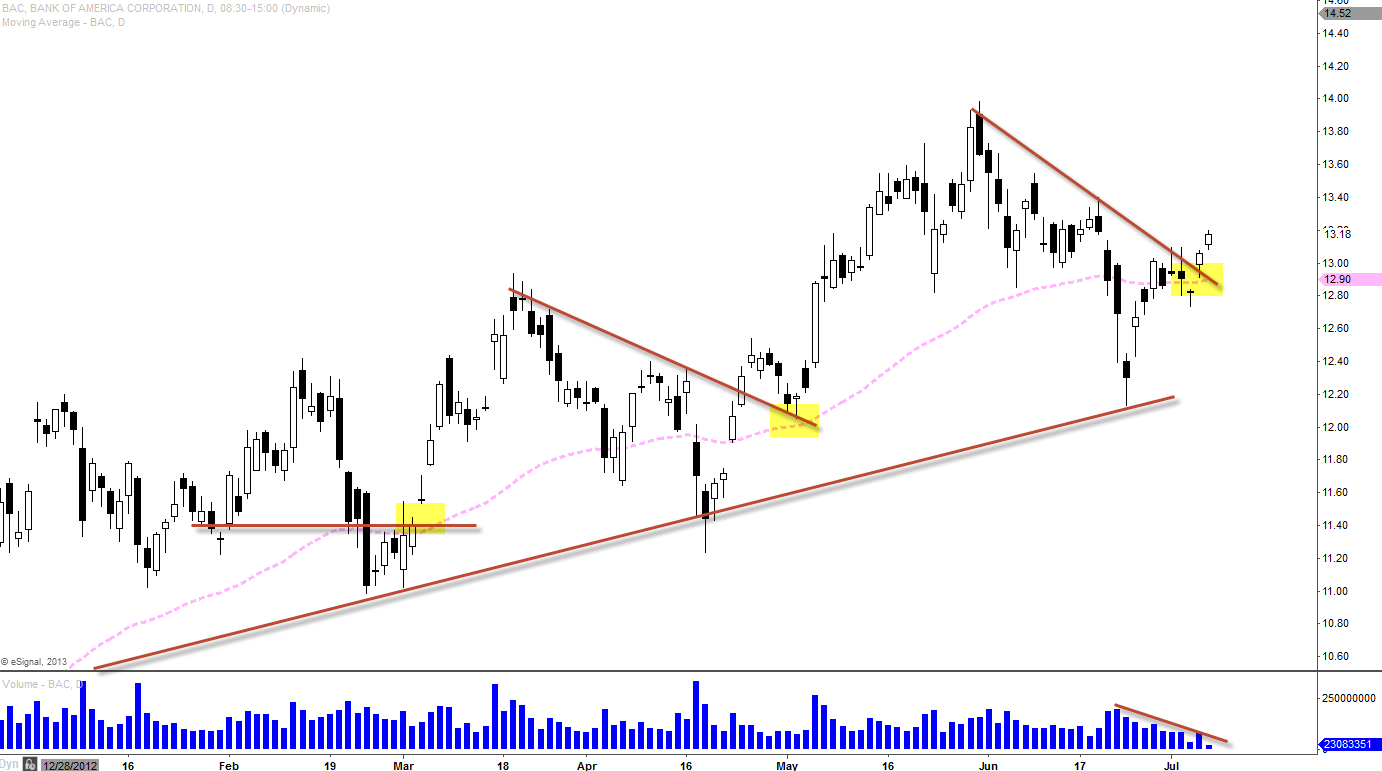 Looking at this daily chart we can see the correlation between 50EMA (pink dotted line) with the resistance line.  Once $BAC clears the 50EMA and the resistance line to the upside, it seems that it likes to create new highs.  Today, we have very similar pattern as we are currently trading above 50EMA and cleared recent resistance line.  So can we make new highs as it did before?  Volume has been declining very drastically so we will need some volume spike either today or tomorrow for a starter.  We are also traveling above neckline resistance level of recent H&S reversal pattern.
[After Close] Solid Move with Volume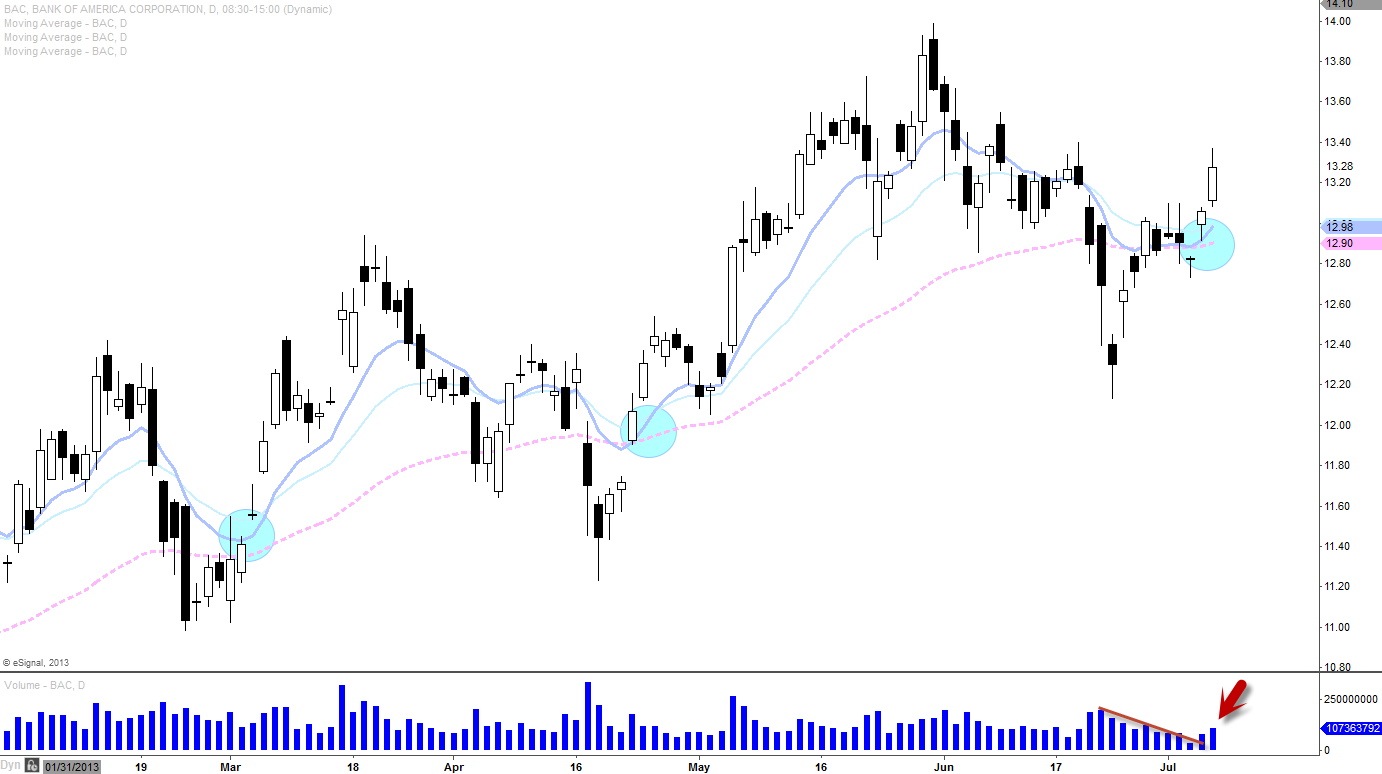 Several things to note here
Volume did come in (it's not super high but that will do for now)

Nice solid candle with long body which is plus
10, 20, 50EMAs are now crossing (see green circles) showing some bullish strength
---
7.9.13 Tuesday
[Late Morning] Added Longs (Calls) @ $13.31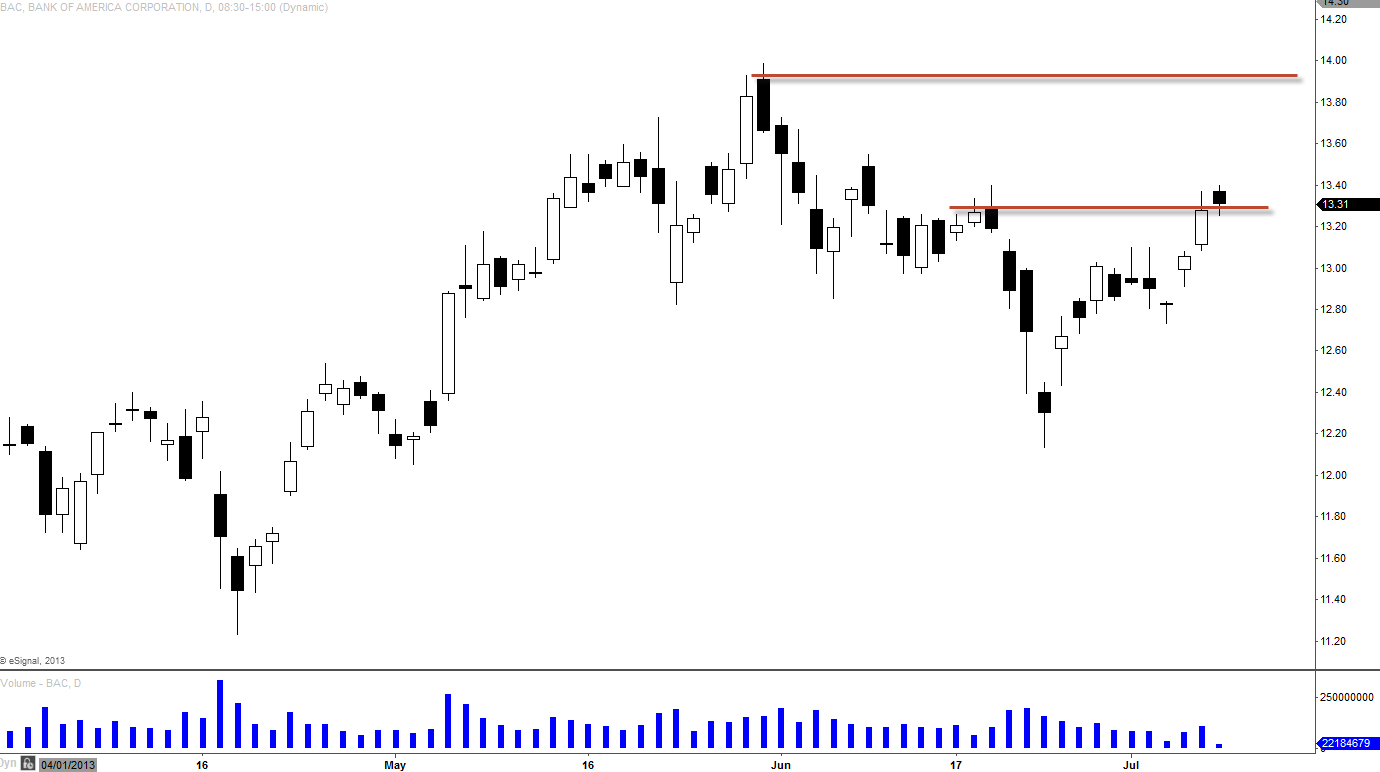 Buy the dip mentality here and that's exactly what I am doing.
[After Close] Strong Close
$BAC is now way above all moving averages and looks like its headed for $14.00 level.  Volume is good enough and MACD into the positive territory with bullish cross.
---
7.10.13 Wednesday
Possible Bull Flag or Pennant
I like the fact that $BAC decided to pull back after closing above 61.8% Fib Retracement level.  This is the level to hold and possible thrust higher this week.  Target is at around $14 before unloading some positions though I think we can get to $14.80ish as long $SPY continues to grind higher or sideways.  We hold this $13.20ish level, I believe more upside to come.
---
7.11.13 Thursday
Still Holding Full Positions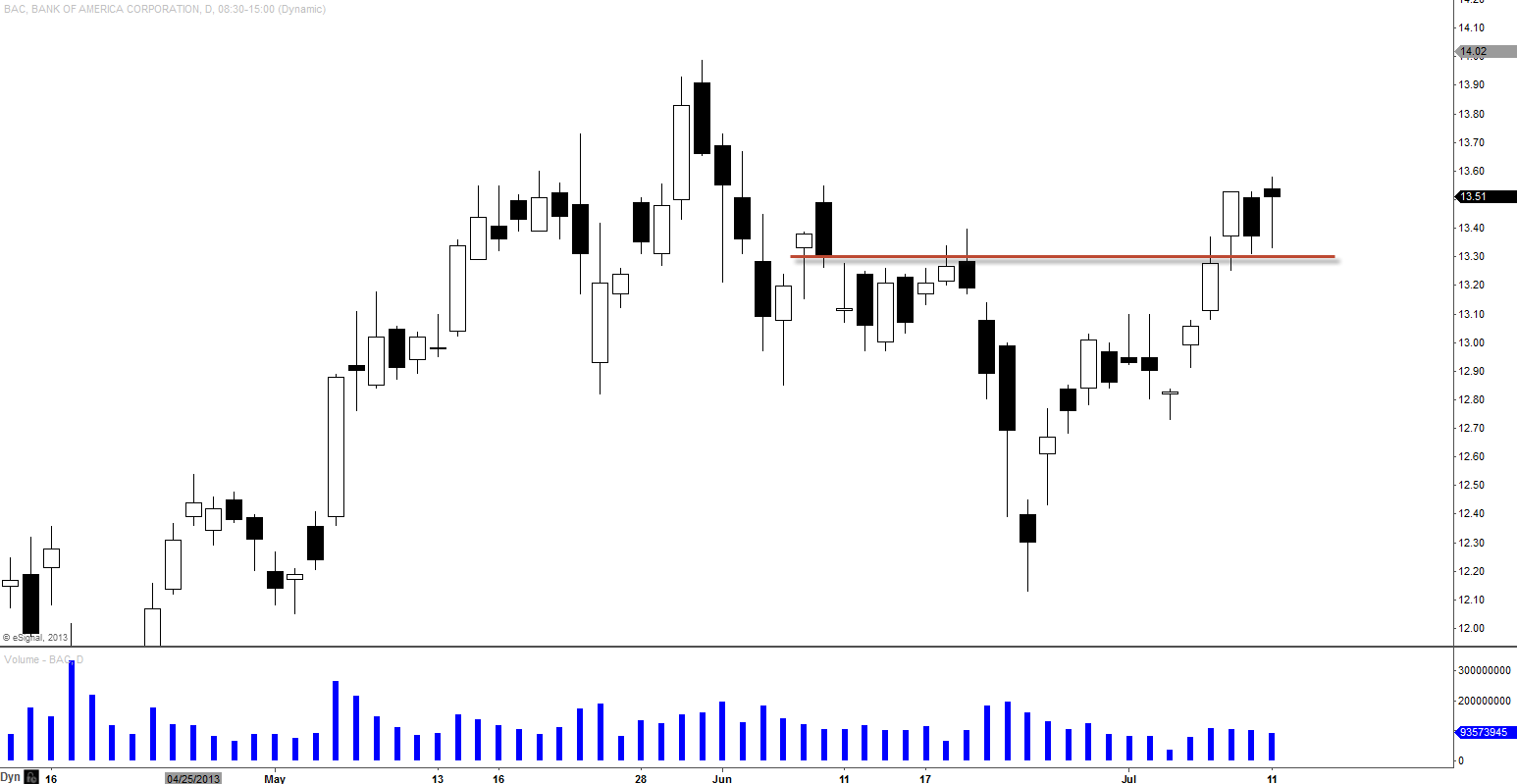 Still holding up well here.  It looks like currently forming stair-step continuation and I think if we can break above $13.60, we can get up to about $14 which is my 1st target. Still looks very much bullish.
---
7.12.13 Friday
Closed 1/2 Long Positions Here @ $13.75
Still looks very bullish here with moving averages are angling to the upside sharply. I am a bit concerned that we continue to have low volume here and we are getting close to that resistance of $14ish so I thought I would take some off the table.
---
7.15.13 Monday
Hangman?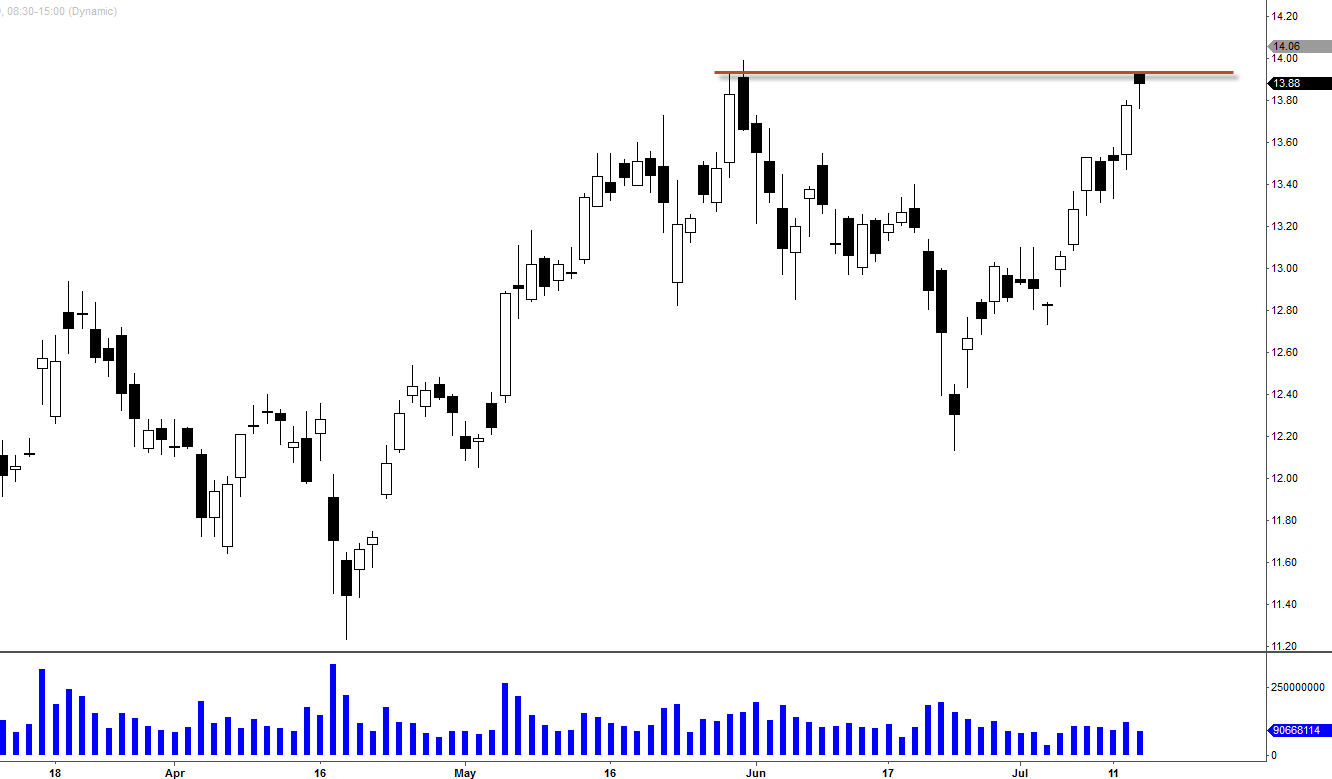 We have potential Hangman reversal candle stick formed right at that resistance but it doesn't mean a thing until we get some kind of follow through to the downside tomorrow such as gap down with bearish follow through.  If we get that tomorrow, very bearish reversal sign but if starts to fizzle around and move sideways, that Hangman will be completely nullified.  I am still holding rest of my Call options and because the ER is on Wednesday before open, I will close all of my positions  tomorrow.
Personally, I am not worried much of that Hangman candle unless if the whole market gaps down tomorrow morning which in that case we could have $BAC gaping down and possibly that Hangman could play out.  If gap down, I close everything at open.
---
7.16.13 Tuesday
Closed 70% of the Remaining Positions @ $13.92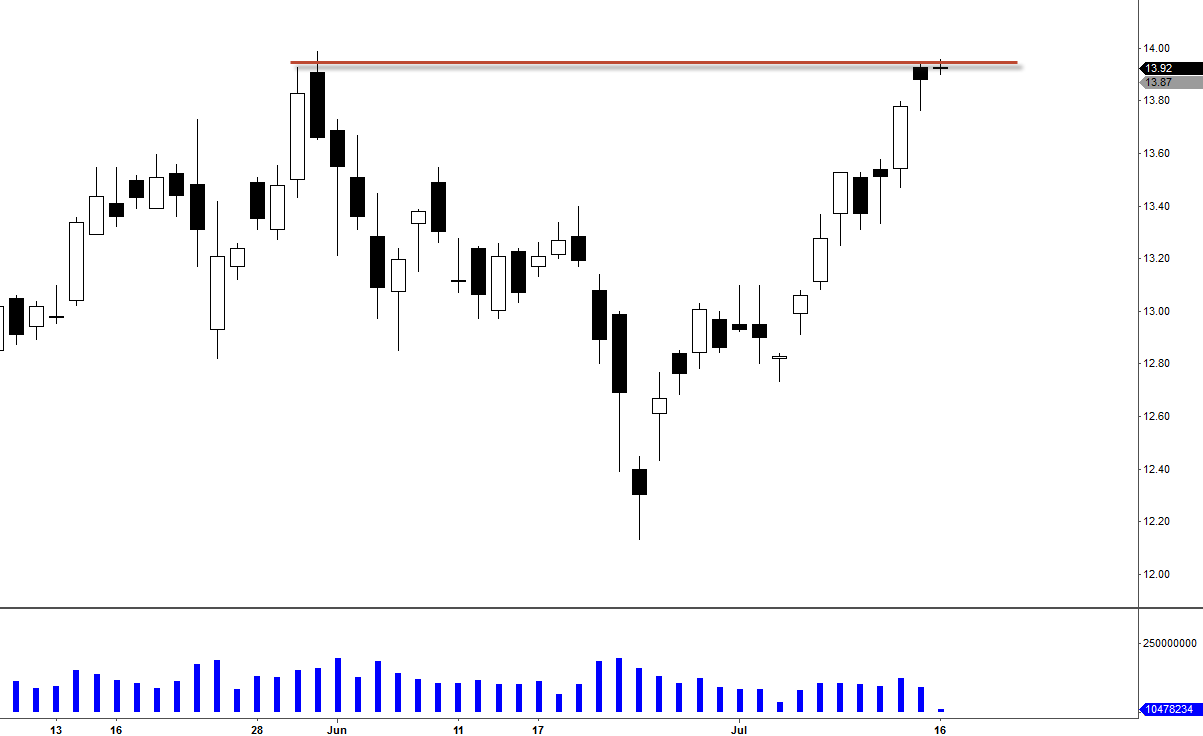 Now I have small positions on this trade. Holding rest through ER tomorrow before open and I think more upside to come this week but pull back would be nice so I can add some more.
---
7.17.13 Wednesday
Reloaded Full Long Positions @ $14.05
Gaped up this morning above the pivot of $13.80. I waited a little bit and see if it was going to fill that gap and come down to the pivot or just thrust higher.  Well my thought was either I wait little bit more for better entry but then again if I wait too long I might even lose the whole move.  So I decided to get in right at this level thinking that gap could still be open and we could just thrust higher.  I fully loaded call positions at this point plus the some positions I've already had since the 8th.
Progress so Far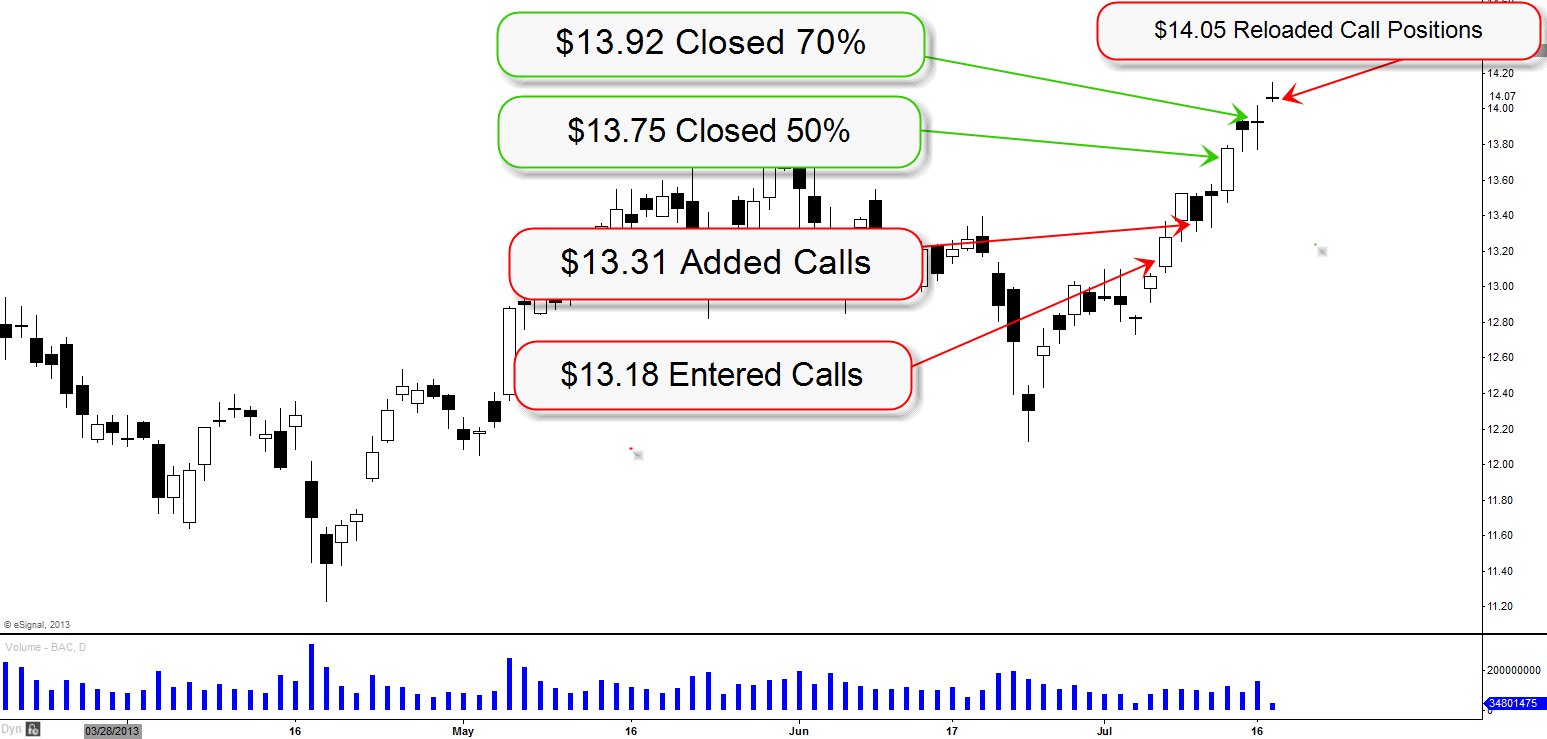 Go to Part 2