[divider]
1.27.13 Sunday | Weekly Charts
[divider]
$DJIA: Dow Jones Industrial Average Index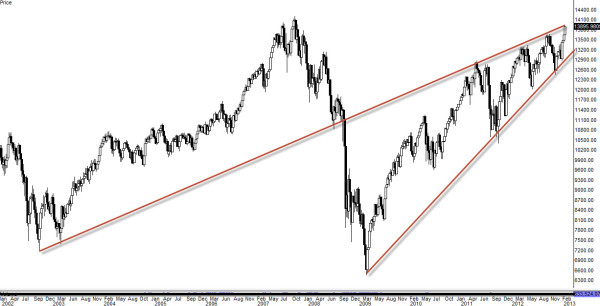 We are running into upper resistance however looking at the last weekly candle, we do not have any reversal signal yet. It means my perspective going into this week is still bullish however warning signs are flaring that the resistance could slow things down this week.  But MACD indicator is showing some warning signs of steep corrective move coming in the horizon.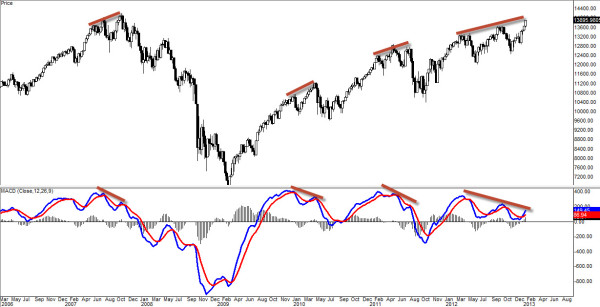 Here is some warning signal of market correction could be found in this weekly MACD study.  This Bearish Divergence (has not been confirmed yet) is continue to form.  This gives me hesitation in the overall market health because last time it had three peaks divergence (2011), we had pretty steep correction and today we have wider scale of three peaks bearish divergence forming.  They don't have to always play out but looking at last 7 years of history, it seems that these divergence has played out every time. Only in 2007, it led to market crash but other times, it was just corrective move.  Definitely be cautious and take heed on these divergences.
$SPX: S&P 500 Index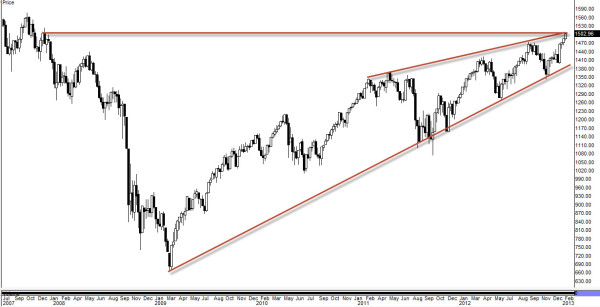 Similar story here. Running into resistance but no sign of reversal yet. Sentiment is still bullish until it gives some sort of candle reversal signal next week.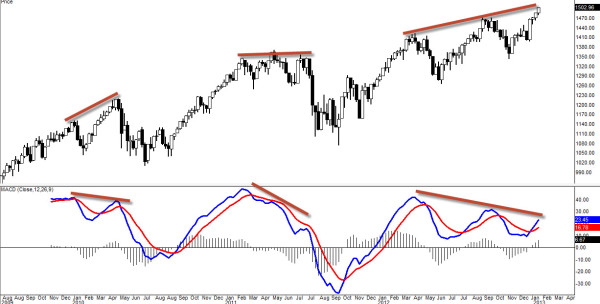 Again here comes another divergence (not confirmed) in the making (three peaks). 2011, three peaks bearish diverge led the market to pretty steep corrective move.
$COMPQ: NASDAQ Composite Index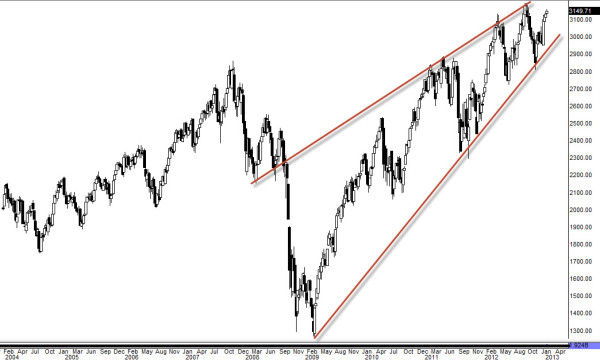 Some are proposing that we are possibly forming Head and Shoulders on the NASDAQ and that could be true but as of now, we do not have any signal to confirm that.   As of today the sentiment is bullish until it gives us some reversal signal next week.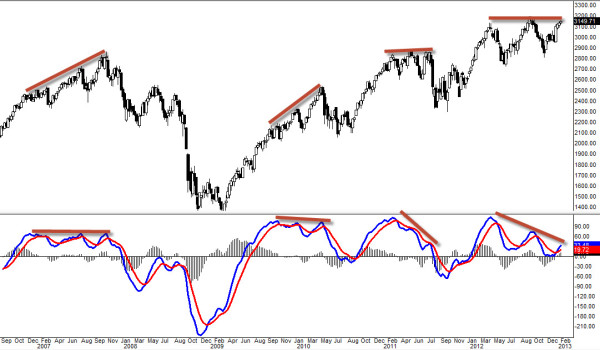 Here again we see the three peaks bearish divergence in the making. 2011, when we had three peaks divergence, we had sizable corrective move and this time we are forming in a wider scale.  Again this does not mean that it has to play out but it means to take heed.  However looking at the historical evidence (in this weekly chart), it seems that it played out every single time.  It means it has high probability that it might play out again some time next few weeks.
[divider]
Recap
$DJIA, $SPX running into upper resistance but no sign of slow down yet
All three indexes with three peaks bearish divergences in the making
I assume sentiment is still bullish because we do not have any kind of reversal signal yet
For long term perspective, I am cautious because of those three peaks divergences that have been forming which could be dangerous