[divider]
12.14.12 Friday 9:29am CT
[divider]
Double Top Neckline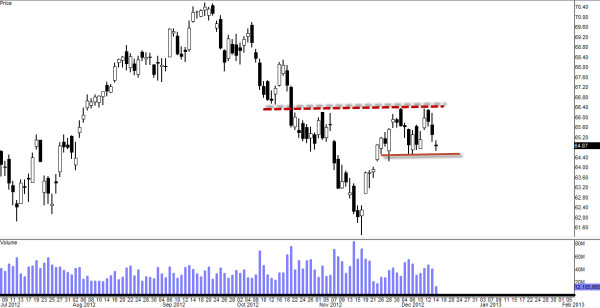 I am currently holding Put Options that I got in three days ago @ $66.35. It was some what risky entrance on the Puts because it looked pretty bullish when I got in however looking at how $66 area been served as pretty strong resistance and the Oscillators being way overbought I took a chance and paid off so far.
But here is the challenge.
We formed ourselves a Double Top reversal pattern without confirmation yet because we are just now trading above the neckline. Double top is confirmed when the neckline is broken.  So as long as the neckline holds, we are technically still BULLISH.  So if today or early next week, the neckline is broken, we probably see 1st gap getting filled pretty quickly and possibly heading down to fill the 2nd gap at around $62.50ish.
All indexes are looking very weak and prone to roll over but with so much optimism with holiday season run up I think it's not going to be easy run for bears.
$QQQ is the only Index ETF that is trading below major Moving Averages and that's actually one of the reason why I jumped in bearish few days ago.  100SMA has been working as very solid resistance for this ETF and now trading below 100/200SMAs including 20/50EMAs.  Definitely looking bearish there however the angles on those MAs are still very flat which means Bulls can take over any day if they can find some strength at the neckline here.
Working With Oscillators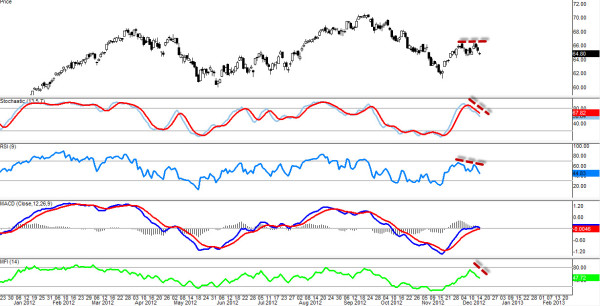 We do have short-term Bearish Divergences here except MACD.  I wouldn't rely on too much on these but it shows some bearish sentiment rolling into this ETF.   I see more bearish strength on RSI as it's divergence is well established along with Stoch with very steep decline. We also have very strong Bearish Divergence on the Fast Stoch (image is not displayed) so short-term bearishness is probably rolling in but then again we need to break that double top neckline first for any of these Oscillators analysis to play out.
MACD Study on the Weekly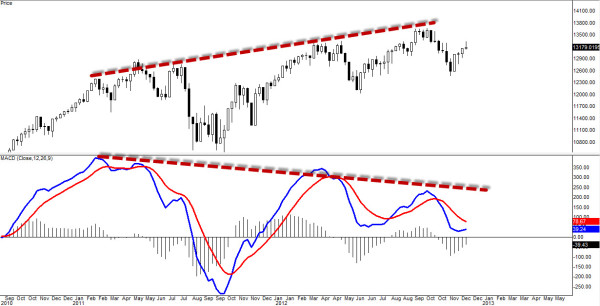 Well this is scary looking chart here.  This is TWO years of worth Bearish Divergence on the MACD!  If this thing is confirmed, we are looking at some massive crash here.   Because it took two years to create this Divergence, the outcome of it will be that much more greater.   Not sure if this thing is even going to play out but I see it as Bears just sharpening their knives for years to come for some MASSACRE.  I will definitely keep this as huge cautionary signal that the price have been squeezed for years now.
Corrective Elliott Wave Analysis
I don't rely on Eliott Wave analysis but it gives some frame work if the roll over actually happens. For now nothing has confirmed until the neckline is broken so I wouldn't put a whole lot of weight on it but if this thing starts to roll over, we are looking at Wave C on the corrective wave.