[divider]
12.9.12 Sunday
[divider]
If The Bottom Falls Out, Expect $280 1-2 Months
(Weekly Chart)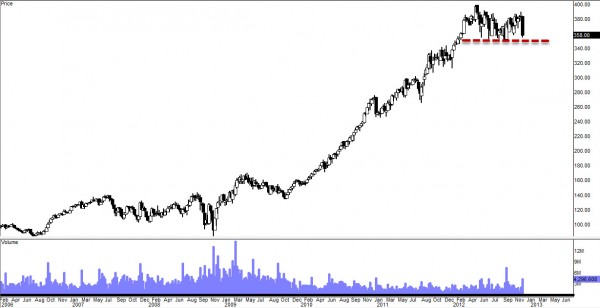 Because the bottom might just fall out.
It has been really long time since I've traded $AZO and you can probably understand why if you are a Swing Trader like myself.  There haven't been any swings for a while now in this stock but it has been Day Traders dream with so much volatility on a daily basis.  So I stayed away but I did not remove $AZO from my watch list. I mean I wouldn't even pay attention to $AZO and I scan through  my stocks skipping $AZO like I've been doing for almost a year now.  Subsequently though, the other day I  noticed something that caught my eye.  And allow me to elaborate on that.
(Daily Chart)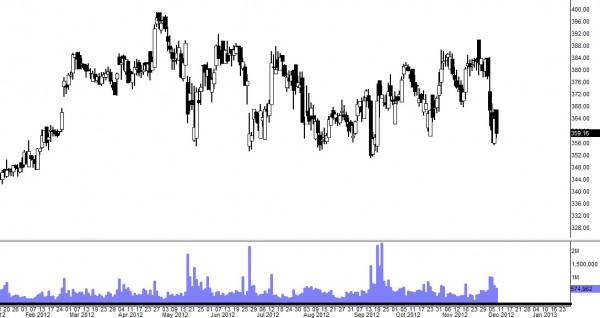 I don't know about you but to me, this looks like a nightmare.  No order. No neatness. No patterns.  Just a random act of insanity if you asked me (If you can trade this and be profitable on a regular basis, I admire you because I can't do that).  But what caught my eye was the weekly chart above. If you flip to weekly, you will see more of order, patterns, and neatness. Don't you agree? Well I can work with patterns but I can not work with randomness.  And "randomness" is exactly what I see on daily chart even though it had its boundaries of support and resistance but such a high volatility too fast too quick, I just wouldn't touch it.
So as I was looking at the weekly chart on $AZO I realized a pattern that I could work with right away.  It's the Double Top pattern (AKA M Pattern) and 1 year worth of that.  The duration of the pattern is very important to me because the break out of that pattern of 1 year will be that much more severe.
So I thought well if that double top is confirmed (by breaking the neckline), I can trade to the downside but I needed some more confirmation as to if this thing is going to continue to bullish after breaking out of this consolidation or are we heading to the downside.  I mean I really don't care which way it breaks out as long as it does break out, however I wanted to forecast possible scenario.
(Weekly Chart)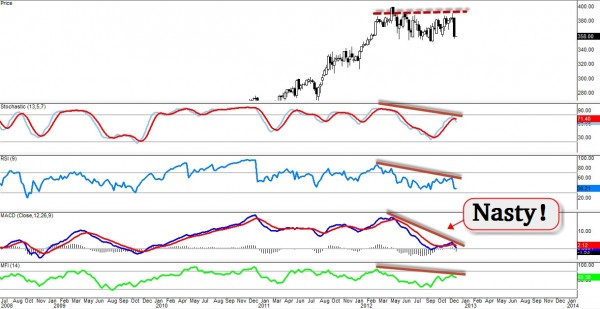 We have Bearish Divergences confirmed on all Oscillators I use.
Take a closer look at MACD (Moving Average Convergence Divergence).  When it comes to Divergences, MACD is the expert and look at that angle on that thing.   It's filthy, flat out dirty and NASTY!
Ladies and Gentlemen, I conclude a danger cliff zone that is about to present on $AZO and if you play this thing right, you can make fortune in a true Swing/Position trading.
Does it have to play out? No. Is there high possibilities?  Yes.   I can work with possibilities.   I remember someone tweeted to me once saying, "Don't trade with what you think but trade with what you know". He said that because I tweeted something like I think this certain stock  might go to this certain price.   And looking at his tweet, I thought to myself. Well we have to think and trying to find out the possible outcome because we truly don't know (I mean nobody knows) where the market will go. So I replied to him and said, "Well that's funny because no-one truly knows where the market will go but we can only try to ascertain where it might be headed."  So let's try to ascertain and think with the facts that were given to us in this chart and try our best to find out where it might be headed and what needs to happen for that to happen.   Price action is everything. Price does not lie and it gives us sentiment of where it might be headed.
If the bottom falls out (which is breaking below the major support that has been sustaining this massive consolidation), I think we are going to DIVE and I mean DIVE pretty heavily.   Why? Because we have been going sideways for about a year.   This is huge consolidation period of time.  Not only we have long period of consolidation but we have NASTY Bearish Divergences along with weekly double top reversal pattern forming.  So when the double top is confirmed and the weekly divergences is played out, you can count on those price actions that this thing will TANK.
(Daily Chart)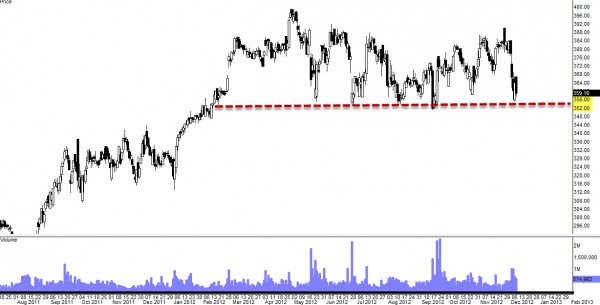 $356-$352 price level to watch out there and that level which I will call, "The Bottom Support" and if that bottom support falls out you know what's going to happen.  If we can break that level with strong bearish candle with the volume supporting, I think the break out can be confirmed.
If or when the break out is confirmed, I forecast $280 within 1-2 months.
As of now, I am not sure when it is going to break out. It could be tomorrow or even next few weeks. Nobody knows. But when it breaks out, I will be there to ride it down.
[divider]
12.26.12 Wednesday 12:05PM CT
[divider]
Major Support Breaks While Double Top Exceeds
(Daily Chart)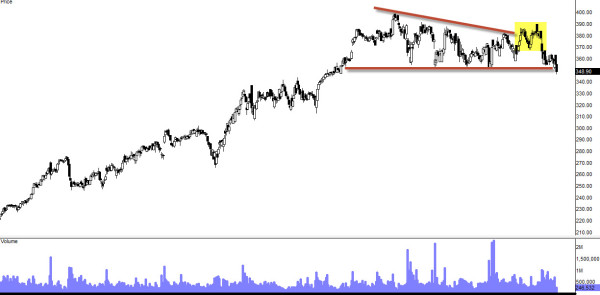 As I have mentioned on my previous update that $350 is a very important level and now we are breaking that important level while the double top (yellow shaded) is starting to play out very nicely and not mentioning that weekly divergences.
It's very important (if you are a bear) that we close below $350 today and if we do close below that area I wouldn't be surprised if we get another huge bearish day tomorrow or possibly test that $350 area as new resistance but either way I think it's going to tank.
Next targets: $310, $280
After Close
We did NOT close below $350 and bulls came back and now we are right back inside of the pivot area.  It might have been a fake break out and possibly we could jump to the upside tomorrow but the threat is definitely there from the bears that they tried to push it down.  I will be watching closely tomorrow and see if we can get the close below $350 with solid looking bearish candle.
[divider]
12.28.12 Friday
[divider]
I am NOT fully convinced Yet
(Daily Chart)

Well we did close below $350 but I am not YET convinced that this is a LEGIT break-out to the downside.  Volume is continue to decline and I won't be surprised if this thing continue to flirt around $350 area next week.
On real break out we should see some volume spike that supports the bearish pressure with STRONG BEARISH CANDLE.  What we had was just kind of 'slipping through a slippery floor' kind of action.
Monthly Double Top Neckline
(Monthly Chart)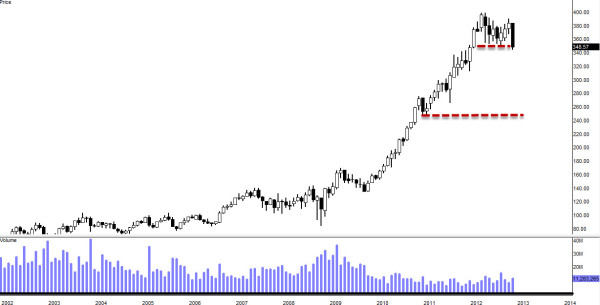 Looking at this monthly chart, this Double Top reversal will be confirmed if we can close below $345 vicinity with some convincing bearish candle.  Watch that neckline to break and when it does, we might see some aggressive bearish attack.
[divider]
1.11.13 Friday
[divider]
Breaking Down
(Daily Chart)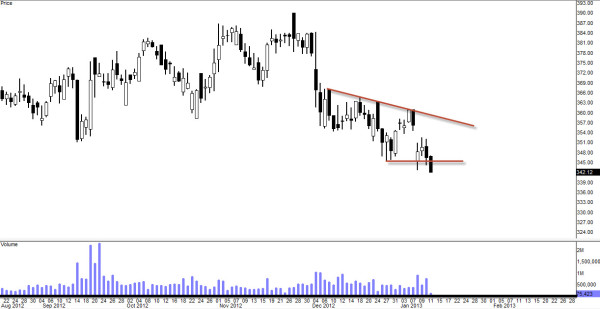 We close below $343 by EOD, extremely bearish next week.