7/16 Monday (Late Afternoon)
I am not sure if any of you trade $DD. its pretty disciplined stock that it's on my watch list.
$46-$47 pretty solid support there.  June 1st, we had bullish engulfing pattern at support which that led to about $4 move there.  And sure enough, just three days ago at support, we got a bullish hammer.  So I've been watching since then and this morning i got triggered bullish.
My current stop is at around $46 (below the bottom wick there).
Only concern i might have in this trade is that VOLUME has been declining. Despite of this short bullish move we had last few days.  So what we need for this trade to work is that volume needs to come and close above yesterday's high and if it can stay there for the next several days, we make this trade sucessful.
Earning is on the 24th so I got about a week to close this trade.  (Personally I probably will close this trade this Friday regardless of my targets).
About $49 first target and $50.50 is my 2nd target there.
7/17 Tuesday (After Close)
Looking good so far however we got strong resistance coming up very close here. I actually think $48.80 – $49.20 is a major pivot area.  Even late June, it was such a pivot, such confluences were shown.
Target 1 is doable but as you can see,we've been trading upwards but volume has been declining.  This is not a good sign. Think of it as helium in a balloon, it moves up fast but its imminent that its gonna come back down.  There is no fuel to this move.  I will be watching this early morning and take profit where I can.
Another sign to be cautious is that 200SMA is close and current sitting just below 20EMA.  Usually these Moving Averages aren't going to matter against this fair size of bullish  move but as I have indicated, it has no power to it.  Volume hasn't supported so these moving averages gonna become tremendous obstacles for $DD (especially 200SMA)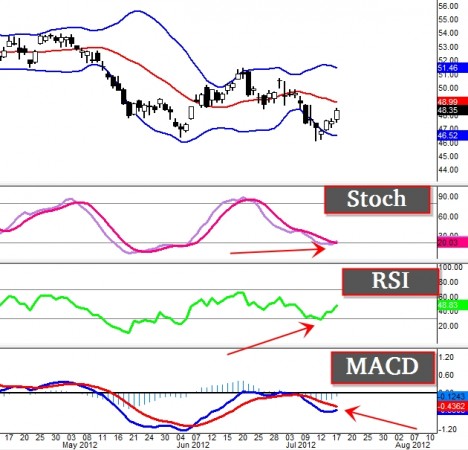 Only think that is support this move is RSI.  RSI is only Oscillator pretty much strengthening this move. And this isn't enough for me.  STOCH at oversold territory and crossing and MACD crossing and these don't mean it is supporting this move.  Definitely more confirmation is needed for this bullish move.
Conclusion
I will pretty much close out my trade tomorrow.  I will look how it behave in the morning.  If we have good spike going up (possibly a gap upwards or good solid bullish candle), I will decide to stay but if it fizzles and flirts around in that pivot area, I will be out and take my profit.
7/18 Wednesday (Morning)
Bullish Divergence
This is very strong Bullish Reversal pattern and STOCH is confirmed, RSI is confirmed but MACD it has not yet confirmed.  We will need that blue line to cross the red line to confirm.  But all in all, its a good sign for us as we close out this trade by end of the day or tomorrow.
Earning is next week and I don't trade through earnings week.
7/18 Wednesday (Late Morning): TRADE CLOSED WITH PROFIT
Well decided to close out my trade today with great ROI on Options.  With earnings next week and resistance near, I didn't want to lose any of my gains.  Looking at Oscillators and with bullish divergence in the picture, we might able to get to target 2 but I am not sure how long its gonna fizzle around that resistance area so time is the essence here and we don't have much time.
Good trade regardless.