My Positions
If you've been following my articles on Boston Scientific (BSX), I've been trading this to the upside since $13.23 as BSX has been producing biggest gains in my portfolio since early-2015.  After closing all of my call positions at $24.40 (see Part 6) in early-September, I've waited about 2-months for a re-entry @ $20ish as I was anticipating the corrections since it hit $24.40ish.  Through my long-term analysis I came to a conclusion that even after the correction, I believed that Boston Scientific is ready to resume back up well above the $24-level. So, I patiently waited for my re-entry point at around "20" price-level as I've tweeted out back in November 1st. After my re-entry at "$20.49″, the stock initially dipped as low as $19.70 before bouncing back up.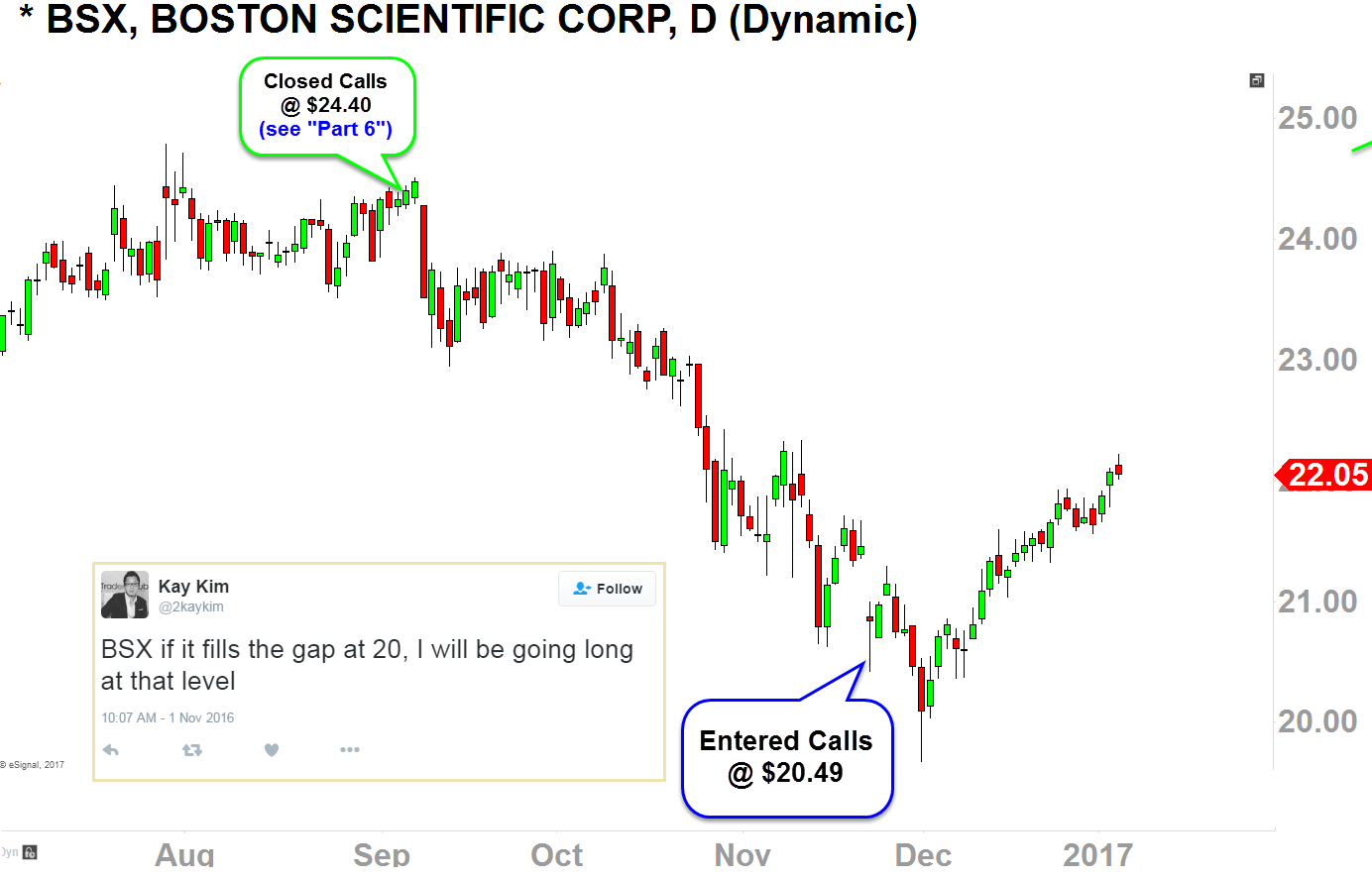 Uptrend Development
You can see in the chart below that we are now cultivating a brand-new uptrend as the "20EMA" is now rising back up.  As long as we stay above the "20EMA" on this daily-chart, I do believe that the trend may continue to the upside and we may retest "20EMA" as it moves higher.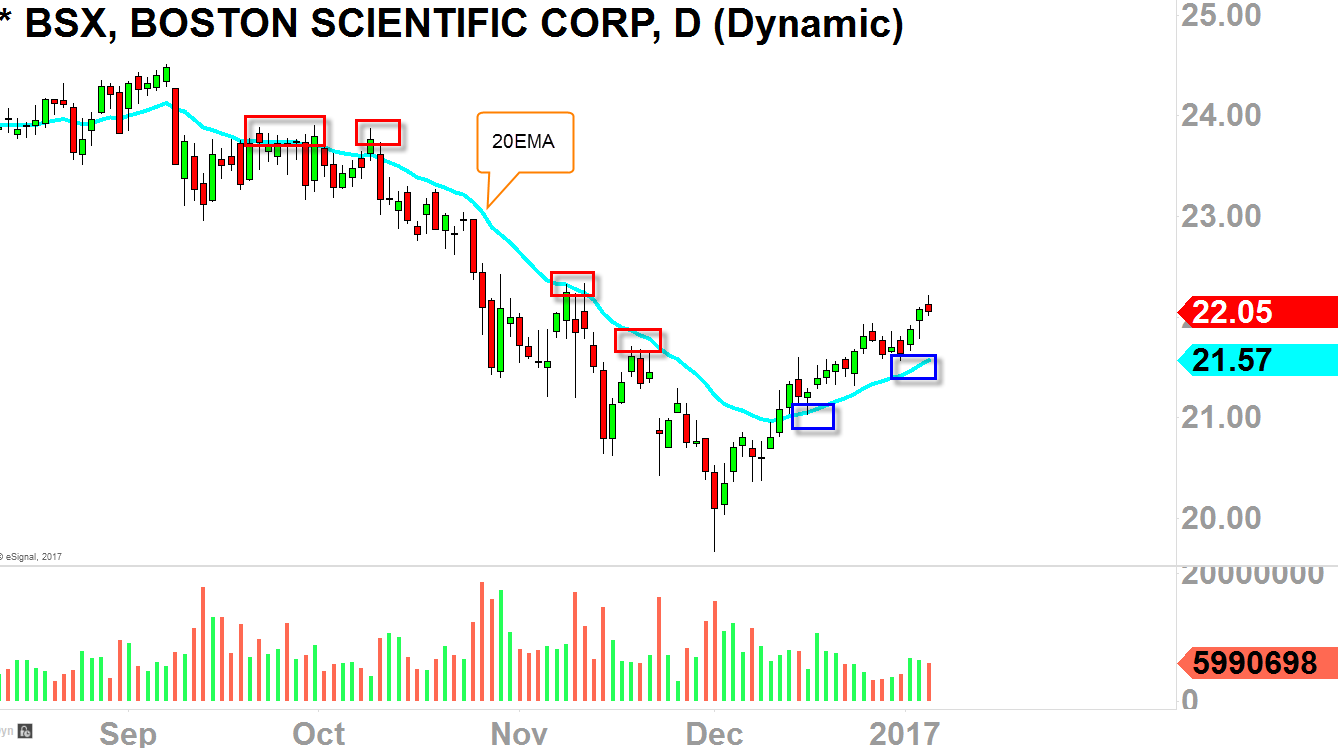 Current Resistance
This is the current resistance buyers must overcome for BSX to continue to move higher, however, if we see a pullback in this vicinity, I would watch the "20EMA" on the daily for a possible bounce. And if we see a further decline below the "20EMA," I would say 20 price-level will be an important level for a support.
*My next two targets are $23.50ish & $24.40ish.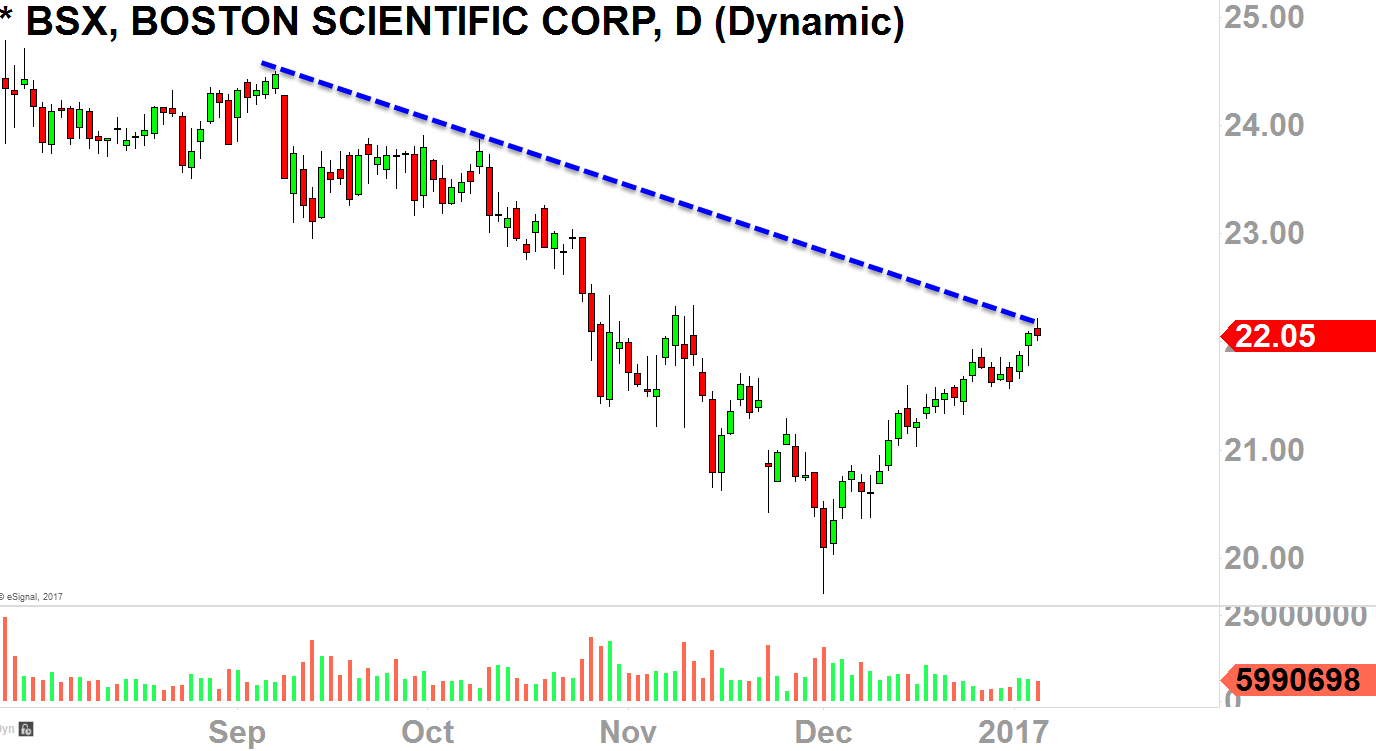 ---
Post Update: 1/10/2017
---
The Breakout
To be fair, I wasn't expecting BSX to breakout this suddenly since my post 5 days ago; however, I was expecting "23.50ish" as my next target (today we hit $23.61) as you can see in the analysis above.  Well, BSX is up +6.40% today with huge volume which we haven't seen since the middle of the summer last year.  So where do we go from here?  Obviously minor-term sentiment is overbought (this doesn't mean it can't continue to grind higher), so we may see short-term pullback or consolidations here.  Even in worst case scenario, we want to see 23.00 price-level holds (if price retraces back to that level).
My second target was "24.40ish" and I still do think we may get there before the earnings report on 2/2/2017, and if we do get there, I will probably  be unloading 1/2 of my calls and hold the remaining through the earnings report.  As of today, I am holding full call-positions since $20.49.
---
Post Update: 1/17/2017
---
Taking Profits
 Today, I've decided to close half of my calls @ $23.92 as we are approaching the earnings report in few weeks and we are dealing minor- to intermediate-term overbought sentiment.  I do have plan to hold remaining half position through the earnings report.  I thought this was a pretty smooth 2-months of trade and I am content with the gain so far, also I am still very much bullish in the long-term on BSX.  Let's see what happens on the ER on 2/2/2017.