Primary Trend
Weekly-Chart with 50SMA and MACD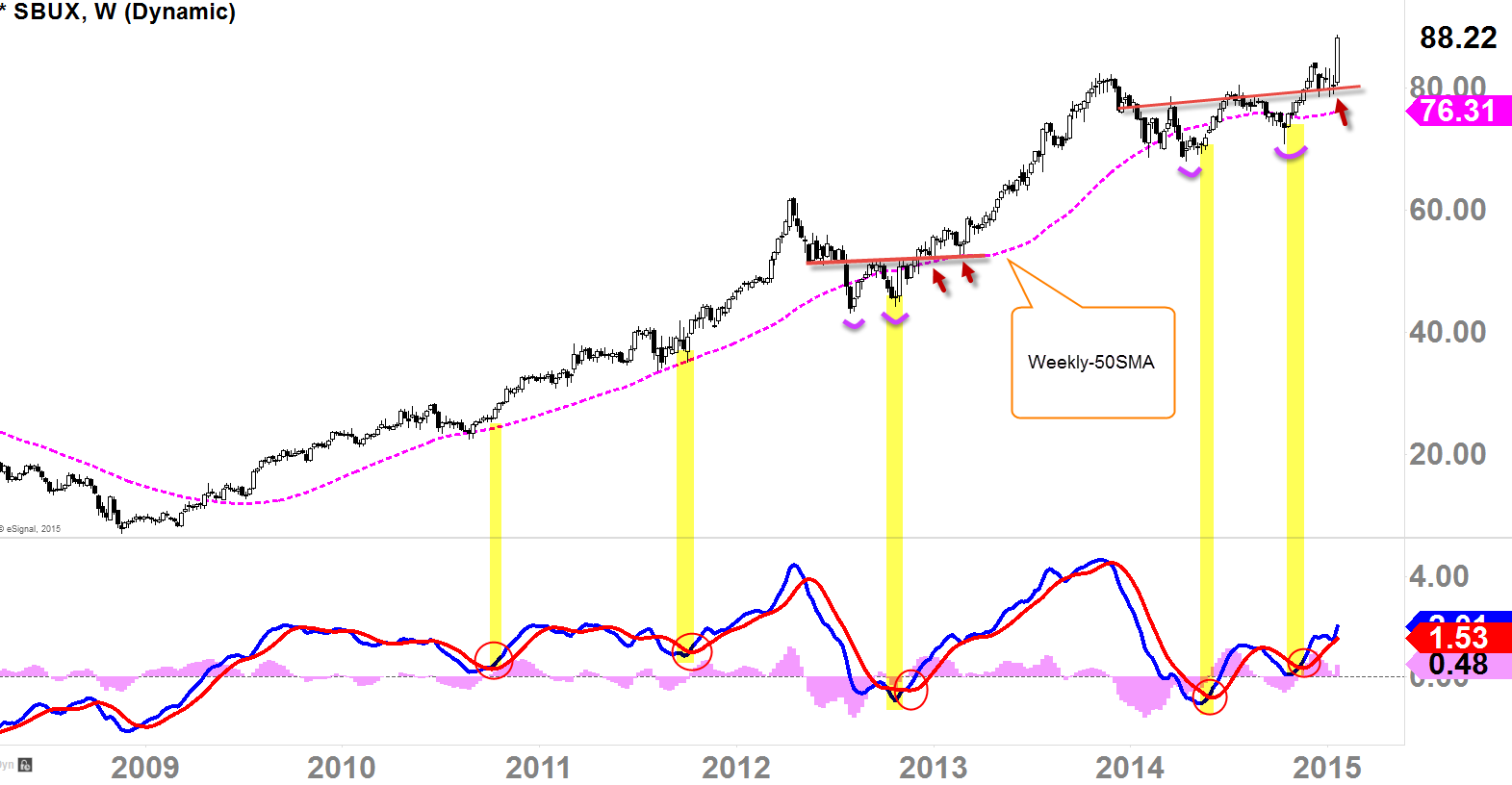 As Starbucks (SBUX) trading well above weekly-50SMA as of today, it looks like buyers are back in control after a poor performance in 2014.  When you are watching stocks like Starbucks, it is imperative to look at weekly chart to analyze long-term forecast because of it's prolonged uptrend.
Really, the most important part of this weekly-chart is that we have now confirmed higher-lows and higher-highs (see red arrow) which is very similar to back in early 2013.  With a huge gap-up after earnings report, it looks like many investors are ready to put their money in Starbucks again.
Weekly-MACD is giving us healthy trend indications as MACD has also established higher-lows and higher-highs as well.  Weekly-MACD will be important as you gauge this stock throughout this year.  2014 and 2012, its corrections began after the weekly-MACD hitting "4"+ readings, so as the weekly-MACD is currently at just right at "2" reading, I believe we have much room to move.
Entered Calls
Daily-Charts with 50EMA and Volume
Important level was the $79ish level (see the green arrows–blue dotted horizontal-line) that needed to hold for establishment of higher-low in the intermediate-term, and we did just that while the daily-50EMA (pink dotted line) was continuing to rise.  With a ER gap-up on Friday morning, now we have confirmed intermediate term bullish-uptrend.
I think if bulls can able to protect the ER gap (keep it open for few weeks) and the price stays above $86.50ish, I think the next target might be $92-$95 before pulling back, which at that level, we probably going to close many of our holdings in the preparation of a minor/intermediate-term pullback.  After a pullback, if the price-action allows, we will then proceed to add more for another leg higher.