$EEM Holding Above Major Pivot Levels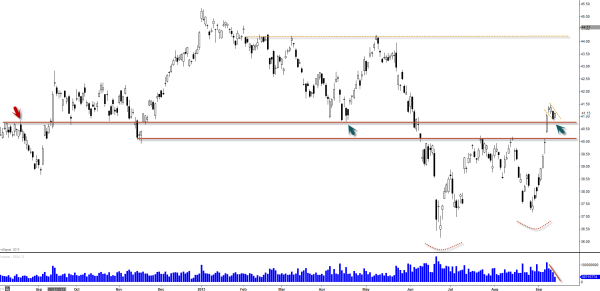 I have been tracking with $EEM this week because back in mid August when $EEM fell, $SPY also fell (On 8/15/13, $EEM formed evening star reversal right at that resistance level and it fell hard and that was the day when $SPY lost it's bullish momentum and gaped down below the pivotal level $167.30ish).
So when $SPY turned things around finding support at that 100SMA (early September), I wanted to make sure $EEM also making that progress as well and it did and its holding up very well as of now (see arrows).  After forming that rising double bottom reversal, it broke above the two pivotal levels I've drawn on this chart and now it looks like forming a bull flag pattern.  Even if this bull flag pattern fails and it comes down, it will still be bullish as long as that lower (2nd) pivot support holds.
So I wouldn't want to be bearish on the market until $EEM breaks below $40 level but with this bull flag happening currently (last 4 days declining volume tells us that selling pressure is low), I think the favor goes to the bulls.
$SPY Island Reversal + Bull Pennant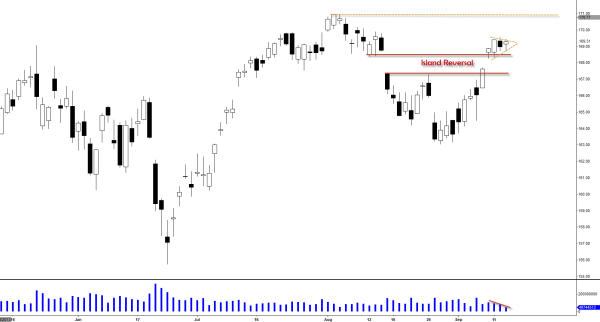 $SPY also confirming the analysis on $EEM.  As you can see we had that island reversal and now holding above this gap support while cultivating that bull pennant pattern.  As long as this gap is open, I would have to say that it has high probability that it breaks to the upside.  With bull pennant currently forming, bulls have control over the situation.  We break out of this pennant, next target would be $171 and possibly $174 if we break above that.
Side note: I wouldn't be bearish until we break below $167.30.
$XLF Moving Averages Cross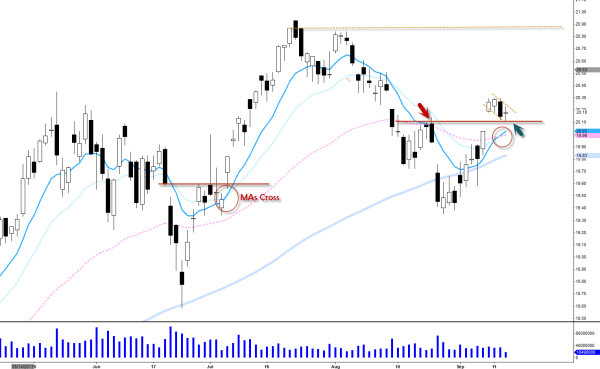 Financials have been lagging a bit this whole week and showing little bit more weakness compare to $SPY but as I look at the moving averages, I can see that we are seeing 10, 20, 50EMAs are crossing to the upside.  With yesterday's sell off, I was a bit worried but with today's action, I think it is trying to nullify that selling pressure thus forming the bull flag pattern.  Holding above this key support level (see arrows), moving averages are crossing, and bull flagging action, I would have to say that the benefit of the doubt goes to the bulls.
Some are arguing that the H&S pattern is forming here but I don't think that's applicable in this situation because of the fact that higher lower it has put in.  Usually you want to see equal lows to make that H&S neckline level argument.
[divider]
Final Thoughts
As we can see that $EEM, $SPY, $XLF holding above key levels and forming bullish continuation pattern, I would have to say that we are seeing much of bullish signal as of today.  We break out of this bullish continuation, I do think the market will start to see find some traction and move higher.
Personally, I have been very impressed with resiliency of the bulls last several months and shorting this market really didn't work out well for many including myself.  If we look at the big picture of $SPY, we are continue to make higher lows and higher highs.  That's the definition of an uptrend. It creates higher low and then it goes up and makes new higher high.