[divider]
Last Update: 5.22.13
[divider]
5.16.13 Thursday
[divider]
[At Open] Entered Bullish Positions @ $205.01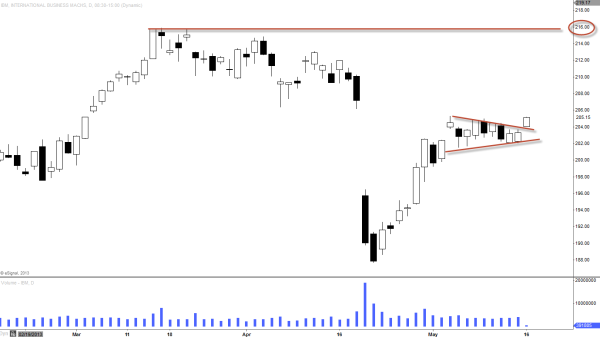 We have been consolidating and in that process, it has been forming this bullish pennant pattern.  These formation usually breakout to the upside and many times they do so with gaping up above the top of the pennant (resistance) level as it did this morning.
I decided to enter bullish short after market opened realizing this could be the breakout that could be the catalyst for the next leg up.  I specially liked the fact that we gaped up instead of just rising higher (because many times you will see failed breakouts with long upper wick when it just rise higher without gapping up).
Possible target = $216
[divider]
5.17.13 Friday
[divider]
Big Move but What Now?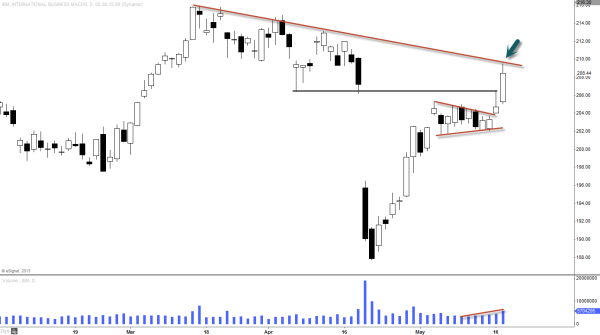 Well that's the "Now".  Short-term downtrend resistance (see arrow) which is concerning.
Though we had great volume activity last 3-4 days with increasing volume and sharp thrust today but we would need to close above this recent downtrend level to able to get to my target of $216.
The question is will it struggle at this level and continue after few consolidation sessions or will it roll over?  Or can it just push through higher without any kind of hesitation? We would need more data to analyze that.
For now, I put a lot of weight on the fact that we broke above the pivot level of $206.31ish (see black horizontal pivot line) which has caused this stock to struggle yesterday.
[Daily] Massive Rising Channel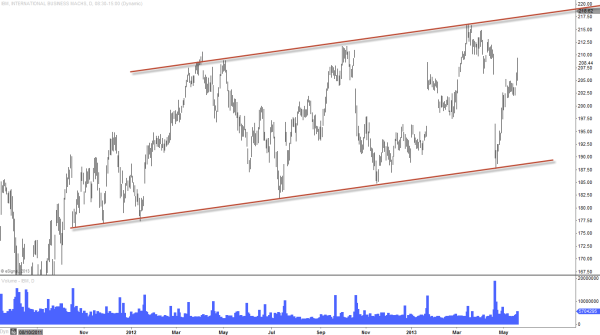 For the longest time I thought $IBM wouldn't survive after putting in these peaks at the top.  At first I thought it was a double top formation but $IBM managed to came back up and then I thought it was a triple top formation but yet again (after ER crash), once again, this stock managed to come back up strong.
Looking at this massive rising channel (daily chart), I can see there's possibility that we can get to that top of the channel level which is about $218.
[divider]
5.22.13 Wednesday
[divider]
All Closed Out @ $206.84
$IBM still trading above 10EMA and still looks like it can go higher. But I didn't want to hold through the positions when $SPY is heavily bearish today with HUGE volume. I may go back in long once I see some stabilization.