[divider]
1.29.13 Tuesday
[divider]
Running into Resistance but is it Legit?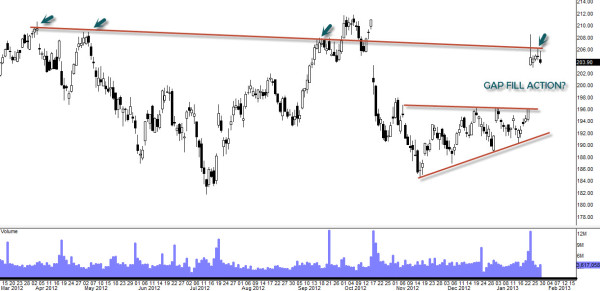 This upper resistance has been breached (broken) once so I do think the potency of this resistance has been compromised but nonetheless if indeed rolls over, it will gain it's respect yet again. Just looking at the candle sticks last 5 trading days, the resistance sure looks like it is getting respected by the recent bulls and they were furious bulls as they gaped it up considerable amount.
The mystery of this whole movement is that last gap up move (1/23) never filled entire gap from 10/16 ($210) and now its starting to look like it might roll over to fill the other gap to the downside?  Just the shift in the sentiment has been fast and the furious and from that sentiment, I am sensing bears are getting ready to attack.
Double Duo= Two Shooting Stars / $202.50 Critical Level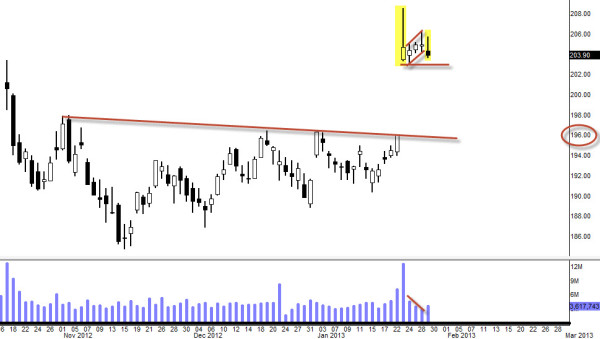 Currently that $202.50ish level is acting as recent support and in the event that $IBM close below this area with solid looking bearish candle piercing through it with fair amount of volume, I would say that the chances of $IBM seeing $196 again is going to be pretty high.
1/23: Gap up shooting star with long upper wick (which I believe these are pretty strong reversal signal because of it's sharp turn around)
1/24-1/28: Bear Flagged as the stock rose but volume continued to decrease.
1/29 : Another mini shooting star. Not a textbook because it has some lower wick
So the question is can these two shooting stars crack this thing and send it back down?? I think it can if and only if we can close below $202.50ish as I have described.
Oscillators Study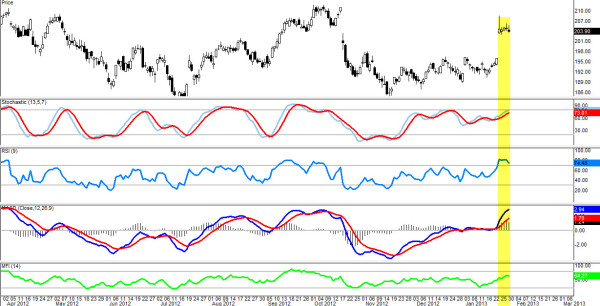 Toppy but this does not mean it has to roll over. If anything MACD still looks bullish also STOCH and MFI, only RSI is starting to curl it down.
[divider]
2.6.13 Wednesday
[divider]
Island Reversal? Gap Must Stay Open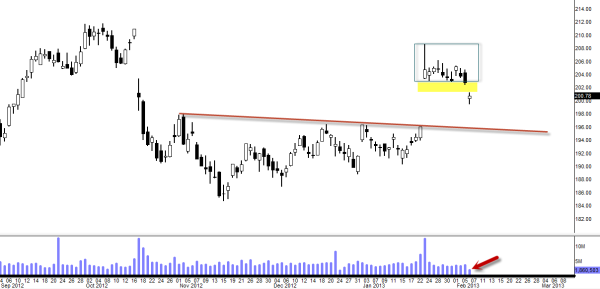 Concern is volume is extremely weak despite the fact that we gaped down this morning.
[divider]
2.11.13 Monday
[divider]
Gap is Still Open | MACD Sell Signal Confirmed
Must close below $199 sometime this week to find some bearish momentum.
[divider]
2.20.13 Wednesday
[divider]
Breaking Down?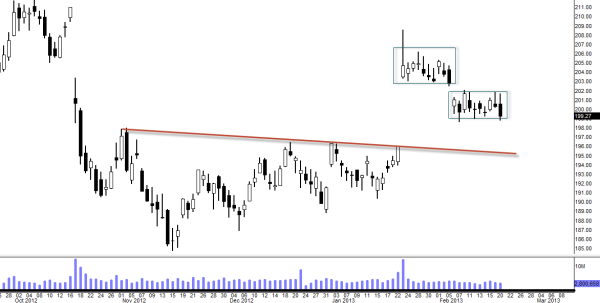 Break below that box will cause the stock go further down to $196 level support.
[divider]
2.25.13 Monday
[divider]
YES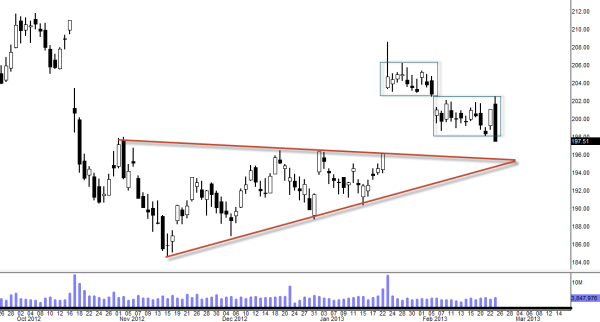 Closed below the box today and I am suspecting more bears to roll in however $196-$195 area probably going to act as strong support.  We break below this support of this triangle formation (drawn in red), this thing will TANK and TANK HARD. Last chance for the bulls.