7/24 Tuesday: Power of the Laser Beam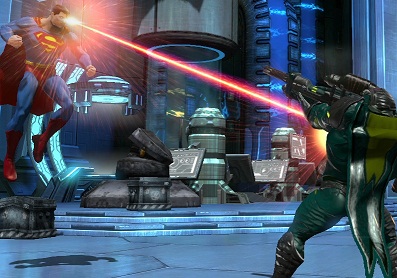 This downtrend resistance started at it's peak on 7/25/2011.
And this things is like a laser beam, $SLB hits it, it TANKS like clock work.
You get hit, you gonna go DOWN!
Let's zoom in.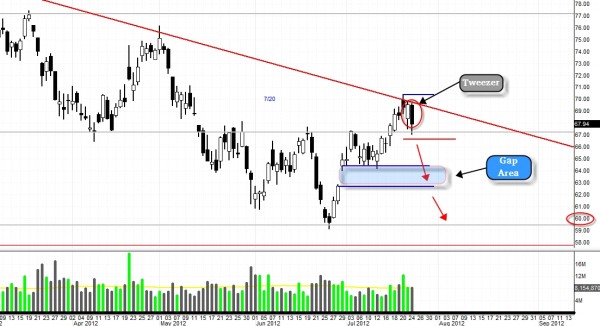 Today we closed with Tweezer top (bearish reversal pattern). This tweezer top is not a strong reversal however the fact that it occurred at that downtrend resistance line, it makes it that much stronger.
I could go on say Bearish Engulfing which is much stronger reversal pattern but today's body doesn't technically engulfs yesterday's close.
So let's look at trade set up here.
around $67 major pivot there so bearish trigger below that price point would work well.
Target is at $60.
And with all trades, we will have to face obstacles on this trade as well.
Gap area $64.50 – $62.50 WILL work as support if not, it will at least make it slow down.
So watch out for that area because it even can reverse on you and come back up to test that $67 pivot and fall back.
and if that happens, It will be forming a small head and shoulder pattern.  (Regardless it will hit $60 in 1-2 weeks in my opinion).  <—- Make sure buy enough time on your options if you want to ride down to $60.
But I am hoping that it could just plow through those gap area and get there quicker.
$66.72 where 20 and 50 EMA Moving Averages cross.
This could be a small caution because it could turn into a short term support.
For safe bearish trigger, enter trade below the price points of the cross.
Two moving averages appear to be crossing (bullish sentiment) but it is actually flattening out and possible head down next few days (bearish).
7/26 Thursday: Running away from my trap
ok so its running away from it.  :*(
Very unpredictable market lately.  Very choppy and i've seen lot of whipsaws and things recently.
If you want to go bullish, above $72 is a good bullish trigger and target is at $76.20.  Everything checks out except the fact that this up and down market we've been having.
7/29 Sunday: Say Hello To $76 (not $60 lol)
Moving further away from 100/200 SMA
And strong and aggressive Moving Averages cross.  Very bullish at this point.
7/31 Tuesday: Rising Three in the making?
My target is still at $76 and stop is at around 70-$71.
Rising Three Method is a continuation pattern.  You can call it a resting pattern after bullish push. And I am thinking that's what its forming right now.  Volume has been weak lats few days but hopefully we can get the volume back after tomorrow when it starts to run bullish again.
8/1 Wednesday: Stopped Out this morning
Rising Three never played out. Stopped out this morning with some loss =*(