[box_dark]7/2 Monday[/box_dark]
BBANDS SQUEEZEEEEING!
Trade Set Ups
OK so APPL hasn't been going anywhere.. just kinda crawling around in that Fib. Retracement Box. Pretty pathetic right? yea~ so Bollinger Bands wants to help us with it's squeeze and it wants to shoot this thing. So where should we put our triggers?
Above $600 is my bullish trigger and below $560 is my bearish trigger for this Bbands squeeze play. Given the fact that it's still trading around Fib. Retracement box I wouldn't put my triggers any closer than that.  We got higher volume last Friday and it will continue with higher volume if BBands breaks this coming week.
Targets
Bullish: around $640
Bearish: around $530/$520
100 SMA to Watch Out
Watch out for 100SMA if/when it breaks bearish.  I think though because of 100SMA have been such a strong support through out this whole move, I kinda think we might break bullish.   Keep an eye on this 100SMA.  If it breaks and go south and just completely crushing 100SMA, we can get to 200SMA pretty easily.
So either way it breaks, I am cool with it.
[box_dark]7/5 Thursday[/box_dark]
$AAPL after about a month of crawling around finally we are seeing some good move here!  Great volume today and we are approaching our first target of $620.  $640 was ultimate target however with S&P 500 and NASDAQ still at its pivot, I actually closed my bullish position earlier today.
But I must say, $APPL LOOKS BULLISH!
ALL INDICATORS ARE CONFIRMING THIS MOVE.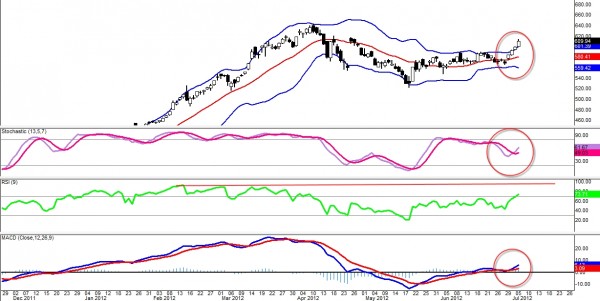 BBands continues to spread out which confirms this bullish move.
Stoch just crossed and lot of room to move.
RSI also has lot of room to go
and MACD is also confirming this move!
Pic isn't here but ADX and DMI both confirms this move.
Conclusion
$AAPL looks very bullish at this point.. only hang up i see is from that chart pattern, that resistance of $620. $620 was tested on April 18 & 25th and both time when it touched it, it tanked.  So obviously its very important price point for short term at least.
But looking at the indicators, definitely has good strength to this move and we could possibly get to the next target.  It's too early to tell.  If it starts to throw Dojis and spinning tops right at the resistance next few days, that would be a early signal that it could reverse.
I will update more next week.