Click on the links to see the time-stamped tweets 
  PARTIAL CLOSED: 1/3 @68.63, 1/3 from remaining @72.29, 1/2 from remaining @75.57
  ENTERED CALLS: 71.77 
  ENTERED CLOSED: 1/2 @76.59, all closed out @74.71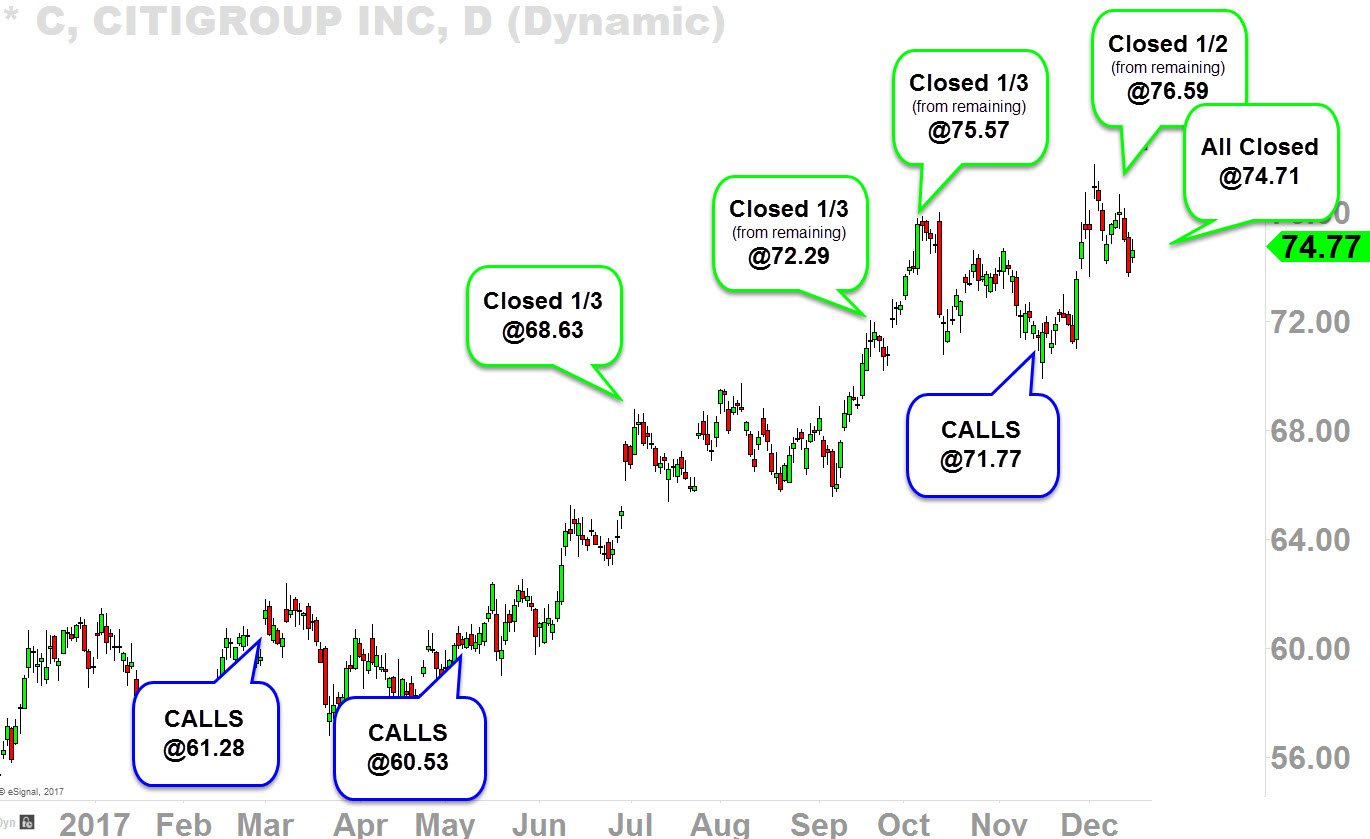 ---
Final Update: 12/17/2017
---
11/15/2017
Earlier late afternoon, I've decided to add CALLS to my Citigroup (C) position as the stock has retested recent prior-low (see arrows) while retesting the rising "100SMA" and bouncing as you can see in the daily-chart above.  It won't be easy reversal I don't think, but this is the vicinity I felt comfortable for an entry.  We do have a "bullish engulfing"/"bullish counter-attack" reversal candle printed today that needs a follow through to confirm, let's see how it plays out – more updates later.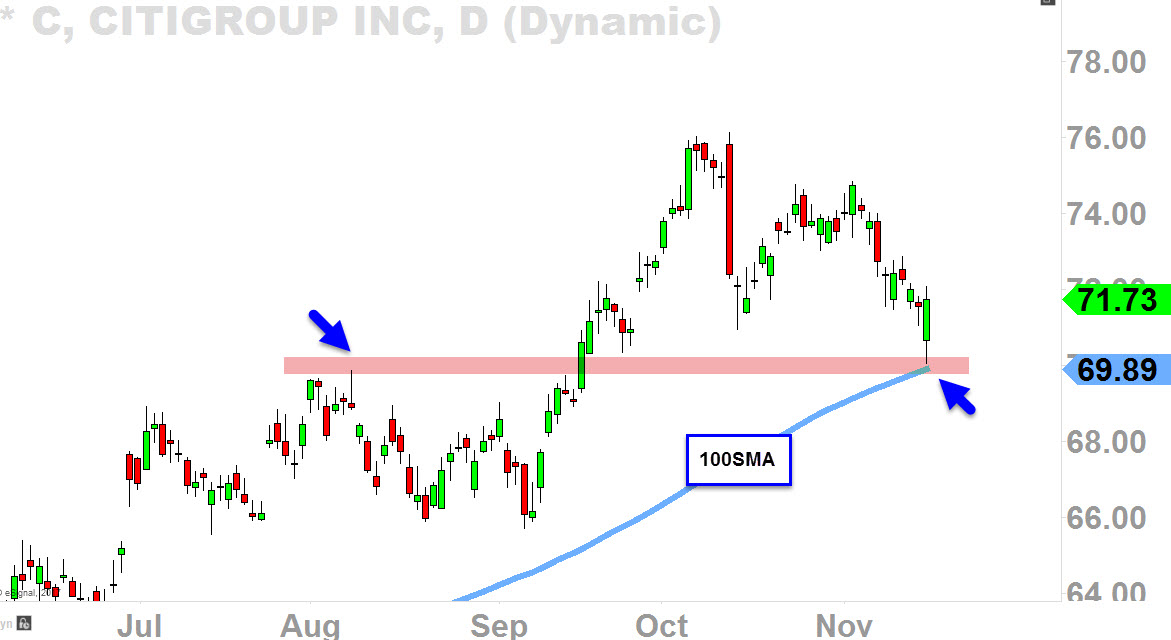 ---
11/29/2017
Citi had a strong bullish-move yesterday, and the follow-through gap up today.  It faded a little bit from the highs of the day today, but looks strong here this week.  I want to see 74.44 – 73.50ish to hold, should the price slide next few days, for this bullish momentum to continue.  Trend is up, "100SMA" (intermediate-term sentiment) continues to support the trend as it maintains upward movement, let's not over-analyze but let the trend play itself out.  I am still holding my CALL-positions as I target 80ish before unloading some, more updates later.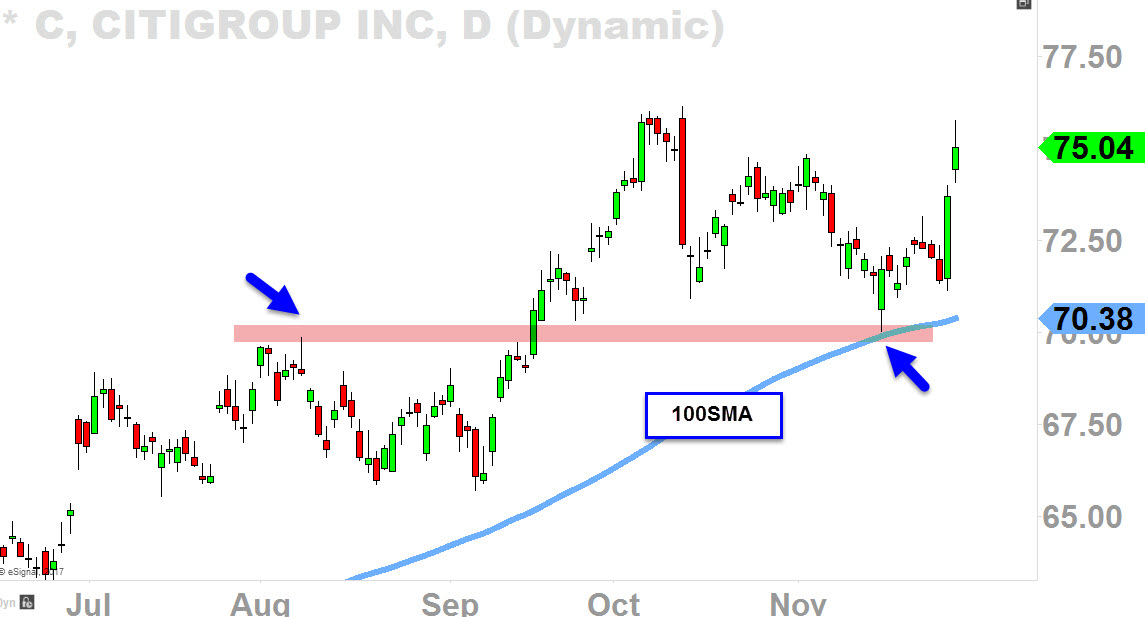 ---
12/12/2017
I've decided to close 1/2 CALL-positions from the holding positions earlier this afternoon.  I am mainly managing risk here as I am starting to be cautious in the overall market; and I've also closed out half of my XLF and WFC CALLS which I've been holding pretty much similar time as when I first initiated Citi CALLS.  Financial Sector (XLF) did have a phenomenal run (23.5% to be exact since the mid April) and it could continue to move higher (that's why I am still holding some), but I feel that the odds are catching up against the buyers here.  If the banks are, along with Citi and Wells continues to move higher, I probably close them all out completely in the next 1-2 weeks.   Let's see how they play out, more updates later.
---
12/17/2017
(Closing Thoughts)
I am now completely out of Citi (C) CALLS as of Friday.  I've decided to close it out because I see that Citi is now cultivating weekly-bearish divergence formation (chart above), which means we may see some sort of correctional phase coming on this stock. However, it's also possible that the stock could grind higher, but definitely odds are stacking up here against the buyers. So I am managing risk here as I've been very satisfied with my trades and returns since when I first engaged back in March — I thought this was a very well-executed Position Trading.
If we do see a correction in price and the price hits around 67-66ish, at that time, I may be preparing to re-engage with CALLS on Citi.  Until then,  I am happy with my gains and willing to seat out even if the price continues to rise.
#TimeStamp
  CLOSED: 1/3 @68.63, 1/3 from remaining @72.29, 1/2 from remaining @75.57
  CALLS: 71.77 
  CLOSED: 1/2 @76.59, all closed out @74.71