---
Last Update: 7/19/2017
---
7/12/2017
Earlier today, late morning (below chart is screened at the time), I've decided to add more CALLS at 141.05 to my current holdings.  In my last update, I talked about the 50EMA that needed to hold and the Fib level.  Well, the level held and it gaped up above 141ish this morning and it quickly rallied as high as 141.22 before fading back down in the late morning.  As I was watching IWM early morning, I thought to myself, if it fades back down to gaped area at 141.10ish I am willing to add more CALLS at that time.  Well, it did in late morning, and I pulled the trigger at 141.05.
Here was the thought process with the entry:
We have an island reversal pattern (blue box) just developed with the gap-up this morning
50EMA (pink dotted) is still rising showing intermediate-term bullish strength
Price has gotten back above the 20EMA (light blue) showing minor-term bullish strength
So the bulls did a good job gaping it up, but now, bulls need to protect this gap-up level at 141.00 and keep it protected next several sessions.  If bulls can protect this gap (make sure it does NOT get filled) and keep the Island Reversal Pattern alive, I believe will will see higher prices and finally broke out of this 7-month consolidations.  And upon breakout of this 7-month consolidation pattern, I think we will see 148ish pretty quickly.  Now I am holding all of my CALLS since 136.53, 138.46, 139.30, 140.18, & 141.05.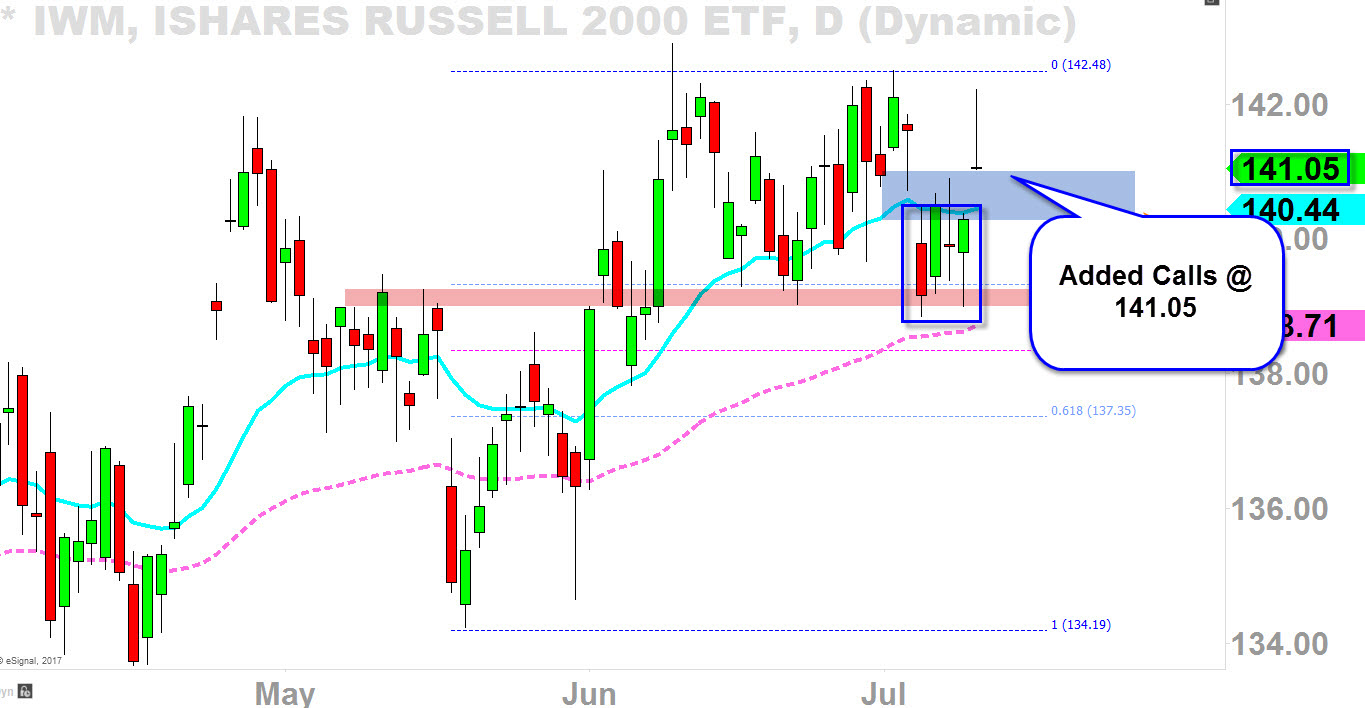 ---
7/19/2017
IWM finally broke out today above the major resistance I've been observing since mid-June.  Now, as long as the bulls defend 141.50 – 142.00ish, I think, IWM is ready for a take off and resume with it's primary-term uptrend and start catching up with other indices such as SPY QQQ DIA (because IWM has been in this 7-month consolidation range in the macro level).  Everything looks really good here for continuation to the upside.  I am holding all of my CALLS since 136.53, 138.46, 139.30, 140.18, & 141.05.
---
---