---
Also Seen On Investing.com
---
Monthly-Chart Perspective
By the closing-bell last Monday, you would find the monthly-chart candle looking pretty bleak with the red-bearish-colored candle ready to dive below the monthly 20-SMA (blue histogram in the chart below).  But the extraordinary thing has happened last three days as it saves the whole month of June's sentiment, as the monthly-candle so quickly transformed by the close today with doji candle trading above the monthly-20SMA as we close the month of June's final day of trading.
Why is it so important?
Because by the closing-bell last Monday, the oscillator (in the chart below) was actually curling back down not able to see any openings between the two lines (signaling abrupt bearish pressure).  Long-term buyers/bulls want to make sure this oscillator continues to see it's opening and widening to the upside for the continuation of the primary-term uptrend as we are still staying on that Oscillator-support (bullish sentiment).
Bulls emergency search for finding beauty has ended today with positive result ending the month of June with bullish sentiment.

Weekly-Chart Perspective
When you diagnose health of the primary-term uptrend, you want to see weekly-chart staying above the 100-SMA (simple moving average), because the sentiment is bullish as long as we stay above this moving average on the weekly-chart.
As you can see in the chart below, we have been below this moving average sending "shocking waves" throughout the market (red boxes); but as it bounces back above this moving average, buyers regain confidence.  Last three days, bulls has found beauty because without the last three days move, the weekly-candle would be red and sitting below this moving average today.  This means the bullish sentiment continues as this was VERY FAST recovery.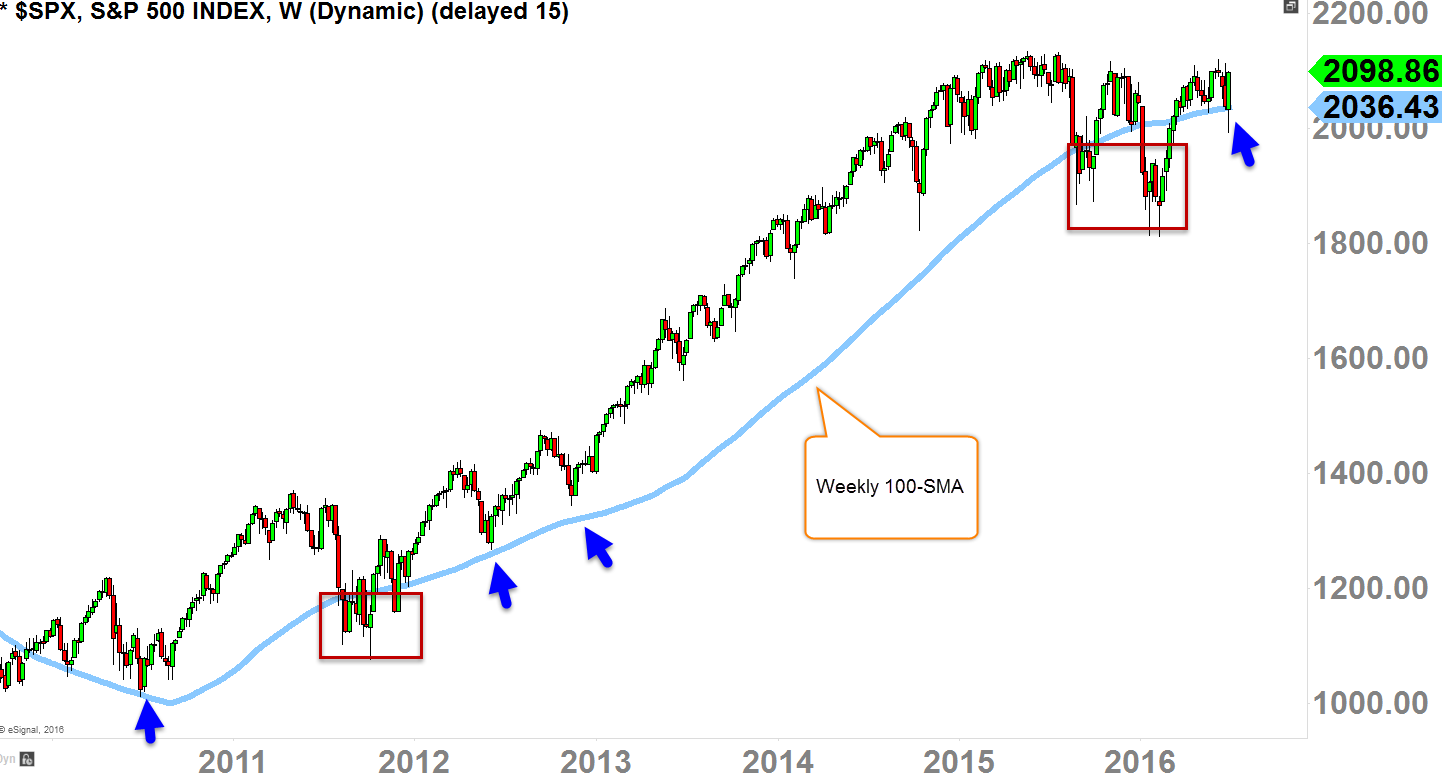 ---
Related Video: "Stock Market 5-Year Bull Run Is Coming: No Market Crash"
---